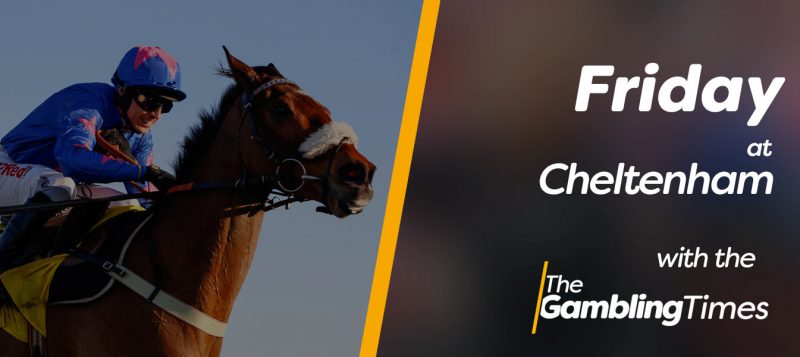 Welcome to our coverage of the final day of the 2017 Cheltenham Festival.
The seven race card begins with the Grade 1 Triumph Hurdle but it is Gold Cup day and is the race everyone will be waiting for.
We have detailed run through of every race with Jack Milner of BetVictor – who provide all our odds in our Friday review.
1.30pm £125,000 JCB Triumph Hurdle (Grade 1) 2m 1f 125,000
The JCB Triumph Hurdle was first run at Hurst Park in 1939 and transferred to Cheltenham in 1965 on the closure of the London course. The race originally took place at Cheltenham's April Meeting but was moved to The Festival in 1968.
It is the leading event in the National Hunt calendar to be exclusively contested by juveniles.
Race fact:  Nicky Henderson has taken this title six times.
Race odds: 2/1 Defi Du Seuil, 9/2 Charli Parcs, 11/2 Mega Fortune, 6/1 Master Blueyes
TGT prediction: The favourite looks too short for us – we quite like Master Blueyes
Adam Norman's view: Defi Du Seuil – His form is ahead of everything else and is a backable price
BetVictor say: Defi Du Seuil is short enough – a very solid horse, but we have liked the look of Landofhopeandglory, we have been seeing a lot of interest in him. Mega Fortune has shown well too. Charli Parcs, I was at Kempton when he won his British debut and Nicky Henderson said he thinks the world of him, and I think he could be the one to be on here.
2.10pm £95,000 Randox Health County Handicap Hurdle (Grade 3) 2m 1f
The first County Hurdle was run in 1920 and won by Trespasser, ridden by George Duller, who until 1973 also had a race named after him at Cheltenham's premier meeting. The Mullins family have an exceptional record, with brothers Tony (2007 Pedrobob), Willie (2010 Thousand Stars and 2011 Final Approach) and Tom (2012 Alderwood) all having trained winners of the race.
For many years the County Hurdle was traditionally the last race to be run at the Festival. However, a new running order was announced ahead of the 2009 meeting, and it is now the second race on the final day.
Race fact:  No horse has won this race more than once.
Race odds: 6/1 North Hill Harvey, 10/1 Golden Spear, Peace And Co, 12/1 Ivanovich Gorbatov
TGT prediction: We like Peace and Co hear to do some damage – but go each-way
Adam Norman's view: Diego Du Charmil – Won at the festival last year and returned to form with a bang last month.
BetVictor say: North Hill Harvey won the Greatwood, and has come straight for this and looks good and is the one to beat here and hard to look past him on the form and money.
2.50pm £125,000 Albert Bartlett Novices' Hurdle (Grade 1) 3m
The Albert Bartlett Novices' Hurdle is run over three miles and was added to The Festival in 2005 when the meeting expanded to four days.
The Albert Bartlett Novices' Hurdle has proved to be a good pointer to the RSA Chase in recent years. Bobs Worth and Weapon's Amnesty, who captured the Albert Bartlett Novices' Hurdle went on to win the RSA Chase the following season.
Race fact:  Jonjo O'Neill is the only trainer to win this race on more than once occasion
Race odds: 2/1 Death Duty, 6/1 West Approach, Wholestone, 8/1 Barcardys, Augusta Kate
TGT prediction: Death Duty is a very good horse, be hard to appose him – if you did then Barcadys is the one.
Adam Norman's view: Wholestone – His excellent form at the track means he should be the one they have to beat.
BetVictor say: Gordon Elliott thinks Death Duty will be even better with a step up in trip and he is miles down much better than anything else in this race, he looks a monster prospect and he will take all the beating. And he will be shorter than 2/1 at the start of the race. Of the British contenders, Wholestone has beaten West Approach three times on the spin – yet you can hardly separate them in the market and I know Nigel Twison-Davies's yard cannot understand that.
3.30pm £575,000 Timico Cheltenham Gold Cup Chase (Grade 1) 3m 2½f
The first horse race known as the Cheltenham Gold Cup took place in July 1819. It was a flat race and it was contested over 3 miles on Cleeve Hill which overlooks the present venue.
The Cheltenham Gold Cup was first run as a jumps race on 12 March 1924.
This is the race the sport's greats have to win to be considered a great and if you win this multiple winners you are a true legend like Golden Miller, Cottage Rake, Arkle, L'Escargot, Best Mate and Kauto Star
Race fact: Leading owner Dorothy Paget won this 7 times with three different horses
Race odds: 3/1 Native River, Cue Card, Djakadam, 9/1 Outlander, Sizing John
TGT prediction: Tough call this year without Thistlecrack – but we would come down with Djakadam
Adam Norman's view: Outlander – In an ultra-competitive Gold Cup the nine-year old can complete a glorious week for Gordon Elliott
BetVictor say: Colin Tizzard has the two market leaders, whilst Ireland have got a strong hand with Djakadam leading the way. The one that has been the best supported in recent days is More of That. We fully expect Cue Card to be the one who goes off as favourite, he is the peoples' horse whilst I think Native River will drift.
4.10pm £45,000 St James's Place Foxhunter Chase 3m 2½f
The event is contested over the same course and distance as the Gold Cup and it is sometimes referred to as the "amateur Gold Cup". It was established in 1904.
Qualification for entry in the Foxhunter Chase is based on a horse's previous performances in certain types of race within a specific period.
Race fact:  On the Fringe will become the first horse to win three times if he wins this year
Race odds: 5/4 On the Fringe, 7/2 Wonderful Charm, 4/1 Ask The Weatherman, 12/1 Paint The Clouds
TGT prediction: Be great to see On the Fringe win again, but looks a bit too short – might be worth looking at each-way value. Salsify looks good value.
Adam Norman's view: On The Fringe – The Irish raider is though to be better than ever and can win for a third time.
BetVictor say: On the Fringe did the double treble last year, Cheltenham, Aintree and Punchestown for second successive year but this year there is no Nina Carberry on board – and we are looking to duck him, all the money has been for Ask The Weatherman – hands down the strongest backed in the race. Paint the Clouds is very much one to keep an eye on.
4.50pm £65,000 Martin Pipe Conditional Jockeys' Handicap Hurdle (0-145) 2m 4½f
Run for the first time in 2009, the Martin Pipe Conditional Jockeys' Handicap Hurdle is named after one the greatest trainers of modern times, who retired at the end of the 2005/06 season.
The race is restricted to conditional jockeys.
Race fact:  Willie Mullins has won this race three times
Race odds: 8/1 No Comment, 10/1 Battleford, Tin Soldier, Run for Dave, 12/1 Brio Conti
TGT prediction: The Storyteller looks a good price but too short to consider – each-way on this for us with Brelade looking nice option.
Adam Norman's view: No Comment – Has been trained with Cheltenham in mind and looks poised to make his first run in a handicap a winning one.
BetVictor say: No Comment is another one of JPs horses that has come in, but this is such a difficult race to look at. Another one to look at could be Brio Conti – we have been hearing good things from the Paul Nicholls stable about him.
5.30pm £105,000 Johnny Henderson Grand Annual Handicap Chase (Grade 3) 2m ½
The Grand Annual is the oldest race at the Festival, and it is also the oldest chase in the present National Hunt calendar. It was first run in April 1834.
The running order of the races at the Cheltenham Festival was altered slightly in 2009, and the Johnny Henderson Grand Annual Chase is now the last event on the final day.
Race fact:  Only two horses have won this race twice – Top Twenty and Dulwich
Race odds:  8/1 Dandridge, 8/1 Dodging Bullets 10/1 Le Prezien, Rock the World, 14/1 Velvet Maker
TGT prediction: The final race and we like Dodging Bullets to end in style.
Adam Norman's view: Croco Bay – Third in this race from an 8lb higher mark two years ago and could be the one in an open finale.
BetVictor say: Velvet Maker well-backed in the race last year, had eye-catching opener last time out at Leopardstown and must go close again under regular partner Denis O'Regan.
DECLARED RUNNERS FOR FRIDAY, MARCH 17
1.30pm JCB Triumph Hurdle (Grade 1) (16 runners)
1 Bapaume (FR)  W. P. Mullins, Ireland  11st 0lb Ruby Walsh
2 Charli Parcs (FR)  Nicky Henderson  11st 0lb  Noel Fehily
3 Coeur de Lion  Alan King  11st 0lb  Tom Cannon
4 Dandy Mag (FR)  W. P. Mullins, Ireland  11st 0lb Paul Townend
5 Defi du Seuil (FR)  Philip Hobbs  11st 0lb  Richard Johnson
6 Ex Patriot (IRE)  Miss Ellmarie Holden, Ireland  11st 0lb  Rachael Blackmore
7 I See You Well (FR)  Seamus Mullins  11st 0lb  Jamie Moore
8 King Julien (IRE)  John Ryan  11st 0lb  Thomas Garner
9 Landin (GER)  Seamus Mullins  11st 0lb  Jeremiah McGrath
10 Landofhopeandglory (IRE) (Tongue Strap)  Joseph Patrick O'Brien, Ireland  11st 0lb  Robbie Power
11 Master Blueyes (IRE)  Alan King  11st 0lb  Wayne Hutchinson
12 Mega Fortune (FR) (Sheepskin C/P)  Gordon Elliott, Ireland  11st 0lb  Davy Russell
13 Soldier In Action (FR)  Nicky Henderson  11st 0lb  Nico de Boinville
14 Dinaria des Obeaux (FR)  Gordon Elliott, Ireland  10st 7lb  B. J. Cooper
15 Evening Hush (IRE)  Evan Williams  10st 7lb  Adam Wedge
16 Magie du Ma (FR) (Hood)  David Pipe  10st 7lb  Tom Scudamore
2.10pm Randox Health County Handicap Hurdle(Grade 3) (26 runners)
1 Arctic Fire (GER) (Hood)  W. P. Mullins, Ireland  11st 12lb Paul Townend
2 L'Ami Serge (IRE)  Nicky Henderson  11st 6lb  Daryl Jacob
3 Ivanovich Gorbatov (IRE) (Blinkers, Tongue Strap)  Joseph Patrick O'Brien, Ireland  11st 4lb  J. J. Slevin (5)
4 Renneti (FR)  W. P. Mullins, Ireland  11st 3lb Ruby Walsh
5 Diego du Charmil (FR) (Tongue Strap)  Paul Nicholls  11st 3lb  Sam Twiston-Davies
6 North Hill Harvey  Dan Skelton  11st 3lb  Harry Skelton
7 Court Minstrel (IRE)  Evan Williams  10st 13lb  Adam Wedge
8 Mick Jazz (FR) (Hood)  Gordon Elliott, Ireland  10st 11lb  Jack Kennedy
9 Tell Us More (IRE)  Gordon Elliott, Ireland  10st 10lb  B. J. Cooper
10 Wakea (USA) (Hood, Tongue Strap)  Karl Thornton, Ireland  10st 10lb  Donagh Meyler (3)
11 Boite (IRE) (Sheepskin C/P)  Warren Greatrex  10st 8lb  Gavin Sheehan
12 Winter Escape (IRE)  Alan King  10st 8lb  Wayne Hutchinson
13 Joey Sasa (IRE)  Noel Meade, Ireland  10st 8lb Sean Flanagan
14 Air Horse One  Harry Fry  10st 8lb  Noel Fehily
15 Vosne Romanee (Tongue Strap, Sheepskin C/P)  Dr Richard Newland  10st 7lb  Aidan Coleman
16 Bertimont (FR) (Tongue Strap)  Dan Skelton  10st 7lb  Bridget Andrews (3)
17 Baltimore Rock (IRE) (Tongue Strap)  Neil Mulholland  10st 6lb  Tom Scudamore
18 Crievehill (IRE) (Hood)  Nigel Twiston-Davies  10st 5lb  Jamie Bargary (3)
19 De Name Escapes Me (IRE)  Noel Meade, Ireland  10st 4lb Jonathan Moore (3)
20 Kapstadt (FR) (Tongue Strap)  Ian Williams  10st 3lb  Will Kennedy
21 Wait For Me (FR) (Hood, Tongue Strap)  Philip Hobbs  10st 3lb  Richard Johnson
22 Dominada (IRE)  Brian Ellison  10st 3lb  Brian Hughes
23 Jaleo (GER)  Ben Pauling  10st 3lb  Mr Alex Ferguson (7)
24 Ozzie The Oscar (IRE)  Philip Hobbs  10st 3lb  Tom O'Brien
25 Song Light  Seamus Mullins  10st 3lb  Kevin Jones (5)
26 Mohaayed (Tongue Strap)  Dan Skelton  10st 2lb  Ian Popham
2.50pm Albert Bartlett Novices' Hurdle (Grade 1) (15 runners)
1 Ami Desbois (FR) (Tongue Strap)  Graeme McPherson  11st 5lb  Kielan Woods
2 Any Drama (IRE) (Sheepskin C/P)  Harry Fry  11st 5lb  Noel Fehily
3 Baden (FR)  Nicky Henderson  11st 5lb  Jeremiah McGrath
4 C'Est Jersey (FR) (Sheepskin C/P)  W. P. Mullins, Ireland  11st 5lb Robbie Power
5 Constantine Bay  Nicky Henderson  11st 5lb  Nico de Boinville
6 Death Duty (IRE)  Gordon Elliott, Ireland  11st 5lb  B. J. Cooper
7 Elegant Escape (IRE)  Colin Tizzard  11st 5lb  Tom Scudamore
8 Monalee (IRE)  Henry de Bromhead, Ireland  11st 5lb  David Mullins
9 Penhill  W. P. Mullins, Ireland  11st 5lb Paul Townend
10 Step Back (IRE)  Mark Bradstock  11st 5lb  Jamie Moore
11 The Worlds End (IRE)  Tom George  11st 5lb  A. P. Heskin
12 Tommy Rapper (IRE)  Dan Skelton  11st 5lb  Harry Skelton
13 Turcagua (FR) (Hood)  W. P. Mullins, Ireland  11st 5lb Daniel Mullins
14 Wholestone (IRE)  Nigel Twiston-Davies  11st 5lb  Daryl Jacob
15 Augusta Kate  W. P. Mullins, Ireland  10st 12lb Ruby Walsh
3.30pm Timico Cheltenham Gold Cup (Grade 1) (14 runners)
1 Bristol de Mai (FR)  Nigel Twiston-Davies  11st 10lb  Daryl Jacob
2 Champagne West (IRE)  Henry de Bromhead, Ireland  11st 10lb  David Mullins
3 Cue Card (Tongue Strap)  Colin Tizzard  11st 10lb  Paddy Brennan
4 Djakadam (FR)  W. P. Mullins, Ireland  11st 10lb  R. Walsh
5 Empire of Dirt (IRE) (Tongue Strap)  Gordon Elliott, Ireland  11st 10lb  Jack Kennedy
6 Irish Cavalier (IRE) (Sheepskin C/P)  Rebecca Curtis  11st 10lb  P. Townend
7 Minella Rocco (IRE) (Tongue Strap, Sheepskin C/P)  Jonjo O'Neill  11st 10lb  Noel Fehily
8 More of That (IRE) (Sheepskin C/P)  Jonjo O'Neill  11st 10lb  Aidan Coleman
9 Native River (IRE) (Sheepskin C/P)  Colin Tizzard  11st 10lb  Richard Johnson
10 Outlander (IRE)  Gordon Elliott, Ireland  11st 10lb  B. J. Cooper
11 Saphir du Rheu (FR)  Paul Nicholls  11st 10lb  Sam Twiston-Davies
12 Sizing John  Mrs J. Harrington, Ireland  11st 10lb  Robbie Power
13 Smad Place (FR)  Alan King  11st 10lb  Wayne Hutchinson
14 Tea For Two  Nick Williams  11st 10lb  Lizzie Kelly
4.10pm St. James's Place Foxhunter Chase (24 runners)         
1 Anseanachai Cliste (IRE) (Sheepskin C/P)  S. McConville, Northern Ireland  12st 0lb  Mr M. McConville
2 Ask The Weatherman (Sheepskin C/P)  Jack R. Barber  12st 0lb  Mr W. Biddick
3 Aupcharlie (IRE)  J. T. R. Dreaper, Ireland  12st 0lb  Mr P. W. Mullins
4 Balnaslow (IRE)  Graham John McKeever, Ireland  12st 0lb  Mr Derek O'Connor
5 Barel of Laughs (IRE) (Sheepskin C/P)  Philip Rowley  12st 0lb  Mr Alex Edwards
6 Black Thunder (FR) (Sheepskin C/P)  Warren Greatrex  12st 0lb  Mr S. Waley-Cohen
7 Buckers Bridge (IRE) (Sheepskin C/P)  M. F. Morris, Ireland  12st 0lb  Mr R. P. Quinlan
8 Cottage Oak (IRE)  J. J. O'Shea  12st 0lb  Mr H. Crow
9 Current Event (FR)  Mrs Rose Loxton  12st 0lb  Ms L. O'Neill
10 Dolatulo (FR) (Sheepskin C/P)  Ben Pauling  12st 0lb  Mr D. Gittins
11 Grand Jesture (IRE)  J. T. R. Dreaper, Ireland  12st 0lb  Mr R. O. Harding
12 Grand Vision (IRE) (Sheepskin C/P)  Colin Tizzard  12st 0lb  Mr M. Legg
13 Lets Get Serious (IRE)  C. J. Miller  12st 0lb  Mr C. J. Miller
14 Mendip Express (IRE) (Tongue Strap)  Philip Hobbs  12st 0lb  Mr D. Maxwell
15 Minella For Value (IRE)  Declan Queally, Ireland  12st 0lb  Mr D. Queally
16 On The Fringe (IRE)  Enda Bolger, Ireland  12st 0lb  Mr J. J. Codd
17 Pacha du Polder (FR)  Paul Nicholls  12st 0lb  Miss B. Frost
18 Paint The Clouds  Warren Greatrex  12st 0lb  Mr Barry O'Neill
19 Pentiffic (NZ)  P. P. C. Turner  12st 0lb  Miss L. M. Turner
20 Premier Portrait (IRE) (Sheepskin C/P)  Dr Charles Levinson  12st 0lb  Mr G. Levinson
21 Salsify (IRE)  Rodger Sweeney, Ireland  12st 0lb  Mr Steven Clements
22 Sweet As A Nut (IRE) (Tongue Strap)  Michael Barry, Ireland  12st 0lb  Mr J. C. Barry
23 Warden Hill (IRE)  Mrs H. Connors  12st 0lb  Mr T. Chatfeild-Roberts
24 Wonderful Charm (FR) (Tongue Strap, Sheepskin C/P)  Paul Nicholls  12st 0lb  Ms K. Walsh
4.50pm Martin Pipe Conditional Jockeys' Handicap Hurdle (24 runners)
1 Taglietelle (Blinkers)  Gordon Elliott, Ireland  11st 10lb  Cian Collins (5)
2 Born Survivor (IRE)  Dan Skelton  11st 8lb  Bridget Andrews
3 Gibralfaro (IRE) (Sheepskin C/P)  Alan King  11st 8lb  Tom Bellamy
4 Tommy Silver (FR)  Paul Nicholls  11st 5lb  Stan Sheppard
5 Runfordave (IRE)  Gordon Elliott, Ireland  11st 5lb  Donagh Meyler
6 Lac Fontana (FR)  Paul Nicholls  11st 4lb  Jack Sherwood
7 I Shot The Sheriff (IRE) (Tongue Strap)  A. J. Martin, Ireland  11st 4lb  Shane Shortall
8 Remiluc (FR) (Tongue Strap)  Chris Gordon  11st 4lb (5lb ex)  Harry Reed (3)
9 Castello Sforza (IRE)  W. P. Mullins, Ireland  11st 3lb Jonathan Moore
10 Coo Star Sivola (FR)  Nick Williams  11st 3lb  Lizzie Kelly
11 Dell' Arca (IRE) (Blinkers)  David Pipe  11st 3lb  David Noonan
12 Champagne Classic (IRE)  Gordon Elliott, Ireland  11st 3lb  J. J. Slevin
13 Massini's Trap (IRE) (Blinkers)  James A. Nash, Ireland  11st 3lb  Kieron Edgar
14 No Comment (Hood)  Philip Hobbs  11st 2lb  Ciaran Gethings
15 Thomas Campbell  Nicky Henderson  11st 2lb  Ned Curtis
16 Doesyourdogbite (IRE)  Jonjo O'Neill  11st 2lb  Killian Moore
17 Pain Au Chocolat (FR) (Hood, Tongue Strap)  Dan Skelton  11st 2lb  Lewis Gordon (5)
18 Ballyhill (FR)  Nigel Twiston-Davies  11st 1lb  Jamie Bargary
19 Dadsintrouble (IRE)  Tim Vaughan  11st 1lb  Harry Cobden
20 Protek des Flos (FR)  Nicky Henderson  11st 1lb J J Slevin
21 Rather Be (IRE)  Nicky Henderson  11st 1lb  Charlie Deutsch
22 Battleford  W. P. Mullins, Ireland  11st 0lb A W Short (5)
23 Verni (FR)  Philip Hobbs  11st 0lb  Thomas Cheesman
24 Catamaran du Seuil (FR) (Blinkers)  Dr Richard Newland  11st 0lb  Charlie Hammond (5)
5.30pm Johnny Henderson Grand Annual Handicap Chase (Grade 3) (24 runners)
1 Eastlake (IRE) (Tongue Strap)  Jonjo O'Neill  11st 12lb  Aidan Coleman
2 Dodging Bullets (Tongue Strap, Sheepskin C/P)  Paul Nicholls  11st 9lb  Noel Fehily
3 The Game Changer (IRE) (Tongue Strap)  Gordon Elliott, Ireland  11st 8lb  B. J. Cooper
4 Rock The World (IRE) (Tongue Strap)  Mrs J. Harrington, Ireland  11st 5lb  Robbie Power
5 Quite By Chance  Colin Tizzard  11st 5lb  Tom Scudamore
6 Le Prezien (FR) (Tongue Strap)  Paul Nicholls  11st 4lb  Sam Twiston-Davies
7 Upsilon Bleu (FR)  Pauline Robson  11st 3lb  Henry Brooke
8 Bright New Dawn (IRE)  Venetia Williams  11st 3lb  Liam Treadwell
9 Velvet Maker (FR)  Alan Fleming, Ireland  11st 2lb  Denis O'Regan
10 Dandridge (Tongue Strap)  A. L. T. Moore, Ireland  11st 1lb  Davy Russell
11 Gardefort (FR)  Venetia Williams  11st 0lb  Daryl Jacob
12 Mr Fiftyone (IRE)  Mrs J. Harrington, Ireland  11st 0lb  Daniel Mullins
13 Sizing Platinum (IRE)  Colin Tizzard  10st 13lb  Tom O'Brien
14 Theinval (FR) (Sheepskin C/P)  Nicky Henderson  10st 13lb  Jeremiah McGrath
15 Croco Bay (IRE) (Sheepskin C/P)  Ben Case  10st 13lb  Kielan Woods
16 Pairofbrowneyes (IRE) (Sheepskin C/P)  Barry John Murphy, Ireland  10st 12lb  M. P. Fogarty
17 Bold Henry  Philip Hobbs  10st 12lb  Richard Johnson
18 Solita (IRE) (Tongue Strap)  Paul Nolan, Ireland  10st 12lb  P. Townend
19 Calipto (FR) (Tongue Strap)  Venetia Williams  10st 11lb  Charlie Deutsch (3)
20 Ultragold (FR) (Tongue Strap)  Colin Tizzard  10st 10lb  Harry Cobden
21 Solar Impulse (FR) (Blinkers)  Christopher Kellett  10st 9lb  Brian Hughes
22 Un Beau Roman (FR) (Hood)  Paul Henderson  10st 9lb  Nick Scholfield
23 Mick Thonic (FR) (Tongue Strap)  Colin Tizzard  10st 7lb  Paddy Brennan
24 Witness In Court (IRE)  Donald McCain  10st 7lb  Will Kennedy