Arsene Wenger is set to confirm his future sooner rather than later and the general consensus is that he will be staying put at least for one more season at The Emirates, and would that be such a bad thing?
Wenger's gets a lot of negative press and rightly so given their recent performances.
With four defeats in their last five games, Arsenal are in real danger of finishing outside the top-four for the first time in his reign as manager – which will also mean no Champions League football.
Add to this star men Mesut Ozil and Alexis Sanchez are looking far from certain to remain at the club with just over 12-months left on their deals.
And let's not forget bitter rivals Tottenham Hotspur are on course to finish second.
With all that stacked up against Wenger it is hard to imagine him staying, but despite that – it does seem that he is ready to prolong his stay.
And that is the key – the Arsenal board, who will decide on Wenger, want him to stay – so that must be an incredibly difficult thing for Wenger to walk away from.
I believe that Wenger could stay – it is almost 50/50 for me, and I really don't see it being a complete disaster for Arsenal if he does remain.
Looking at Arsenal's season, a huge part of the problem is the same one which besets most teams who are struggling – poor activity in the transfer market.
When any club invests heavily, but it doesn't really improve the 1 to 11 – that is a major issue. Arsenal spent nearly £70million, £70million! on Shkodran Mustafi and Granit Xhaka this summer. Let's forget about the £18million on Lucas Perez for now as he was never going to be competing for a starting place.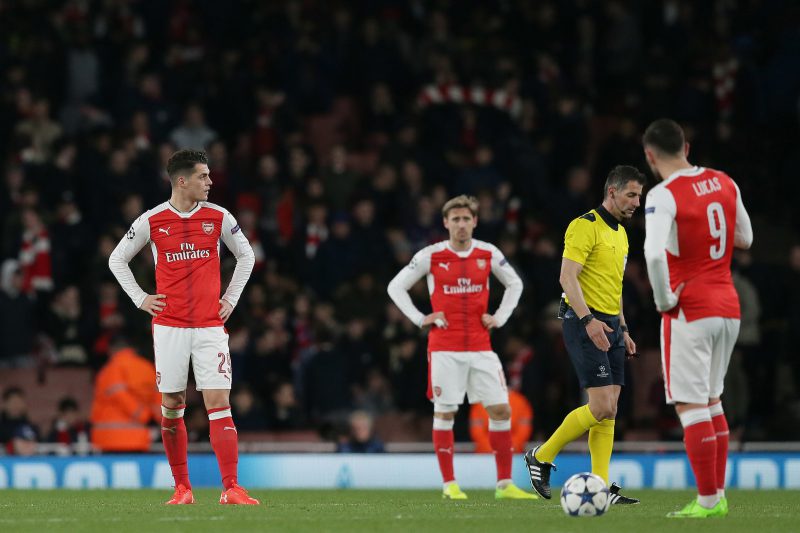 But Mustafi and Xhaka – have they improved Arsenal? Have they taken them onto the next level? No, you could argue Mustafi is better than Per Mertesacker but the improvement is negligible and as for Xhaka…he reminds me of Joey Barton – although not as good. In football today you sometimes don't get a lot for your money but over £30million for Xhaka is one of the worst pieces of business in Premier League history. Don't get me wrong he may go on to be a very good player for Arsenal, but at that price you want the ready made product, and he most certainly isn't that. Just being 'OK' is not good enough if you want to challenge Europe's finest.
And that is the main issue with Arsenal here – not that Wenger is stuck in a rut, but  the main summer signings were/are not good enough and that means they have found it increasingly hard to compete with their Premier League rivals – let alone with Europe's best, which they look so far away from being one of.
Some Arsenal fans bemoan that they do not spend, but that £70million could have been used to buy a world class player – no doubt about it and if you added a world class performer into that Arsenal side, it would make a huge difference.
Now we will likely never know who signed off on those deals, it probably was Wenger – and he has suffered because of them, but clearly the board are willing to give him another chance.
This is the same man who has brought in Cech, Ozil, Sanchez into the current side – together with countless other world-class performers in the past and who is to say he cannot do it again? I would not back against him turning it around.
So really, Wenger is only two or three good signings away from having a title winning team – which yes you could have said every year for the last dozen, but does he deserve another bite of the cherry? It is had to argue against. If he gets it right this summer, things could be so much different at The Emirates.
The last six months may very well have made him realise some home truths, and if he does stay – for Arsenal's sake lets hope he learns from his mistakes.