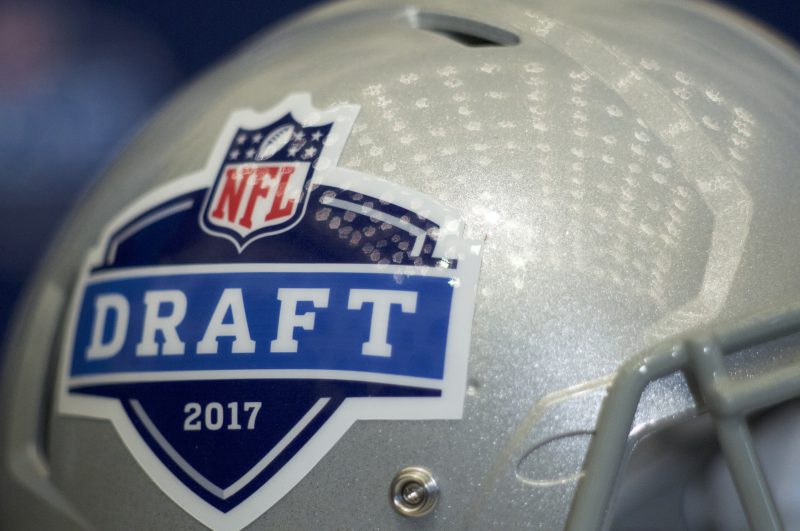 The NFL Draft begins in the early hours of Friday morning and is one of the anticipated events in the American sporting calendar.
The 82nd annual draft will take place in Philadelphia – the first time since 1961 they have held the event – and will take place on the steps of the Museum of Art and will be the first time it has been held outside.
It sees the 32 NFL teams picking the best talent coming from the college system.
Here's the Complete List of Free 2017 NFL Draft Fan Events Happening in Philadelphia https://t.co/pNrfpyTHgR pic.twitter.com/EuSzMHuKFE

— FootBasket.com (@FootBasket) April 24, 2017
The order for selections is generally based on the previous season's performance, so in theory the worst team from the 2017 season – gets the first pick, this year being the Cleveland Browns. However, teams can trade their picks in return for more picks, and/or other players. Trades can also take place whilst the Draft is ongoing.
There is real excitement during the First Round – which is televised live around the world, helped by the fact each team has a maximum of ten minutes to make their pick. The second round it is seven minutes, and then five minutes for rounds 3 to 7.
The order for the first round draft for 2017 looks like this…
1 Cleveland Browns
2 San Francisco 49ers
3 Chicago Bears
4 Jacksonville Jaguars
5 Tennessee Titans from Los Angeles Rams
6 New York Jets
7 Los Angeles Chargers
8 Carolina Panthers
9 Cincinnati Bengals
10 Buffalo Bills
11 New Orleans Saints
12 Cleveland Browns from Philadelphia Eagles
13 Arizona Cardinals
14 Philadelphia Eagles from Minnesota Vikings
15 Indianapolis Colts
16 Baltimore Ravens
17 Washington Redskins
18 Tennessee Titans
19 Tampa Bay Buccaneers
20 Denver Broncos
21 Detroit Lions
22 Miami Dolphins
23 New York Giants
24 Oakland Raiders
25 Houston Texans
26 Seattle Seahawks
27 Kansas City Chiefs
28 Dallas Cowboys
29 Green Bay Packers
30 Pittsburgh Steelers
31 Atlanta Falcons
32 New Orleans Saints from New England Patriots
Updated Complete NFL Draft Order (No. 163 to Bills) — pic.twitter.com/wtgB19O38N

— Bob Vetrone Jr. (@BoopStats) April 25, 2017
We caught up American sports expert and TalkSport host Nat Coombs ahead of the draft to get his views on what might happen over the coming days.
And we began with the question of whether he thinks Cleveland will take Myles Garrett – widely considered the best player in this draft.
"I can't see how the Browns don't take him at number one," he told TheGamblingTimes.com.
"The college experts on my Talksport2 show all agree that he is legit and we had Jermaine Eluemanor as a guest this week, a Brit who is also gonna get drafted, and who played with Garrett at A&M every day in practice. Jermaine said he's as good as they come."
Myles Garrett Career Highlights… pic.twitter.com/1NG8GwfQxK

— Sports Hub (@_Sports_Hub_) April 26, 2017
Nat believes that we could very well see some major trades on the night and added: "Talk is that the Browns want Mitch Trubisky and they have two first round picks, but will they gamble that he'll fall to number twelve?
"The 49ers are amongst those supposedly looking for a QB so Cleveland may we'll trade up to ensure their guy assuming they don't take him at number one which is highly unlikely. SF need a QB too of course so that storyline is interesting.
"Chicago may well deal – unlike say the Jags, who will feel one more piece may put them over the line this season, Bears are in solid rebuilding mode and have a QB  now in Mike Glennon so they could be tempted."
Cleveland have the 'Moneyball' system in place with Paul de Resta a key part of their backroom, and we wanted to know Nat's opinion on how important this draft could be for The Browns.
"It's an interesting balance there with some old school "football guys" and the newer school approach in their front office. I think their war-room will be an interesting place To be," he continued.
"They have historically been a dysfunctional franchise but there is suggestion that's about to change. But yes, it's an important draft because they probably want to play safe, but need a QB more than pretty much any team, so may have to roll the dice."
Many consider this year's QB class to be weak, but Nat is not so sure you can say that this far in advance.
"It's always hard to project in so many cases – unless it's a player like Andrew Luck coming out – a sure thing," he said.
"A good point that Mike Carlson made on my radio show this week is that the importance of a college QB playing out of the shotgun (or pistol) and therefore not being "pro ready" has diminished in recent years because more and more NFL teams do the same.
"This class has divided opinion as to who will emerge as a solid pro. So much of course is situation and chance – look at Dak Prescott. What my college football experts on the show are telling me is that next years QB class is stronger – so if you can wait, then do."
We asked Nat to pick out a few diamonds from this year's draft.
"I was talking to Leigh Steinberg earlier this week – the super agent that the movie Jerry Maguire is based on – and he is representing Patrick Mahomes who is a hotly tipped QB. He has shot up draft boards over the last few months and could go as high as the top 15.
Some interesting RB's to look at – all very different – including Christian McCaffrey ( a multi purpose back) and Leonard Fournette (an old school smasher). Both Mike and our college correspondent Ben Isaacs raved about OJ Howard at Tight End.
You can listen to the Nat Coombs Show every Tuesday night 2200 on TalkSport2 or listen via the website Talksport.com/us-sports or via iTunes
We also spoke to SkyBet's senior NFL trader Liam Durkin about some of the many markets they have surrounding the Draft.
"We've seen a lot of interest in Mitch Trubisky to be picked up 1st in the draft and he is 4/1, with rumours coaches and the owners are at loggerheads at Cleveland about who to pick," he told TheGamblingTimes.com.
"The owners want to pick up Trubisky, but the coaches know that a player of Myles Garrett – who is 1/5 to be taken first – doesn't come along every year in the draft let alone being in position to pick him too.
"Because Cleveland have two f round picks this draft and teams high in the draft are seemingly happy to trade their positions for a lot of later picks, they're in a great position to trade up and have a 1-2 pick this draft. It's not unlikely that Cleveland will trade their no.12 pick and some later round picks with San Francisco and secure the 2nd pick – taking Mitch Trubisky after securing Myles Garrett at no.1.
The second pick is a tough one to call but Liam believes that they will go for Solomon Thomas if they don't trade it away.
"If a trade doesn't happen between Cleveland and the 9ers, it's highly likely that San Fran will look to pick up Solomon Thomas at no.2, but it's far from a guarantee," he continued.
"They're in the market for a lot of positions and they have a lot of options to pick up some good talent, but it'll definitely be a defensive player they'll take. Although our customers have been betting Leonard Fournette since the market has been available at double figure prices."
He is pretty sure that Trubisky will be the first quarter back to be picked, and he is priced at 1/3 for that to happen.
"With the big possibility Cleveland will trade up to secure Trubisky to satisfy their QB needs and their owners, it seems unlikely that any QB will go before him," he continued.
"A lot of NFL coaches and scouts are touting him to be the best QB for this class, although they all recognise this isn't the greatest QB class ever either. There's a few teams with good picks who are looking for a QB, but even after being highly touted for Heisman glory the last 2 seasons in college, Deshaun Watson may even slip into the 2nd round of the draft due to coaches not fancying many of this year's options (and there's some great talent in other positions available this year too)."
One last installment of "Draft Watch" before Thursday's first round gets underway. Mike Williams… https://t.co/hWPN7B6ayA #Clemson pic.twitter.com/WYL4Bc6Mr4

— Clemson Sports Talk (@ClemsonSports) April 26, 2017
Liam believes there could be some value in the wide receiver market – with Mike Williams the favourite.
"There could well be some value here. I initially wanted to take Mike Williams on in this market, opening up 8/13, however that was quickly changed into 1/3. He's drifting out again in the market now after Corey Davis has been supported in recent days. There's probably only 4 teams who will be willing to take a WR in the 1st round and it'll all depend on the team's needs when it gets to them.
"Mike Williams will fit any NFL team next season, but there are better fits for other teams than Mike Williams. It wouldn't surprise me if coaches go for John Ross 1st out of the wide receivers in all honesty – an incredibly fast, deep ball with reliable hands. The only reason that teams may overlook him is his injury record, but the current 8/1 first wide receiver drafted could prove big come Thursday night."
Liam confirms that SkyBet have seen a lot of requests leading up to the draft.
"As always at Sky Bet, RequestABet's are proving ever popular on the NFL and that's carried into the draft too. We're receiving RequestABet's daily for the draft, mainly certain players to be picked up either by a team or over/under a pick number. These are a great way that customers can bet on exactly what they want in the draft and often raise great discussion in the office as they're normally not the usual sort of markets the industry offer."