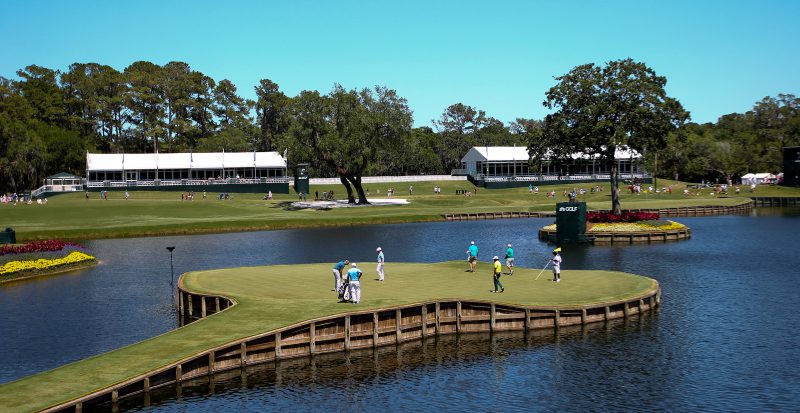 Golf's unofficial fifth major begins this week in Florida with a stellar field – as 48 of the top 50 in the world will tee it up at the stadium course at TPC Sawgrass.
Only the injured Brendt Snedeker and Belgian Thomas Pieters – who declined to play – are missing from the field which is a who's who of golf.
Only Tiger Woods' back injury keeps the tournament from getting every winner of the last 28 Players and major championships taking part.
The Players' Championship at Sawgrass is one of the world's top events, with some iconic holes which are recognisable to any golfing fan.
Iconic golf holes: The 17th at Sawgrass. The Players Championship takes place this week https://t.co/4HpbbukXmO pic.twitter.com/GG2lIU53H5

— Newstalk Sport (@NewstalkSport) May 9, 2017
The signature hole, which has been copied throughout the golf world is the par 3 17th – the Island hole. 2015 champion Rickie Fowler showed he was in good form in the build-up with a hole-in-one.
The defending champion for the event is Australian Jason Day, but with Dustin Johnson lining up – it will actually be a better field than would teed up at The Masters at Augusta.
Another hole which could very well become an icon of the course is the newly revamped 12th –  shortened par 4 with added water – is now a brilliant risk and reward blast, and the players are happy.
"I think that it's definitely a much better hole than it used to be," said Masters champion Sergio Garcia. "It looks nice. It's a different look."
"I like the fact that it gives you more options than before," said Johnson said.
"The old No. 12, everyone had to lay up to a certain spot and you'd kind of wedge it on green. Now you've got some options. You can think about if you want to go for it or if you want to lay it up, so I thought that's (a) really good change."
Go for it or lay up? Breaking down TPC Sawgrass' 12th hole https://t.co/VsAZUk1Yum pic.twitter.com/L33EbqALPH

— sports.mail (@sports_mail) May 10, 2017
Johnson himself is looking forward to challenging for one of the biggest titles in golf.
"I feel like I'm playing really well right now. Obviously, it's going to take four really good rounds if I want to be there on Sunday," Johnson said.
"But I feel like I'm starting to play this golf course a little bit better. Last year I felt like I was close. Obviously, Jason, he played really well here last year, so he was tough to beat.
"But this golf course is tough. You've got to have all facets of your game working if you want to contend around here. You've got to be doing everything well because you've got to hit all kinds of different shots, every club in your bag, and you've got to really control your golf ball.
"But I feel like the game is in really good shape, and getting a lot more confidence, especially after last week. I played a lot better on the weekend. I've had a couple good practice days the last two days, so I'm excited to get the tournament started."
Johnson comes into the weekend as favourite to take the honours, priced at 6/1 with Rory McIlroy (9/1) and Jordan Spieth (14/1) not far behind.
McIlroy comes to Sawgrass with a new multi-million equipment deal signed with TaylorMade – but he insists he is delighted with his new clubs and equipment and feels they will help him get back to world number one.
"I'm really excited that I have teamed up with TaylorMade," he said. "I needed to address a few issues after Augusta, and I alluded to the fact that I wasn't really happy with the golf ball I was playing and I needed to do something.
"I felt like I struggled in the wind, so I went back to the drawing board and tested for about 10 days pretty extensively after Augusta, worked with a lot of different things. I worked with the TaylorMade guys and saw stuff with the golf ball, that new TP5x, and I thought, wow, this is what I need, this is exactly the thing that I've been struggling with.
Rory McIlroy has signed a "long term" club, ball & bag deal with TaylorMade, while his apparel and footwear contract remains with Nike. pic.twitter.com/BnhFlxNevX

— Golf Digest S-Africa (@GolfDigestSA) May 9, 2017
"Over the over the course of the next few days, I tested different combinations, a lot of different stuff, and I came to the conclusion that that was the best way forward for me to try and improve, try and win more, try to get back to world No 1, try to win more majors. So I'm really excited about that.
"I've been on Tour for 10 years, and it's very rare that you get really excited about your equipment. I feel like it's a new chapter in my life with a lot of stuff going on, but I really feel with the new equipment, as well, it's hopefully going to take me to that next level."
The pro's point of view…
Our resident golf expert is Cliff Jackson. Cliff is a leading youth coach and PGA professional at the famed Seaton Carew Links – one of the oldest courses in the world.
A really good field in America and hard to look past some of the big names – but I am going all European here with Rory, Justin Rose and Jon Rahm.
The Bookie says…
We caught up with Ladbrokes' senior golf trader Peter D'Arcy ahead of the weekend's action to gauge the markets and ask him about our fancies.
DJ is still continuing to see support here as his 2017 carries on going well but the same cannot be said for defending champion Jason Day. The punters still haven't returned to backing Day possibly ass they feel his head isn't fully at the course.
We are seeing more money on the foreigners, with Martin Kaymer our worst result. My pick here would be Henrik Stenson
We say…
TheGamblingTimes.com's Graeme Bailey brings you his golfing opinion
Such a great field, it is hard to know where to look – you could have a dozen picks here and still not be close. I like though, the way Fowler has warmed-up so I will go with him and his friend Justin Thomas and I think Matsuyama could deliver in a big field.