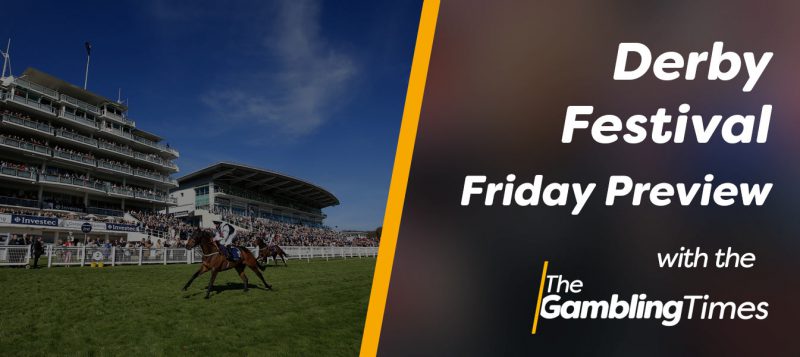 We have a preview of every race from the first day of the Derby Festival – which includes The Oaks.
The Oaks is the third of the British classic races and is the second restricted to fillies, and it is the main event on the opening day at Epsom, which features seven races.
We have a run through of each race with Unibet's Ed Nicholson – Unibet are the official betting partner for the Derby meeting.
Unibet are offering money book on any horse coming second to the SP favourite on every race.
All odds listed are representative – for live odds check Unibet
14:00 Investec Woodcote Stakes (Conditions Race) (2yo, Class 2, 6f 3y, 7 runners)
The field/odds: De Bruyne Horse (6/4), Zap (3/1), Cardsharp (5/1), Campion (7/1), Ventura Dragon (8/1), Holdenhurst (16/1), Diamond Pursuit (33/1)
The Duke says:
Unibet says: This is always a good race, and a lot go on to Royal Ascot – you are looking for someone with a couple of races and with the potential to become a group horse, although not many of these will have come down the hill so can be tough – Cardsharp looks one of those to follow, he won first-time out and then fourth on latest appearance but he looks a type to carry on improving but all the money and noise is around De Bruyne House from our ambassador Richard Hannon – but the only concern for him could be the ground and whether he goes on this.
14:35 Investec Click & Invest Mile Handicap (4yo+, Class 2, 1m 113y, 12 runners)
The field/odds: G K Chesterton (3/1), Remarkable (4/1), Sixties Groove (7/1), Mutarakez (9), Spring Offensive (11/1), Stipulate (12/1), Chevalier (16/1), Cricklewood Green (16/1), Chevallier (18/1), Calvados Spirit (20/1), Home Cummins (20/1), Forceful Appeal (22/1) Mythical Madness (50/1)
Unibet says: A very open field G K Chesterton is the lead fancy – a Godolphin horse, he won last time out and by quite a margin at Newmarket and he looks and improving handicapper, but it was soft ground which again could be a worry but Godolphin don't keep handicappers in training unless they think they are going to progress into a group horse.
15:10 Investec Coronation Cup (Group 1) (4yo+, Class 1, 1m 4f 10y, 10 runners)
The field/odds: Highland Reel (13/8), Journey (4/1), Idaho (6/1), Frontiersman (10/1), Hawkbill (10/1), Us Army Ranger (14/1), Prize Money (16/1), The Grey Gatsby (25/1), Elbereth (33/1), Red Verdon (33/1), Air Pilot (40/1)
Unibet says: A couple of horses have come out of this race, but Highland Reel has always been favourite – I would disregard her last outing at Meydan when beaten by Jack Hobbs and look at last season, she has run around the world with success, she is the top-rated horse and on her day she will take a lot to be beat her. Journey wears a hood and the crowd could be an issue for her, and I would worry about her temperament.
15:45 Investec Wealth & Investment Handicap (4yo+, Class 2, 1m 2f 17y, 14 runners)
The field/odds: Fidaawy (11/2), Brorocco (6/1), Grapevine (10/1), What About Carlo (11/1), Innocent Touch (12/1), Abareeq (14/1), Examiner (14/1), Final (14/1), Storm King (14/1), Not So Sleepy (16/1), Speed Company (16/1), Imshivalla (18/1), Top Beak (18/1), Great Hall (20/1)
Unibet says: Fidaawy is going to be ridden by Jim Crowley and won on its seasonal debut and ran on strongly – Michael Stoute knows how to get winners at Epsom and with the top jockey on board, he will take all the beating with the trip being perfect. The other to mention is Brorocco, I have seen him run twice and I have been impressed with him and if he could get the gaps at the right time could run a big race.
16:30 Investec Oaks (Fillies' Group 1) (3yo, Class 1, 1m 4f 10y, 10 runners)
The field/odds: Rhododendron (10/11), Enable (6/1), Sobetsu (9/1), Coronet (10/1), Natavia (10/1), Horseplay (14/1), Alluringly (20/1), Isabel De Urbina (33/1), Daddys Lil Darling (40/1), Pocketfullofdreams (100/1)
Unibet says: Rhododendron, would he have beaten Winter at the Guineas with a clear run – who knows – both are great fillies, and I think Ryan Moore think she would have won. She reminds me of Minding and I think she will take a look of beating. We have actually seen a lot of money for Coronet, the second of John Gosden's horses along with Enable but Coronet is the one we like the look of.
17:15 Investec Savings Surrey Stakes (Listed) (3yo, Class 1, 7f 3y, 7 runners)
The field/odds: Sutter County (2/1), Seven Heavens (5/2), True Valour (9/2), Kodiline (10/1), Solomons Bay (10/1), Koropick (12/1), Mr Scaramanga (18/1)
Unibet says: Favourite will be Sutter County and Mark Johnston's horses have been in good form. He made all the running at Goodwood on his handicap debut and that was a competitive race. Is the best horse in the field on ratings and it looks good for him. The other who could challenge him at the head of the market is Seven Heavens – a Frankel foal, John Gosden trains and probably has been a bit disappointing but has dropped down in class and that could help.
17:50 Investec Foreign Exchange Handicap (3yo, Class 2, 7f 3y, 12 runners)
The field/odds: Eaton Square (4/1), Juanito Chico (9/2), Firefright (13/2), Black Trilby (7), Musawaat (7), Wahash (15/2), Zamjar (10/1), Aardwolf (14/1), Atteq (16/1), Dr Julius No (20/1), Plant Pot Power (33/1), Alkashaaf (40/1)
Unibet says: Surprisingly only 12 runners, normally more in here but very competitive – the Ryan Moore ridden Eaton Square looks like being there or thereabouts, but this will be a tough one and his inexperience may count against him. The one who I like is Firefright trained by Jeremy Noseda, he came second over  course and distance last year which is always a good thing to have at Epsom and he won last time out at Doncaster.