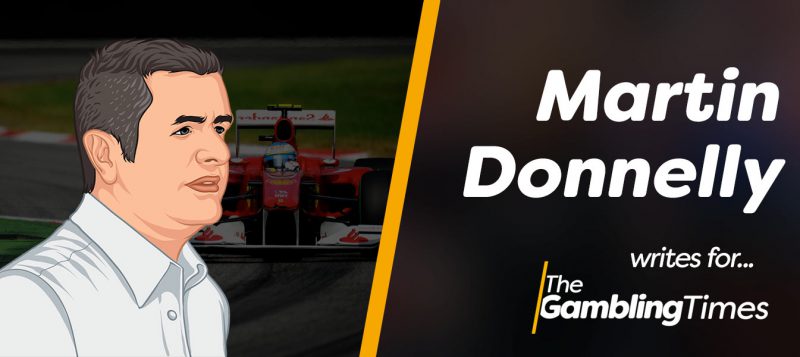 I am so happy to see how this season has gone so far, for the sport as a whole.
It is great for the spectators at large, and nice that the Ferrari has not just been a one off, and they have taken it to Mercedes.
On Lewis, he will find it difficult to claw it back over the rest of the season and Ferrari have gained the lead and they will need to maintain that pressure.
But Lewis does need to win, Lewis is a professional and knows what he needs to do – Montreal is a different course, a lot of blind corners, it is like a little street cicrcuit.
I expect Lewis and Seb to battle it out – which again is great for the fans. These two are warriors, and they appeal to all the markets – lets hope it continues – nobody wants to see two silver cars or two red cars disappear down the road.
Seb has the lead, but Lewis can do it and get back in this , it is very early – he still believes in himself.
A lot of people have also been asking me about why we maybe have seen less over-taking this season in terms of the new cars – but I don't see it like that.
I believe the new cars have been very good, the racing is quicker and better.
The new cars are going to take a long time to get right, we spent millions to make them smaller and now we are back to bigger wing, bigger tyres and bigger everything – so for instance break distance will be shorter because of bigger tyres and wings, so instead of 100 metres they are breaking at 80 metres, so it makes it harder to overtake but it is betting racing as they are getting faster and sounding better.
Engines
Also I hear people complaining about drivers and teams turning down engines etc and wanting them to be full throttle all the time. When we raced we were light to chequered flag we didnt have to worry – but these days tanks are smaller – they want to go from start to finish, but they need just make sure they can use it for the next race and that is not a bad thing.
If we allowed all the teams to use all the engines they wanted, that would set the sport back. Ferrari, McClaren and Mercedes would just spend, spend, spend – but other teams could not do that, so that rule is in place and you have to help protect those teams and that is why the cap is in place.
I am really looking forward to this race, I enjoyed racing in Montreal – there is great energy from the crowd, it is a great place to be – a special place and the teams enjoy it.
It is also great to see a Canadian in the race in Lance Stroll. He has been getting far too much criticism in my eyes. He is a Formula 3 Champion, and that shows you are no slouch. For me I think he is just getting used to things, in the old days he could have enjoyed hundreds of test hours – but there is that lack of testing allowed now.
When the likes of Hill, Mansell and Coulthard came in, they didn't set the world on fire, but the more experience you get, and more miles, the better you become – Stroll will come good for me and it would be great if he has a nice drive this weekend.