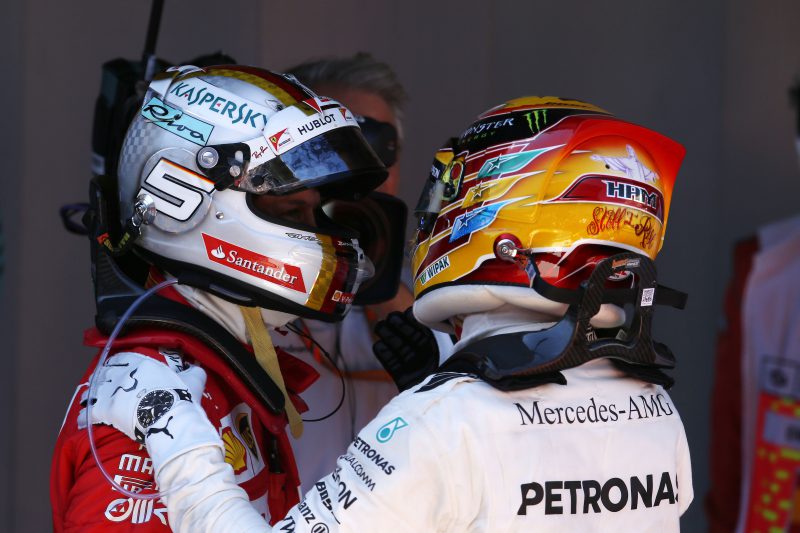 All eyes are firmly on Championship leaders Sebastian Vettel and Lewis Hamilton as the F1 season continues in Austria, following an exhilarating and controversial Azerbaijan GP.
RedBull's Daniel Ricciardo took victory in a stop-start Baku race with Williams' Lance Stroll claiming a shock podium, but all the headlines were reserved for Vettel and Hamilton, who clashed on and off the track.
Vettel hit the back of Hamilton's car as they prepared for one of three restarts, damaging his front wing and the Mercedes' floor. Then Vettel pulled his Ferrari alongside Hamilton's car, gesticulated, and hit him again.
Vettel was given a 10-second drive through penalty, but that was not enough to stop him finishing ahead of Hamilton and increasing his lead overall to 14-points.
Since arriving in Austria Vettel has apologised for the incident, although he has escaped further action.
"It was the wrong move, to drive alongside him and hit his tyre.
"Am I proud of it? No. Can I take it back? No. Do I regret it? Yes. I had the impression I was fouled. That was wrong. I wasn't happy, I overreacted."
Hamilton was left furious with Vettel's actions in Azerbaijan but he arrives at the Red Bull Ring in confident mood given his record at the track, which includes victory last time out – whilst the German has largely struggled around the circuit.
Hamilton comes into Austria insisting he is 'focused' and has only one thing on his mind – winning.
"All I'm thinking of is, get my head together. I want to kill it. I want to win the next 12 races," he said.
Away from the two main protagonists and the home fans would love to see a repeat of a Baku and a Red Bull win on their home circuit, but they have never managed a win here and again it looks unlikely this weekend.
Max Verstappen – who has had little luck with his own car in recent weeks – is looking for a good run in Austria, adding: "The fans at the RedBull Ring are always extremely passionate and of course there was a big Dutch turn out last year which is always special for me to see, plenty of caravans and orange around the area."
McClaren claimed their first points of the season in Azerbaijan and their engine partners Honda are hopeful of more improvement this weekend.
"At the previous round in Azerbaijan, we were able to bank our first points of the year and I think it brought some brightness into our team," says Honda's head of engine development Yasuke Hasagawa.
"I think we have some improvements in our competitiveness and I am looking forward to seeing our performance in Austria."
We caught up with BetFred' F1 trader Craig Durnin to get his expert view on the race
Lewis is very strong favourite here, never out the top-two and coupled with the fact Mercedes have dominated here over the past three years here make Hamilton a strong favourite for me.
Its very hard to make a case for Vettel here. I suppose the only ray of hope for Vettel fans is that he was leading last year, well before his tyre exploded that is
I don't think we are going to see a RedBull repeat from last time. If I did think RedBull where going to race well I may be inclined to look a podium finish at the 5/2, 11/4 mark. Not going to get you rich but a winner is a winner
We had some strange finishers in Baku and I'm not sure where to pitch some of the drivers this week. At this stage I am far happier taking a big chunk on the 'certain' things like Vettel to finish in the points, can lightning strike twice?
We certainly don't see anything over than a SIlver Arrows win this weekend and I'm very sorry to say that because of my outright book but as far as I'm concerned I'll be shortening Hamilton for the WDC again come Sunday afternoon. So obviously this will tighten Mercedes grip on the Constructors.