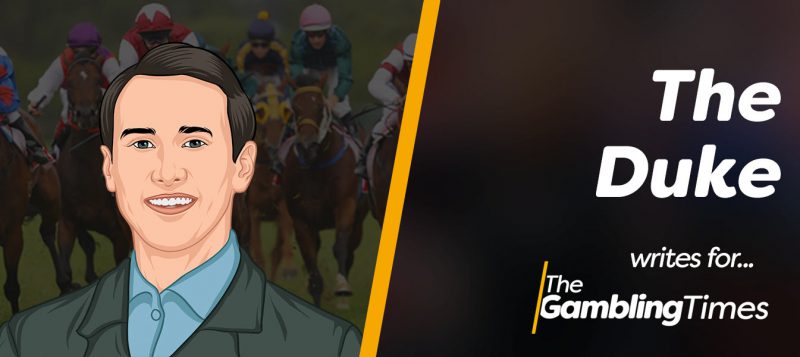 I don't often suggest a tricast, but for those of you who paid acute attention to the weekend column about the Lancashire Oaks you'll find yourself a few quid richer as The Black Princess led home Abingdon and Ajman Princess.
Let's take a quick look back…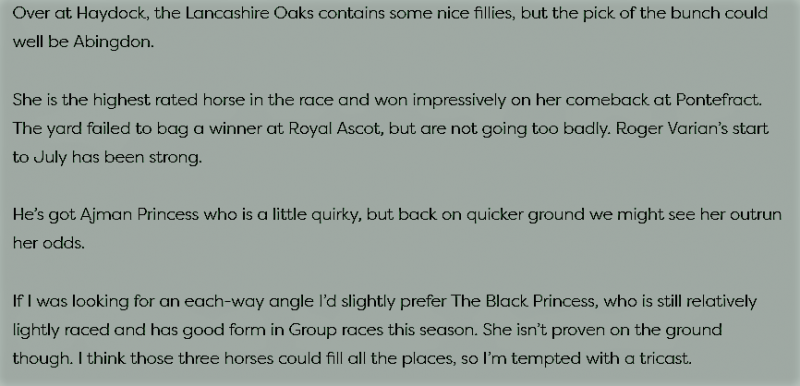 It wasn't the strongest race in terms of times especially as it was fast ground, but between them they should win a few more races this season.
Later on the card at Haydock, Dylan Mouth showed he retains some ability by winning the Old Newton Cup at stonking odds of 25/1 (well played if you had that one, I didn't!). Dylan Mouth was a Group 1 winning horse in Italy for Stefano Botti, before he transferred to brother Marco Botti. He's been tough to win with since then, so this was a clever piece of placement, especially as this handicap was worth more than the Group 2 before it on the card.
Over at Sandown, Battaash was an eye-catching winner of the Coral Charge. By all accounts he was a bit of a nutcase before he was gelded. Shame we can't take the same approach with unruly humans. Anyhow, he's a different animal now and looks pretty speedy. Just don't ask him where his balls are else he might kick you in the face. I agree, not my most poetic line, but you get the picture.
What was far more poetic was the performance of Ulysses in the Coral Eclipse. Giving weight to his younger rivals, Sir Michael Stoute's wonderful patient approach with horses once again paid dividends. I thought giving 10lbs away to the classy three-year-olds in the line-up like Barney Roy, Ulysses might struggle to repel them, but I was wrong and hold them off he did. He was 'strong in will' as the classic Tennyson poem of the same name suggests. And as we head towards the July Festival at Newmarket this week, I'll use another line from that poem to inspire the punters against the bookies – remember 'to strive, to seek, to find, and not to yield!'. Best of luck.