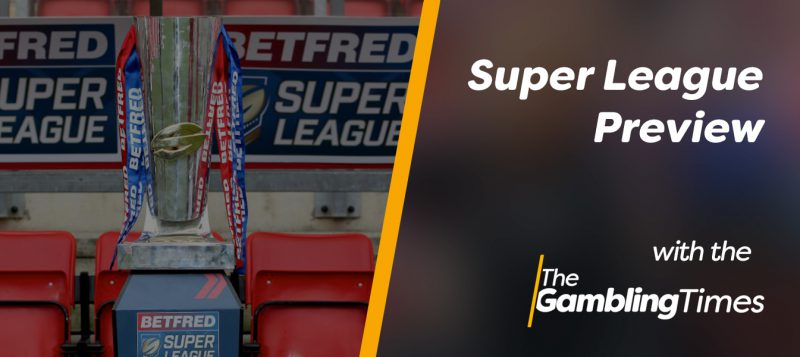 Super League leaders Castleford Tigers will be looking to bounce back from defeat last week as they look to seal the League Leaders Shield.
The Tigers suffered their first home defeat of the season to St Helens, but they will look to bounce back to winning ways as they travel to Salford Red Devils – who dropped out of the all important top-four last week, after they lost to Hull FC.
St Helens win at Castleford meant they moved into fourth and they will move into third if they beat Hull this week.
Second placed Leeds are looking for top-four qualification but they will look to keep up their good form at Wakefield.
The final game is eighth v seventh as Wigan take on Huddersfield, with both looking highly unlikely to be troubling the top-four.
10 August 2017
20:00 Wakefield v Leeds 
Match odds: Wakefield 11/4 Draw 25/1  Leeds 2/7 
BetFred says: Wakefield looking to bounce back but Leeds on a roll after beating Wigan last week, Rhinos by ten
11 August 2017
20:00 Salford v Castleford 
Match odds: Salford 11/4 Draw 25/1 Castleford 2/7
BetFred says: Salford need to quickly get some momentum at this key stage of season but bruised Cas will be determined to get back to winning ways and should win by at least eight
11 August 2017
20:00 St Helens v Hull 4/7 20/1 6/4 
Match odds: St Helens 4/7 Draw 20/1 Hull 6/4
BetFred says: Saints are marching on but third-placed Hull will be no pushovers, a possible draw that would suit them both
11 August 2017
20:00 Wigan v Huddersfield 
Match odds: Wigan 2/7 Draw 25/1 Huddersfield 11/4
BetFred says: Wigan desperately need to leapfrog Giants in race for top four and will make home advantage tell in win by 16
SUPER 8S
| P | Team | Pl | W | D | L | SD | B | Pts |
| --- | --- | --- | --- | --- | --- | --- | --- | --- |
| 1 | Castleford Tigers | 24 | 20 | 0 | 4 | 377 | 0 | 40 |
| 2 | Leeds Rhinos | 24 | 16 | 0 | 8 | 92 | 0 | 32 |
| 3 | Hull FC | 24 | 14 | 0 | 9 | 72 | 0 | 29 |
| 4 | St Helens | 24 | 13 | 1 | 10 | 107 | 0 | 27 |
| 5 | Salford Red Devils | 24 | 13 | 0 | 11 | 62 | 0 | 26 |
| 6 | Wakefield Trinity | 24 | 13 | 0 | 11 | 36 | 0 | 26 |
| 7 | Huddersfield Giants | 24 | 10 | 3 | 11 | 63 | 0 | 23 |
| 8 | Wigan Warriors | 24 | 10 | 3 | 11 | 5 | 0 | 23 |