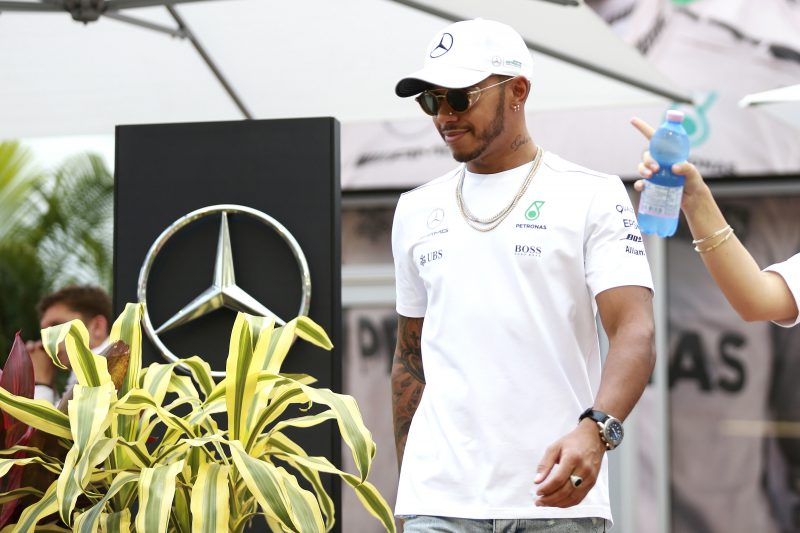 One of the most popular stops on the F1 calendar, Singapore hosts the 14th round of this year's Championship.
The first ever Asian street circuit and night-time race, it has been held since 2008 in Marina Bay and it will be on the calendar for a while yet having agree a new four-year deal.
Championship leaders Lewis Hamilton and Sebastian Vettel both enjoy the track, combined winning it six times – although it the German who has a real liking for it with four wins under his belt – and it tees things up perfectly ahead in the Drivers' Championship.
Hamilton took the lead in the overall standings after victory at Monza last time out – giving him a three point advantage.
However, with the twists and turns to come in Singapore, he is anticipating a tough weekend.
"Maybe we don't have the best package for this weekend, but we still have a great car. We can still be in the mix," he said.
"We can still do potentially better strategies. Maybe on a single lap we will have a better scenario and that is so important."
Posh shots of Sebastian Vettel during today's Free Practice-1 on Marina Bay Street Circuit ❤️📸👍#Seb5 #SingaporeGP2017 pic.twitter.com/ki0lpDMmDe

— Natalia / TeamVettel (@Natalia_SV5) September 15, 2017
Vettel is hopeful that Ferrari will be on top in Singapore but insists nothing is certain.
"In theory it should be a bit better here than Monza but I think it will be close," Vettel said.
"We've seen that it's very close no matter where we go (even on) tracks that (should) definitely suit Mercedes or (should) definitely suit Ferrari."
Many are predicting that Red Bull could make a real push for victory this weekend and Daniel Ricciardo believes he could taste glory.
"I genuinely think we can certainly fight for the podium again, hopefully I get my first win here," he said.
Likewise, the Australian's team-mate Max Verstappen feels they can compete in Singapore, adding: "I really think we can be a threat.
"A lot of corners always suit us more and street circuits as well, and not too many straights, that is perfect."
We spoke to BetSafe's Ian Balchin, F1 odds compiler for the Betsson Group, ahead of the race
Lewis and Mercedes definitely have momentum at the moment, claiming four victories from the last five races.  This has seen his price drop as customers rush to back him. But this is racing and anything can happen.
But there has also been steady customer activity in Vettel, especially as the interest in Hamilton causes Vettel's price to rise.
Turning to Sunday's race – we do think it will be a good weekend for Ferrari. This year the Ferrari car has shown to excel in twister, slower sections of tracks and as the Singapore track is in the centre of the city, we expect Ferrari to be very strong.
But the Red Bulls, like Ferrari, have been doing very well on the low-speed circuits demanding maximum downforce so we have priced the Red Bulls drivers accordingly.
And for our pick this weekend – Max Verstappen has had some bad luck this year. But this circuit will suit the Red Bull car and with the chance of rain falling on race day I am going for Max to finish in the Top 3 @ 5/4
For all odds and markets on the boxing this weekend, please go to: www.betsafe.com
Our motor-sport expert and professional racer Seb Morris gives us his opinion on Singapore
Humidity is really high and this is a tough race for the drivers, one of the most physically demanding of the calendar.
The street circuit is quite slow and has 23 corners –  that means it is likely to favour the Ferrari.
The other low speed races so far this season at Australia, Bahrain, Monaco and Hungary have all led to Vettel wins.
Hamilton not only has that disadvantage to combat, but personally he has struggled at Singapore over the last few years.
There is definitely a chance that Red Bull could outperform the Mercedes so it is very much a weekend of damage limitation for Hamilton, whereas Vettel will see this as a real opportunity to not just regain the Championship lead but put a bit of distance between him and Hamilton – he will be hoping that his old Red Bull team come to his assistance in that regard.
Ricciardo is my dark horse for a win here, if Vettel suffers any problems. Also keep an eye out for the McLarens – in a race where engine power is not quite as important, Vandoorne and Alonso have a chance of a points finish so long as they can avoid further grid penalties.