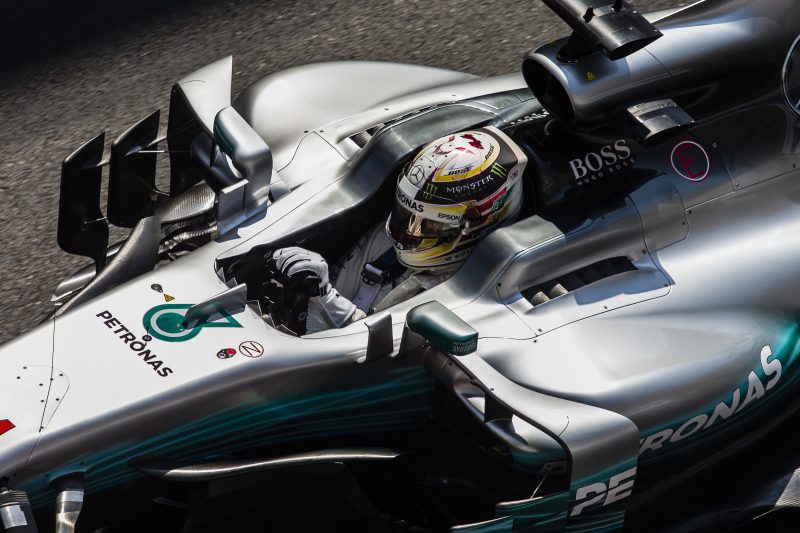 The Formula 1 carnival has arrived in Malaysia for the latest round of the World Championship, but it will be biding a fond farewell to the Sepang Circuit this weekend.
F1 first took place in the Asian county in 1999, but now nearly 20 years on – this will be final time, perhaps ever, that they host a Grand Prix.
Sepang has proved a popular circuit with teams and drivers since its inception, but the crowd levels have never been good, and it did not come as huge surprise when it was confirmed this would be the final year.
Coming in the round, and Lewis Hamilton is firmly odds-on to win his fourth world title – which would equal the tally of Sebastian Vettel – his main rival.
Last time out in Singapore and with Hamilton suffering in qualifying and Vettel on pole, it looked like the German was set to retake the lead in the Drivers' Championship.
However, a first corner accident saw Vettel, his Ferrari team-mate Kimi Raikkonen and RedBull's Max Verstapem all come together, ended their races and throwing the door open to Hamilton and the British star took the chance with both hands, and now leads overall by 28 points.
But like in Singapore, Ferrari are expected to be very competitive and Mercedes could struggle to keep pace on a circuit they traditionally find it difficult on.
Hamilton and Mercedes have only won at Sepang once, in comparison to Ferrari – who have dominated in Malaysia with seven wins, and four to Vettel.
Talk in the pit-lane continues to be about the Drives' Championship and Hamilton stoked things up this week when on a talk-show, he seemingly suggested the German had weaknesses.
"It is great to have seen some of the weaknesses come through this year and I'm grateful for this recent one," Hamilton said.
Vettel remains calm though and with six races to go, firmly feels he can still take the honours this season.
"There are still a lot of races left and we have a strong car. It's been very tight the whole season," he said.
Very happy to join @ToroRossoSpy for the #MalaysianGP! Thanks to everyone involved, can't wait to start my first @F1 GP this weekend. 🇲🇾 pic.twitter.com/8bya5Z6ZWa

— Pierre Gasly 🇫🇷 (@PierreGASLY) September 26, 2017
One new name on the grid in Malaysia will be young French driver Pierre Gasly – who will be taking the place of Russian Daniil Kvyat for at least the next couple of races as they look at who will replace Carlos Sainz for next season.
"I have worked hard to prepare for this and to get to F1. I am very happy to have this opportunity. I know it will be different to anything I've done before and the other drivers have been racing all season, so I will have a lot of things to get used to and learn about. It's a super challenge and I can't wait for it to start," he said.
RedBull won this race last year with Daniel Ricciardo, who comes into the race after claiming another podium in Singarpore and the Australian is in confident mood.
"Set-up is always a compromise in Malaysia as you need a good car in the middle sector, but you also can't afford to lose too much time on those long straights," he said.
Verstappen was runner-up to Ricciardo last year and is hoping to go one better this time around.
"Last year we had a one-two in Malaysia. Daniel and I had a good wheel-to-wheel battle, we gave each other just enough room which provided some good action for the crowd and a great result for the team," he said.
We spoke to BetSafe's Ian Balchin, F1 odds compiler for the Betsson Group, ahead of the race
After securing a hat-trick of victories since F1's summer break, Lewis Hamilton has turned a 14-point championship deficit into a 28-point advantage with just six rounds remaining.
Hamilton defiantly has momentum coming to Malaysia. But we believe the weather here will be a huge factor come race day and just one mistake can turn things around massively for any driver fortunate enough to finish the race on Sunday.
Loyal Ferrari fans will always back Vettel and we are seeing money coming on both Ferrari drivers. Lessons will have been learnt from the Singapore race start and we are sure Ferrari will be pushing for the win on race day.
Elsewhere, the two Force India cars are in strong form this season, finishing both cars in the top 10 in the majority of races and having two Top six finishes in the past two races. Our customers are aware of this and they have been backing both drivers in this market and top 10 market.
Looking at Malaysia, we know the weather is very unpredictable and just like the previous Singapore race rain or even a thunderstorm will mix everything up very nicely for punters and fans alike.
Max Verstappen's season has to turn around at some point and again I tip Max Verstappen for a top 3 finish in this race, especially if the weather worsens over the weekend.
At around 7/5 we think this is a very decent bet.
For all odds and markets on the boxing this weekend, please go to: www.betsafe.com
Our motor-sport expert and professional racer Seb Morris gives us his opinion on the Malaysia GP
Malaysia is a track with plenty of acceleration zones and that encourages overtaking ;  the track is wide, too,  particularly at the start and end of each lap,   so unlike many F1 circuits these days there are plenty of passing opportunities.    That means that qualifying is perhaps less essential than at most circuits.
The forecast is that there may be rain;  if it does rain either during qualifying,  that will in my opinion favour Vettel and the Ferrari which should be the car better suited to adapt.  That said, Red Bull will want rain too,  and Ricciardo and  Verstappen (if his fortune can improve!)  will fancy their chances.   Mercedes and Lewis Hamilton will want a dry and simple race, for sure.
If it is wet race,  I am going to predict that Vettel will take the win and claw some points back from Hamilton,  but incidents aside Lewis will be very happy to leave Malaysia with a podium –  that would be a fabulous weekend of damage limitation for him and would see him retain a very healthy Championship lead.
For a dark horse points-scorer I fancy Jolyon Palmer to do well.   He has such a point to prove now and the Renault might just like this circuit, even in the wet.