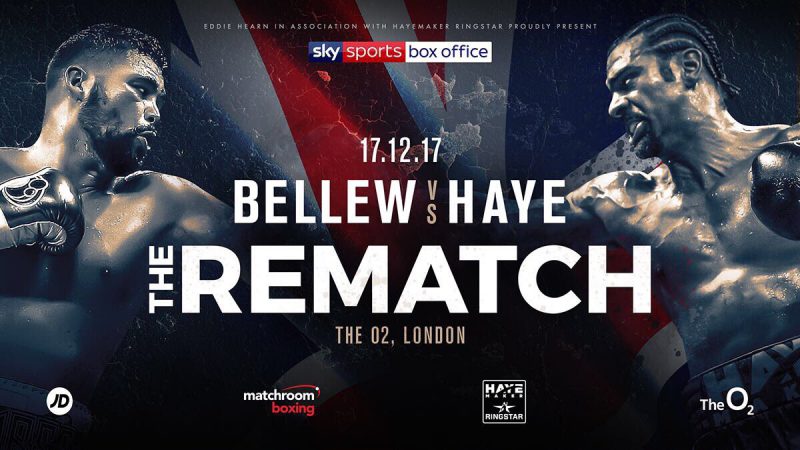 The first encounter was like a soap opera! It had drama all the way through it, from the build-up to the fight itself.
No one expected any of what happened in the squared circle that night in London.
Huge underdog Tony Bellew won the first happenstance after David Haye's corner rightfully threw in the towel in the penultimate round.
Former cruiserweight and heavyweight world champion "The Hayemaker" later confirmed that he had torn his Achilles tendon during the sixth-round of the fight.
He has since had it reconstructed but there's no rebuilding the relationship that Bellew and Haye briefly enjoyed when they embraced immediately after the fight last March.
The return will, once again, be at O2 Arena, this time on a Sunday on December 17, as the South London venue was heavily booked up.
Haye waited for the injury to heal before planning his revenge and Bellew wants a clean win, so the stage has been set for another momentous night on the Greenwich Peninsula.
But what did we learn from that fantastic first fight?
Haye's timing is well off, for a start! It was embarrassing to watch those wild lunges and big swings in the opening rounds. There must have been a bee buzzing around somewhere but I doubt he hit it!
His speed has gone, for which he was formerly known, and his heart rules his head. He threw his boxing skills out of the window in favour of blasting the "Bomber" away but the tactic didn't turn out too well for him.
Because Bellew proved a lot tougher than we all thought, he can take Haye's best shots and just shrug them off. He was quicker, sharper, more fleet-footed and craftier than his counterpart.
His own shots, however, are seemingly not strong enough to stop Haye. He had a one-legged man pinned to the ropes but couldn't summon the strength put him away.
Aged 36, Haye's best years are long behind him. His body has let him down more than a few times, it's almost a forgotten memory that he was due to face Tyson Fury before but cancelled twice.
He hasn't been a world champion for over six years and I think there's a reason why – he is not the same fighter he was.
First time round it was an easy fight to predict – Haye's power was going to blow Bellew away in the first few rounds…
With the script well and truly torn up, the rematch is a hard one to work out.
Will Haye be the same – sluggish, slow and swinging? If so, then Bellew wins comfortably on points, presuming no dramatic injuries occur mid-fight again.
If Haye comes into the fight heavy, then Bellew should outbox him like he did in the first fight where he was up 96-93 on all three of the ringside judges' scorecards.
If Haye is a figure of his former self, trimmer and more athletic, then he should win, likely on points but I wouldn't rule out a stoppage victory.
He will certainly have a point to prove and might choose to try and finish his rival in emphatic fashion, which could again lead to his heart ruling his head and the crowd seeing more of the same – wild swings swiping nothing but air.
It will be a shame if that should happen as I wouldn't enjoy seeing the two-time world champion retire like that.
If I had to put my money on it then I would pick a humbled Haye, rejuvenated and recovered, to win on points.