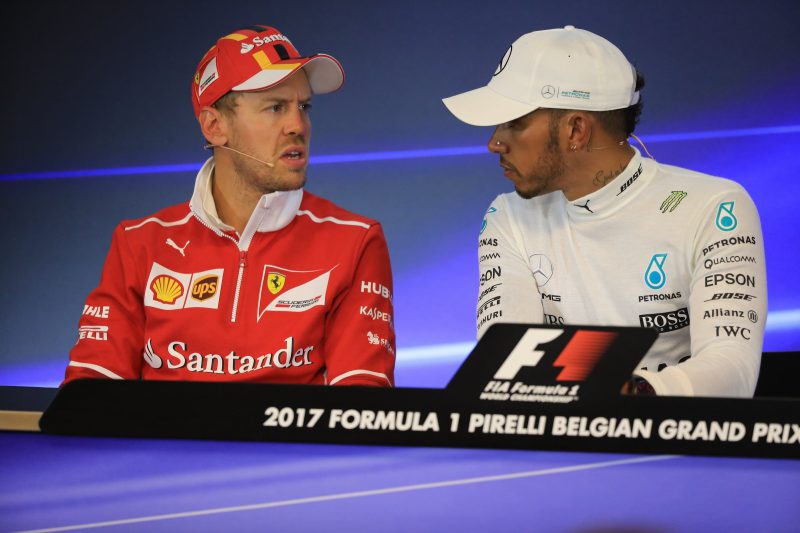 Formula 1 hits Japan this weekend for traditionally one of the most anticipated races on the calendar.
Japan has now staged over 30 races and nearly half the stagings have seen the world champion crowned, due to when it takes place.
Now, although, Lewis Hamilton cannot be crowned – the last two races have seen him become firm favourite to claim his fourth world title, and he holds a 34-point lead with five GPs of the season left.
"I am under no illusion. I might have the nail a little bit in, but I need to keep hammering it.
"It is not done until there is no more to push it in. There are so many points available and you have seen other years where things swing.
"The pendulum can swing. I am hoping if it starts to swing the other way we have enough force to push it back to where it should be."
Vettel is refusing to give up on the world title just yet ahead of the race in Suzuka.
"We are behind so it depends on what Mercedes is doing," he said.
"I think it's pretty clear we need to do our best. We are behind on points if we look at the championship, so we need to score much more than them.
"There is always hope. Sure, the last two races were far from being ideal, but we will continue to work hard. To bury one's head in the sand is absolutely no option. And what is important is that our car is good."
Up and running at Suzuka! 👊🇯🇵
→ #JapaneseGP の準備完了 #F1jp pic.twitter.com/q7i2ZtUnie

— Red Bull Racing (@redbullracing) October 6, 2017
Whilst it remains a two-horse race in the overall title, RedBull are very much in the reckoning for the race win after their first and third in Malaysia with Max Verstappen and Danny Ricciardo.
Verstappen is looking forward to Suzuka – the track he made his F1 debut at.
"Suzuka will always be a special place for me because I made my Formula 1 debut there during Friday practice and it's a proper old-school track." said Verstappen.
"My favourite corner is the fast Esses in the first sector, but it's also the most difficult section of the track and you really have to concentrate on getting the set-up right."
We spoke to BetSafe's Ian Balchin, F1 odds compiler for the Betsson Group, ahead of the race
Overall the Mercedes momentum has continued to build during the second half of the season and the high price currently available for Vettel is attracting attention from our customers who believe that he can turn things around.
Ferrari have been quicker than Mercedes in the past two races but Mercedes have recorded better results at the end of each race. Again I expect things to be very tight at the top and our customers have again been backing the front two front runners of Hamilton and Vettel for the win.
Vettel's crash at the end of the Malaysian race has caused uncertainly in the team winner market for this race. On Saturday, Ferrari will run with this gearbox again, so then we will see if Ferrari will need to take a five place grid penalty or not.
Max Verstappen has had a torrid 2017 season, a series of strong results being lost to reliability problems and driver errors. Max will take huge confidence from his Malaysian win and our customers are betting on him for the win here in Japan.
For our pick, a dry race is scheduled for race day and with very few retirements recorded at this race over the past years so I am backing over 16.5 drivers to be classified at the end of the race. Betsafe are offering odds of 6/5 for this choice.
For all odds and markets on the boxing this weekend, please go to: www.betsafe.com
Our motor-sport expert and professional racer Seb Morris gives us his opinion on the Malaysia GP
This is an exciting race with genuinely the three leading teams all hoping they can win.
Vettel has to win, and so will be all out for a victory more than most, but I do expect to see Mercedes improve on their last two weekends (in terms of performance as the results still went very well for them).
Suzuka has big demands on horsepower which should play better in to the Mercedes' hands.  That said, the Ferrari, if it avoids more bad luck, looks immense at the moment so I am going for a Vettel win with Hamilton competing with Raikkonen and the Red Bulls for the other podium positions.
That will represent a good weekend for Lewis here.
Further down the grid Honda will be hoping for a good performance at Japan and whilst the horsepower demands won't suit the McLaren their car seems to be improving all the time and Vandoorne and Alonso will be looking to score solid points.