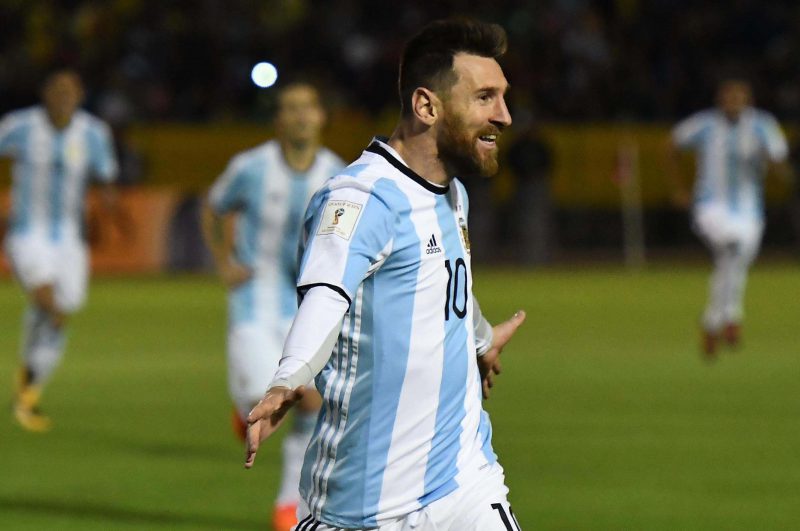 Manchester City have never hidden their desire to land Lionel Messi and their interest remains firmly intact.
The 30-year-old superstar is widely reported to have agreed a new deal with Barcelona, with his current contract due to expire at the end of the season.
Barca insist that the new deal is complete and president Josep Bartomeu says it has been signed, but admittedly only by Messi's entourage, including his father Jorge and his brother Rodrigo.
Until the new deal is unveiled, as it stands Messi will be eligible to sign a pre-contract with other teams in January, and with Paris Saint Germain having gone down the Neymar route – the only team actively looking at Messi is City.
Football INDEX Watch – LIONEL MESSI – Number one player in the world? Very much number one on the index at over £8…

Sources close to City admit that they will 'never' give up on Messi and will always offer him a route out of Catalonia, if he wants it.
Messi spent midweek helping Argentina seal their place at the 2018 World Cup finals, and his fellow countryman and close friend Sergio Aguero – has never hidden his desire to link-up with him, and he has repeated that desire this week.
"The money isn't a problem here," Aguero told TyC Sport. "But I think Messi, like [Cristiano] Ronaldo, are players who are symbols of their clubs and it's difficult for them to leave.
"I would love to have Leo on my team, but that seems quite complicated."
The fact that Pep Guardiola – one of Messi's big influences in his career – is the boss of City, doesn't go unnoticed either.
We spoke to Unibet about the prospect of Messi linking up with Guardiola again, and they have a market that rates the chances of the two working together at City at 7/2.
"There has been not much movement on this one at the minute from the market's point of view, possibly due simply to the transfer market being nowhere near open, as well as the transfer rumours being relatively quiet," said spokesman Alistair Gill.
"The odds haven't shifted from opening price @ 7/2. We have however had one punter back it to the tune of €1,000."
Football INDEX is a stockmarket game where players, known as Traders, take a position on the "future success" of footballers with real money – CLICK HERE to play and start winning, and take advantage of your £20 cashback only with TheGamblingTimes.