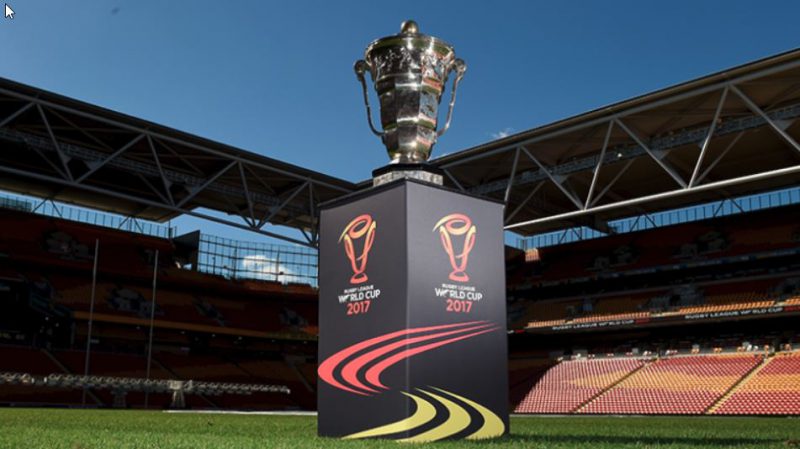 The fifteenth staging of the Rugby League World Cup takes place in Australia, New Zealand and Papua New Guinea over the coming month.
Dominant force Australia are being tipped by everyone to lift the trophy come the final in Brisbane on December 2nd.
Australia are, unsurprisingly, the most decorated side in Rugby League history with ten wins and although they are expected to make it number 11 on home soil, their skipper Cameron Smith insists they are not taking things for granted.
"As far as what the public and the bookmakers say, that doesn't really concern us. What concerns us is our preparation," said the Melbourne Storm star.
Away from Australia and their main rivals are expected to be the usual candidates of New Zealand and England.
England's star is Australian-based South Syndey star Sam Burgess, and he is hopeful that they can cause a shock.
"We've got a good chance but it's down to how hard we want to work when it gets hard on the field," said Burgess.
New Zealand have been hit by the loss of some stars, including Jason Taumalolo, to Tonga – who many, including us (see below) could make a huge impact on the tournament.
But the Kiwis insist they are ready, and coach David Kidwell said: "I have 24 guys in this team now who feel they belong to the Kiwis and will play for the jumper. That's the attitude I want."
The biggest loss for New Zealand is Taumalolo – who is now looking to upset things with Tonga.
"At the end of the day I'm here to play for my country and I'm looking forward to doing that," said the Cowboys superstar.
"I think I'm giving back to a little country and what the boys do for the country will go a long way to helping them in many ways and maybe in the future develop them as a rugby league country."
Realistically only Tonga can challenge the big three, with the likes of France, Fiji, Papua New Guinea, Scotland and Ireland – happy to make the quarter-finals.
See below for a full preview of each group with odds from Betfred and our predictions.
We spoke to BetFred's Pete Spencer to get their thoughts on the World Cup
As is always the case, there will be three sides leading the way in the Rugby League World Cup: Australia, England and New Zealand.
Likely to be a popular pick, England are the best of the home nations and they will fancy their chances. However, Wayne Bennett has certainly caused a stir with his squad selection and a number of big names have missed out. The squad seems to be top heavy and with Ryan Hall and Jermaine McGilvary the only specialist wingers, injuries and fatigue could be an issue Down Under.
Co-hosts New Zealand have had far from ideal preparation with Jesse Bromwich and Kevin Proctor dropped after being filmed taking cocaine. They aren't the only players who won't be pulling on a Kiwis shirt, four players, including star man Jason Taumalolo, have decided to turn out for Tonga instead.
That should, in theory, leave the door open for the Kangaroos to romp home.
Australia are by far and away the best nation in the 13-man code and they are odds on to retain their title thanks to a star-studded squad.
Group A
Australia – 2/9
Star man: Billy Slater
Gambling Times prediction: You can't see past Australia on home soil, it is going to take something special to stop them – WINNERS
England – 7/1
Star man: Sam Burgess
Gambling Times prediction: England should make the final, and it will be a disappointment if they don't, and we think they will fail as their squad is not as good as it could have been – SEMI-FINALISTS
France – 300/1
Star man: Julian Bousquet
Gambling Times prediction: France do not look like they have enough, but their game with Lebanon is key – OUT IN GROUP STAGES
Lebanon – 500/1
Star man: Mitchell Moses
Gambling Times prediction: Lebanon have a number of NRL stars, and their pack looks good – will have enough to make it out the group – QUARTER FINALISTS
Group B
New Zealand – 8/1
Star man: Jordan Rapana
Gambling Times prediction: New Zealand don't look a happy camp and they have lost some big names – they won't make the final – SEMI-FINALISTS
Samoa – 66/1
Star man: Frank Pritchard
Gambling Times prediction: Will have too much for Scotland and that will see them out the groups, but that is it – QUARTER-FINALISTS
Scotland – 500/1
Star man: Danny Brough
Gambling Times prediction: Scotland have been hampered by some major withdrawals, they won't win game – OUT IN GROUP STAGES
Tonga – 25/1
Star man: Jason Taumalolo
Gambling Times prediction: Tonga have added some huge names to their squad, names who Australia and New Zealand wanted. We think they are real dark horses and will beat England to make final – RUNNERS-UP
Group C
Papua New Guinea – 150/1
Star man: James Segeyaro
Gambling Times prediction: One of the host nations and they will have enough to win group and make knockout stages – QUARTER-FINALISTS
Wales – 500/1
Star man: Regan Grace
Gambling Times prediction: Wales are missing strength in-depth and will finish bottom of this group – OUT IN GROUP STAGES
Ireland – 500/1
Star man: Michael McIllorum
Gambling Times prediction: Will beat Wales but will not have enough to beat PNG on home soil – OUT IN GROUP STAGES
Group D
Fiji – 100/1
Star man:  Jarryd Hayne 
Gambling Times prediction: They have some real talent Fiji and could push for a last-four spot, they will ease through the group – QUATER-FINALISTS
United States – 1000/1
Star man: Bureta Faramino
Gambling Times prediction: Nice to see USA making it to the finals, but they won't trouble Fiji or Italy – OUT IN GROUP STAGES
Italy – 250/1
Star man: James Tedesco
Gambling Times prediction: Italy are not without talent and could run Fiji close but they will probably just miss out – OUT IN GROUP STAGES