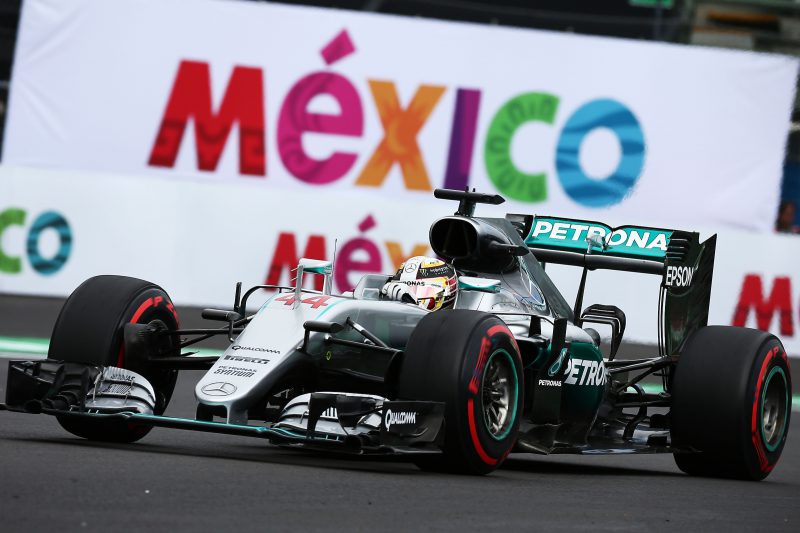 The champagne remains on ice as Lewis Hamilton looks to seal his fourth World Drivers' Championship in Mexico this weekend.
The Autodromo Hermanos Rodriguez only returned to the F1 calendar in 2015 but it is already a firm favourite with fans and drivers alike.
But unfortunately for Hamilton's rival Sebastian Vettel, Mercedes love it in Mexico City too – and have won both races since the sport was introduced at the North American circuit.
Hamilton won last year, and is favoured to repeat that success again and victory will be enough for him to seal his win, indeed the British superstar only needs to finish fifth or better to claim the title as Vettel is 66 points behind with only three races remaining.
Despite the fact he is on the brink of the title, Hamilton is refusing to take anything for granted against the German, but he insists he wants to win it the right way.
"I have no desire to finish fifth and win the championship while someone else stands on the top step," said Hamilton.
"The dream would be to stand on the top step having won the championship."
Vettel insists they are not going to lie down and let Hamilton and Mercedes have a procession in Mexico, and commented: "We are still here to fight and we want to do it till the end. We are trying to do our best and win and then we'll go from there."
Whilst all eyes from around the world are on Hamilton, home eyes continue to be on their hero Sergio Perez and the Force India ace is looking to make an impact on home soil.
"Racing at home means a lot for me. The track is quite fun to drive and being on those long straights is special," he beamed.
"I am lucky I get to race in my country in front of my fans. Their support means so much to me and it's inspiring to see fans waving the Mexican flag in every grandstand. I really want to give them a special result to celebrate."
Another huge crowd favourite is Max Verstappen, who again produced one of the drives of the season in Texas last week to battle his way from near the back of the grid up to a third placed finish before a harsh stewards decision demoted him to third.
"I will try my best to get on the podium this year. I was very close to it last year, but unfortunately in the end it didn't work out for us," he said.
"The track is a great venue and has a unique setting. No other track we go to has a stadium section like Mexico. It just doesn't compare to any race track I have been to so far. It's an enjoyable track but not very physical, even though it's really quick. The fans are really passionate and loud all weekend so I'm definitely excited to get back there and race this year."
We spoke to BetSafe's Ian Balchin, F1 odds compiler for the Betsson Group, ahead of the race
Lewis Hamilton is favourite, but inspired by his excellent fight back in the last race, our customers have so far been backing Max Verstappen heavily this week to take the win.
The market is favouring the top three of Hamilton, Vettel and Verstappen heavily so far. This of course pushes the price of Bottas, Raikkonen and Ricciardo high, making them all attractive alternatives for the podium position.
Looking at the top six market has been on the Mercedes, Ferrari and Red Bull drivers so far.
This track favours teams that can successfully run high downforce cars, an area which Mercedes has struggled so far this season. This opens the door for other teams to step up into the points on Sunday.
Both drivers in the Force India and Toro Rosso teams are looking like interesting alternatives for the top 10 market so far. Our customers have been showing interest in the drivers of both teams so far.
The Force India package looks strong and reliable and I am tipping that at least one of the them will finish in the top six of the Mexican Grand Prix. Esteban Ocon is my favourite to achieve this.
Our motor-sport expert and professional racer Seb Morris gives us his opinion on the US GP
With Lewis Hamilton only needing to finish fifth, will we see a conservative strategy from him and Mercedes?  I don't think Lewis will want to do that – he will want to win and secure the title that way, and I am backing him to do it.
Both Ferrari and Red Bull should be strong in Mexico so it's going to be a very close race.  I think Verstappen will bounce back from last week's disappointment and secure a podium this time around.
Further down the grid, Carlos Sainz has settled in at his new team quickly and I think could go well here.