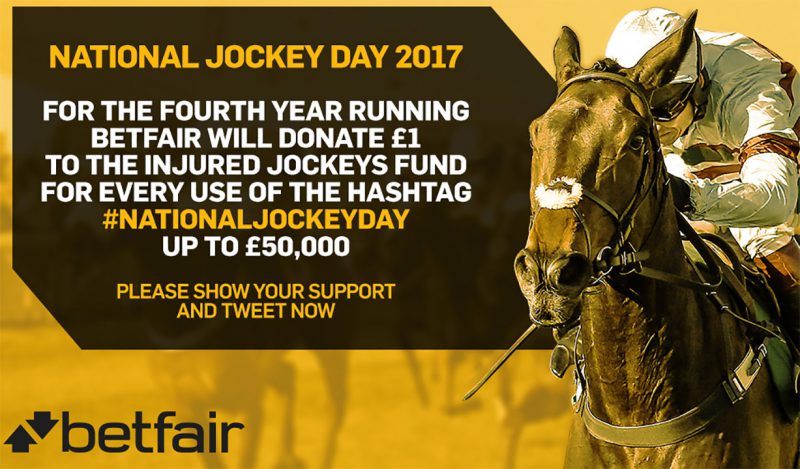 After smashing 2015's donation record last year, Betfair's National Jockey Day returns on Saturday (November 25th), with the aim of raising another £50,000 for the Injured Jockeys Fund.
On the day Betfair will be donating £1 for every use of #NationalJockeyDay on Twitter.
Betfair is continuing its partnership with the Injured Jockeys Fund to increase recognition for jockeys up and down the country
National Jockey Day is hoping to raise up to £50,000 again in 2017 by donating £1 for every use of the hashtag #nationaljockeyday
The campaign also highlights the Injured Jockeys Fund's work with jockeys every step of their career
 National Jockey Day, which takes place on the same day as the Betfair Chase at Haydock, is backed by people from all across the industry including jockeys who have all benefitted from  the Injured Jockeys Fund, such as David Egan, Aidan Coleman, Sammy Jo Bell and George Baker.
Betfair's Barry Orr said: "Jockeys are by far some of the bravest athletes in the sporting world and we are pleased to once again be running National Jockey Day to raise awareness of the work the Injured Jockeys Fund do to support them in their careers.
"We will also be aiming to raise another £50,000 through our social media campaign so whether you work in the industry or you're simply a racing fan, we urge people to get involved and support the campaign by sharing #NationalJockeyDay on social media this Saturday."
Lisa Hancock , CEO of the Injured Jockeys Fund said: "We are really grateful to Betfair for running the National Jockey Day campaign again – people love raising money in this way via  Twitter, and the campaign is really good at raising awareness of what the IJF do, and how we help jockeys throughout the careers, and into retirement."
Support National Jockey Day by:
Tweeting #NationalJockeyDay with £1 per tweet (Up to £50,000) being donated to the Injured Jockeys Fund by Betfair themselves
Fans can also personally donate £5 by texting 'IJF' to 70800 on/or ahead of the day.