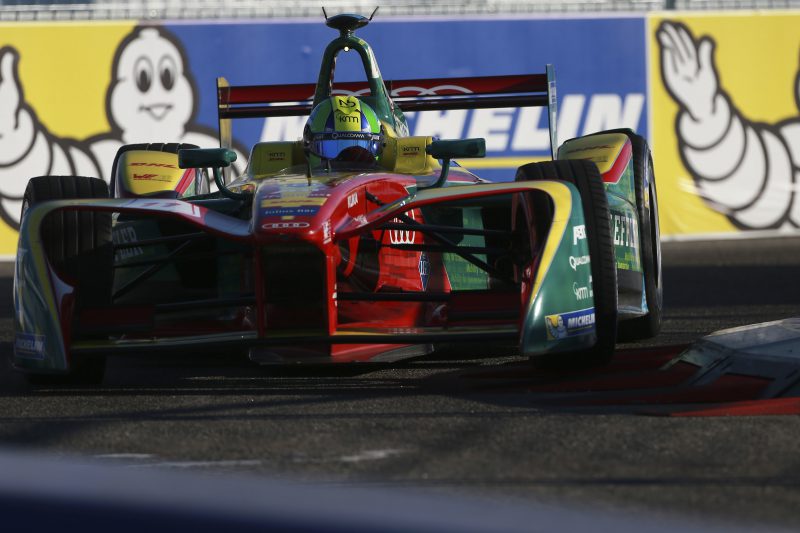 The new Formula E season begins with a double weekend in Hong Kong before another 12 rounds spread across five different continents.
The city-based Electric engined series is entering its fourth season, although this is the final year for a number of rules including the controversial car swap – which sees drivers having to jump into a second car as their batteries only last half the race. From next year the cars will continue for the whole race.
Indeed many people have their eyes on the future, as Nissan, BMW, Porsche and Mercedes are waiting in the wings ready to join Audi and Jaguar in the series – but that is why some are seeing this season as a transitional one.
Nighttime descends on the pitlane here in Hong Kong, not long until we get going! 🇭🇰 🌃 #HKEPrix pic.twitter.com/puKLimvjpz

— FIA Formula E (@FIAFormulaE) November 30, 2017
But Formula E's chief executive Alejandro Agag insists this season will be as good as ever.
 "Many people are seeing season four almost like a transition to season five when we get the new car and battery. I don't see it at all like that because there are no transition seasons," says the Spaniard.
"If you win, season four is the same as if you win season five. You are champion of Formula E. So I think it's going to be a very competitive season.
 "The teams that have already extracted a lot from the evolution of the technology, haven't been able to really improve that much. Many of the teams that weren't there yet are catching up, so I think it's going to be very tight."
The defending champion is Brazilian Lucas di Grassi insists the Formula E's expansion means that Formula 1 are looking over their shoulders.
"In terms of teams, drivers and manufacturers, Formula E is already the second most important series in the world and we are getting close to Formula One very quickly," said Di Grassi.
"The world is focusing on electric cars. All the manufacturers are pushing in the same direction and so are countries. Everybody is now focusing on electric technology and so Formula E is the place to be."
Di Grassi is highly fancied to take the crown again having snatched it from arch-rival Sebastien Buemi – who had won the title the previous year, and is the most successful driver in Formula E history.
Britain's Sam Bird is considered a contender and he is looking to put up a good fight.
"So much has changed [since season one]. At the first race nobody knew what to expect; we were heading into the unknown, really," says Bird.
"Now the championship is taken extremely seriously. The teams are more professional, the cars are faster, and the equipment we use is more high-tech. It's come an awfully long way."