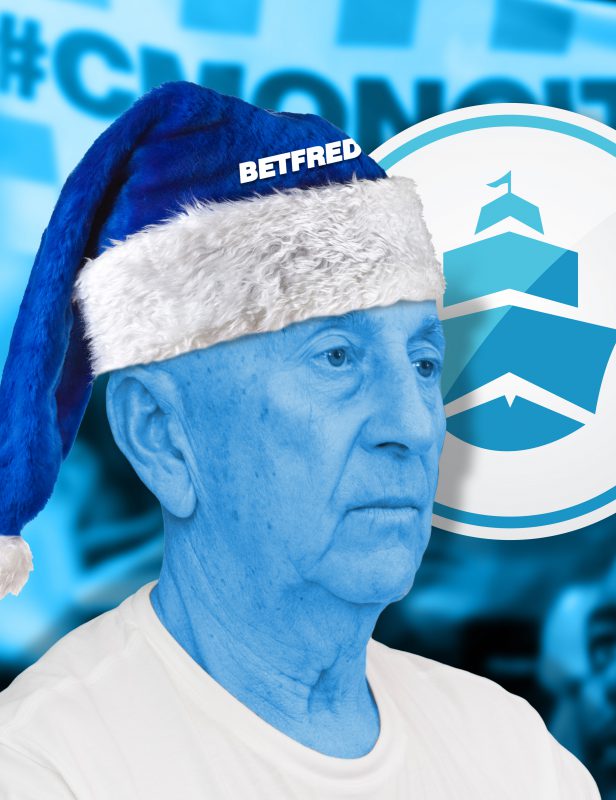 Man United-mad bookie Fred Done has done the unthinkable and paid out on his club's greatest rivals Man City winning the Premier League.
"It's a sad day but as far as I'm concerned the Blues are champions," said the Betfred boss moments after City went an astonishing ELEVEN points clear at the top of the table.
The heartbroken Betfred boss decided to pay out now after the  final whistle at Old Trafford after watching his beloved Reds lose the incident-packed  derby 2-1 at Old Trafford.
Fred Done added: "This is painful both for the heart and the wallet but after winning at Old Trafford there is no way no one is closing that 11 point gap. This hurts but the Blues look unstoppable so I'm giving the punters who backed them an early Christmas present."
The early pay-out will cost the bookie £800,000 and one punter from a betting shop in Bedfordshire will be celebrating after staking £40,000 on Pep Guardiola's side at 2/1.
Fred Done was the first ever bookmaker to pay out early in 1998 when he paid out on his beloved Man United to win the league.
Ironically Man United were also 11 points clear then only for Arsenal to win the league by one point.
But the first ever pay-out was with just 10 games to go and incredibly there's still 22 games left in this campaign.
Fred also got it wrong in 2012 when he paid out early on Man United to win the Premier League only for Man City to win it on goal difference with Sergio Aguero's injury time winner.
He also paid out on Leicester City early in April 2016 and on that occasion he did get it right and did not face a double pay-out.
Fred Done went on: "I got abuse from United fans when I got it wrong in 1998 and 2012 and got accused of jinxing the title. This time they will be hoping I've got it wrong again, but watching Man City I don't think so. You could say the Premier League is Done and Dusted…and my wallet has been emptied"