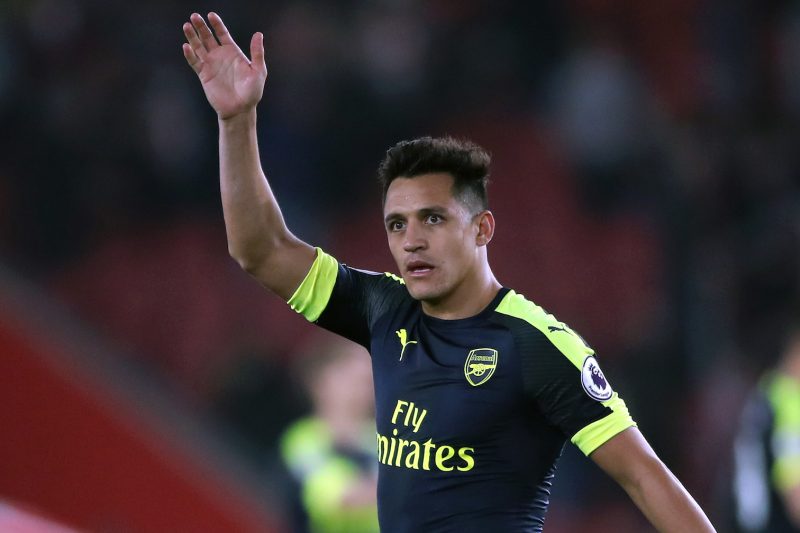 Manchester City have told Alexis Sanchez that they not matching the financial terms on offer from Manchester United – which would make him the highest paid footballer in the Premier League.
United are now increasingly confident that Sanchez will decide to move this month, rather than wait until the summer when he could leave for free – which was City's hope.
Chelsea are also ready to make a late bid and try to rival United's salary package which will be worth £400,000-a-week to the Chilean.
Sanchez, who has made it clear that he would not be signing a new contract at Arsenal, had looked set to join Manchester City – who would have paid him around £275,000-a-week, which would have been the biggest salary the Etihad.
However, City are not willing to pay more than £20million to land him this month – and Arsenal, who are looking to sell, are looking to move him out with both Man United, and now Chelsea ready to bid.
United are willing to pay around £30million and include Henrikh Mkhitaryan – which overall would be around the same price Arsenal agreed with City last summer, before the deal broke down.
United are also happy to pay Sanchez a staggering £400,000-a-week – which will make him one the highest paid players in the world.
Jose Mourinho, who already confirmed his interest in the player, confirmed they have made their move and have offered Mkhitaryan.
"Probably there are other clubs interested, also some other clubs are trying. He's an Arsenal player," said Mourinho.
On Mkhitaryan, he added: "Is it possible he's going to be involved in the deal? It's possible. It's also possible he stays."
Chelsea are happy to match United's wage offer, but it remains to be seen if they will come up with an overall package worth enough to convince Arsenal to sell to them.
City had been hopeful that Sanchez's desire to play for Pep Guardiola would be enough for him to shun the other interest and join them for nothing in the summer, but Arsenal and United are pushing him very hard to make the move.
City sources have confirmed that after a high level meeting between the club's hierarchy – which included Guardiola, chairman Khaldoon Al Mubarak, chief executive Ferran Soriano and football director Txiki Begiristain – they decided not to up their contract offers, leaving the door open for United and even Chelsea to seal a move – although sources close to Old Trafford are increasingly confident they will land Sanchez.
"Sanchez to United is a good move. A world class player in his peak who can help the club in the Champions League this season."

Tom McDermott on Alexis Sanchez
We spoke to Tom McDermott of the UnitedEnd to get his take on Sanchez's now likely arrival at Old Trafford.
"Sanchez to United is a good move. A world class player in his peak who can help the club in the Champions League this season," he explained.
"On top of that, he's Premier League ready, so it makes sense. Six months ago you'd probably have had to pay double for him at least. Will he be here in four years but it means United will be up there competing for the title next season and the year after at least."
A host of Bookmakers are now firmly odds-on that Sanchez will be moving to United, BetVictor have moved into 1/3 he joins United that is around 80% probability.
Chelsea are into 4/1 with Man City now as long as 12/1.