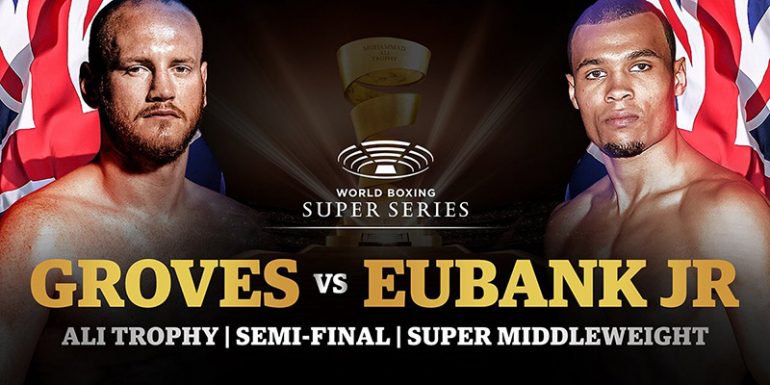 The World Boxing Super Series has been a resounding success, much to the delight of fight fans worldwide, and the biggest bouts are still to come.
This weekend sees the super-middleweight semi-final in Manchester with the all-British bout between world champions George Groves (27-3 20KO's) and Chris Eubank Jr. (26-1 20KO's)
It's the biggest fight of 2018, so far, and one that is so hard to pick a winner – just how it should be in boxing.
This fight is the equivalent to the cruiserweight tournament semi-final between WBC world champion Oleksandr Usyk (14-0) and WBO champion Mairis Briedis (23-1) last month. That fight was first-class, it was all-action from start to finish, and I expect – and hope – this to be the same.
28-year-old Eubank Jr. trains hard and has proved to have a big engine in the past, when he rallied back in the second half of his WBO World title defeat to Billy Joe Saunders. There is an argument, however, that BJS allowed him to come back into that contest in 2014 after largely schooling him for the first six-rounds.
Although still relatively untested, Junior does appear to have inherited his dad's good chin. Also, his dad's mouth, ego and oddities, too!
I've heard Carl Froch's stories about his sparring sessions with the Brighton boxer and how he hit him with the same shot that he iced Groves with in their historic Wembley encounter (in front of 80,000 I believe, Carl?) and how he just rolled off and continued unfazed. There is a bit of a difference, however, between getting hit with that same shot in a title fight with 8oz gloves on and in a closed doors gym with 16oz gloves and a headguard on.
His style of fighting shows his own confidence in his chin and ability to take a shot. Despite it being properly tested, I'm satisfied that the man does possess a good chin and will not be easily put down.
Groves, 29, is the harder hitter of the pair and the bigger man at 168lbs. This is probably his biggest asset in the fight. Eubank has never experienced the power that his opponent possesses in the pros so far and it'll be interesting to see how he handles it.
Eubank clearly has power of his own, as you don't notch up 20 knockouts from 26 wins by fluke. I don't believe he has one-punch KO power, though, despite his devastating stoppage win over Avni Yildrim. He dropped the unbeaten Turk in the opener with a signature uppercut and then continued to land cleanly for the following two rounds, before completely icing him cold in the third.
Eubank only stepped up to 168lbs after swerving Tommy Langford and vacating his British middleweight title in 2016, a belt that Langford has held since and, incidentally, defends for the first time on the undercard against mandatory challenger Jack Arnfield.
Groves is an established super middleweight and far bigger and stronger at the weight than his forthcoming foe, yet when measured up he is actually only half an inch taller.
The Londoner has the greater experience, having had five world title fights already, winning his WBA Super belt on his fourth attempt at a world crown, as well as beating a future world champion in James DeGale and multiple world title contender Paul Smith.
His experience will be another big factor in this fight, Eubank has only really been involved in one world title fight which resulted in a loss. His IBO title is not a recognised world title by very many and his opponents have not been acknowledged as world-class either – Renold Quinlan, Avni Yildirim, and Arthur Abraham was all finished up and just collecting a final pay day in their fight last July.
Groves will definitely be the thinker in that ring. You could label this contest as 'Brain versus Brawn' or even 'Experience versus Youth', albeit them only being a year apart in age, but Groves has been a paid puncher since 2008 and been involved in major title fights since 2010 – a year which saw him land both the Commonwealth and British belts – which was a full year before Eubank would even make his pro debut, which came in November 2011.
I think "The Next Gen" will go on the offensive for the opening rounds but Groves' footwork, which is far superior than his opponent's, will keep him at bay while he lands counter right-hands.
"Saint George" had to weather an initial storm from the youthful and energetic Jamie Cox, although looking in complete control of the fight throughout, before landing the perfect shot to end matters early in the fourth.
If they meet in the middle, Eubank's speed and signature uppercuts could be successful but staying in range when opening up will give Groves the chance to counter, like he did successfully against Cox, with better timed, harder shots.
Groves started the tournament as the number one seed, yet, remarkably, comes into this fight as the underdog. That could be to do with their respective previous fights drawing comparisons, Eubank's completely one-sided demolition has convinced the public that he is the man of the moment. It could also be the result of the hype and media manipulation that the Eubanks are so well established at building.
I only watched a clip last week of Junior being pulled back his father to stop him from 'killing' his sparring partner, despite it being a 50-50 affair. It just so happened the Talk Sport cameras were rolling, at the time.
For anyone that isn't a casual fan or fooled by the Eubanks' trickery, they can clearly see Chris's dad stepping in straight after his son gets his head rocked this way and that by a left and right hook. Senior manages to turn it into a clever promotional tool by intervening to pull his 'over-eager' son back to avoid inflicting any more damage, but, in reality, it was him he was looking to save from receiving any more heavy shots so close to fight night!
As I said at the very beginning, it's a 50-50 fight and so hard to call, although I would put my money on Groves to win, valuing his experience, intelligence and power over Eubank's many attributes.
Groves has power, but Eubank has a solid chin, so I think this one will go to points with Groves edging the decision and Eubank looking world-class in defeat.