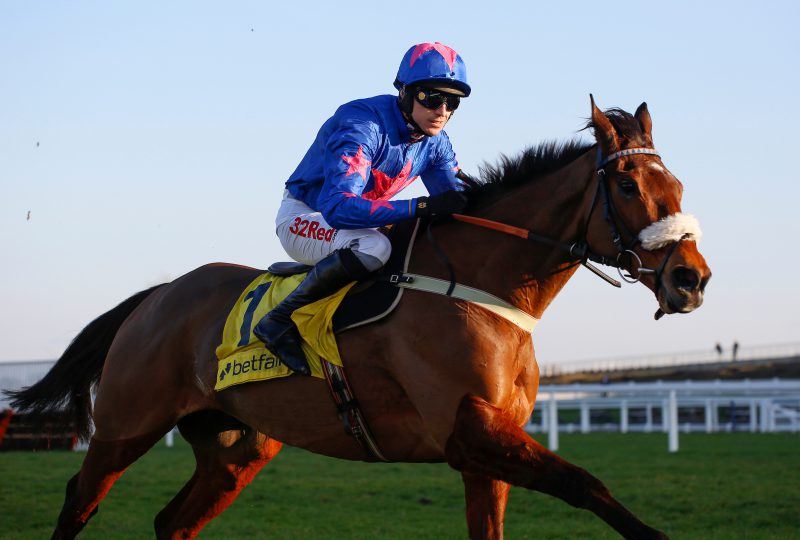 Colin Tizzard, who believes stable stalwart Cue Card is back to his best form, said today at a media stable visit organised by Cheltenham Racecourse that no decision had been made about which race the evergreen 12-year-old will go for at The Festival next month.
Owner Jean Bishop is arriving on Sunday for a three-day visit to Tizzard's Spurles Farm Stables on the Dorset/Somerset border and the subject will be raised again then, but a final decision may not be made until closer to the best four days of Jump racing.
Cue Card has fallen at the third last in the two most recent runnings of the G1 Timico Cheltenham Gold Cup, the first time when a £1-million bonus was possible, while he won the shorter G1 Ryanair Chase back in 2013.
Paddy Brennan, in the saddle for five of Cue Card's nine G1 victories and also his two Gold Cup falls, was reunited with Cue Card in the G1 Betfair Ascot Chase over two miles and five furlongs last weekend and they finished second to Waiting Patiently, the pair clear of five others.
Tizzard, who believes he has a strong team for The Festival, said: "I think we have some good chances in the novices' races, while Cue Card will run a big race in whatever he goes in. I think we have better chances for The Festival this year than last year.
"We seem to be in better form this season – we redid the gallop over Christmas. It had got wet and dirty, with no spring left in it. So we took all the woodchip off and redid it. The horses are working better since then. Some of my staff definitely think it has made a difference.
"Robbie Power is the first jockey for the Potts horses or we can use Bryan (Cooper) or if he is busy in Ireland, we can use whoever we like.
"Paddy will ride Cue Card again at Cheltenham next month. I was quite keen for Paddy on Saturday to be always going forward and that is a license for Paddy to kick on. He just wanted to make Cue Card's mind up over the first two and then he sat still – a couple of times horses went by him. Cue Card does not have to make the running.
"I don't know why Cue Card has had problems with the third last in the Timico Cheltenham Gold Cup – the third last is still there in the Ryanair. Do horses remember? Jockeys riding them might. I am sure I will remember. Cue Card has been a good jumper all his life – the first time he tanked into it when it looked like if he had popped over he would have been away.
"The second time he clipped the top and over he came. Coincidence. I have been through the falls in my mind and I don't think there is anything to say why that happened or why it should happen again at the fence. I always watch our horses and wouldn't look away.
"We had Paddy in last Thursday morning and he went over the schooling fences fast on Cue Card. That is when we took the fluffy noseband off, running in an ordinary snaffle, as we wanted Cue Card to pull again and that is what he did and he was brilliant over those schooling fences. Was that because he was in good form and had been slightly out of form before or because of the changes we made?
"If he maintains the form he is in now, Cue Card can go for either of those races at The Festival and we won't feel we are doing anything we shouldn't.
"Jean (Bishop – owner) is coming down on Sunday and we may not make up our minds finally until declaration time – we want to keep the door open in case the favourites come out of one of the races.
"We had nine Grade One successes last season which was unreal, but we are going better this season as a racing yard with our lovely young horses. We are winning with a lot of different horses and most of the Grade One races are yet to come. We have some good powerful ammunition left.
"I am not disappointed in this season at all. We have had 59 winners, more than we have ever had, though we have more horses, and gone through the £1 million in prize money barrier.
"It is difficult to win two or three Grade Ones, let alone nine, which was never going to be maintained. We are still trying.
"Do we run our horses at Exeter, where they have a winning chance, or do we wait and have a go at the championship races, which we have always done. My wife, Pauline, and daughter Kim say I aim too high, though Joe doesn't."
Cue Card is 10-1 with Coral to win at next month's Cheltenham Festival, with his target yet to be confirmed.  The recent Ascot runner-up is 12-1 with Coral for the Ryanair Chase, and 16-1 for the Timico Gold Cup.
"Having returned to form at Ascot last weekend, whichever race connections aim Cue Card at next month, he's sure to be a popular choice with punters, and a third Festival victory for the 12-y-o would raise the roof at Prestbury Park," said Coral's David Stevens.