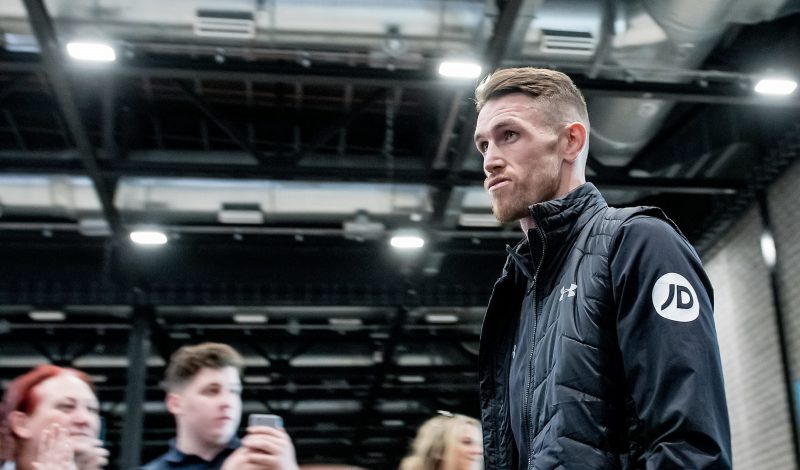 This weekend sees the second of the World Boxing Super Series semi-finals with no.2 seed Callum Smith (26-0, 17 KOs) taking on stand-in opponent Nieky Holzken (13-0, 10 KOs) at the Arena Nürnberger Versicherung on February 24.
The WBC Diamond champion was due to face former world champion Juergen Braehmer but he withdrew with influenza.
The winner will meet the no.1 seed George Groves in the final, scheduled for May, with the Ali Trophy and just the one world title on the line – WBA Super – after Groves refused to pay the sanctioning fees for the IBO belt that he took from Eubank Jr last weekend in Manchester.
Callum is the youngest of the history-making Smith boxing family and is currently undefeated in his five-year pro career. He is quietly regarded as the most talented of the four fighting brothers from Liverpool.
He has been in with some decent competition and has beaten off everyone domestically. His emphatic first-round victory over Rocky Fielding was his most telling fight to date.
His quarter-final triumph over Erik Skoglund in his last outing wasn't as straight forward as he would have liked. "Mundo" dominated early, as widely expected, but then took his foot off the gas and allowed the Swede back into the fight and was then forced to rally back in the later rounds.
Callum and his trainer Joe Gallagher have spent all year preparing for the veteran southpaw Braehmer, but the tournament's no.2 168-pounder has had to switch his focus towards a completely different challenger. That's not an easy thing for any boxer or trainer to cope with and shouldn't be overlooked as a big disadvantage for the favourite.
His 27th opponent, Holzken, turned pro at 29 and has boxed intermittently since 2013, but it's primarily been a sideline to his main job as a kickboxer.
There, he was arguably the sport's no.1 fighter two years ago, when he held the Glory Welterweight title and was on an incredible 17-1 run.
The 34-year-old Dutchman has won a whopping 90 of his 105 kickboxing fights and is a former two-time European Muay Thai champion and and K-1 MAX Scandinavia 2006 tournament champion.
The Netherlands native has had exactly half the fights of his forthcoming foe in professional boxing and will be the clear underdog in this fight.
His last fight was in boxing just a few weeks ago on February 3 where he scored a second-round KO win, which provides good momentum and confidence for "The Natural" to enter this bout to, but he has never been involved in a 12-rounder before, especially against such a high calibre of opponent as Smith and on such a huge stage. He has competed in four ten-rounders, however, two of which went the distance.
His last four fights look like they took place in a boxing gym, but it's nice to see someone like Holzken get such a fantastic opportunity, however I fear he is hugely out of his depth here, as the far superior, experienced boxer is Smith and the Merseysider has beaten much better opposition already in his career.
Holzken's wealth of combat experience should mean that the underdog is durable, knows his way around a square ring and won't get into too much trouble against Smith, who I think should win via early stoppage.
Smith is not just one level above his last-minute opponent and should be able to either jab his head off all night or go up in the gears to force a stoppage.
16 of Smith's 17 stoppages have come within rounds one to six, 10 of those were first round KO's. That's a powerful stat, however, he hasn't had had that same success for 22 months and four fights.
A big part of me is thinking that he could score a first-round knockout in this fight, but it really depends on his mindset. He may decide to get some roubds in the bank for his Groves showdown or he may be clinical and send out a statement.
Either way, I feel it's Smith's call to decide. I hope that Holzken puts up a fight like McGregor did against Mayweather and lasts for a few rounds, but I fear not.
Prediction: Smith to win via stoppage in the first half of the fight, possibly the first round!