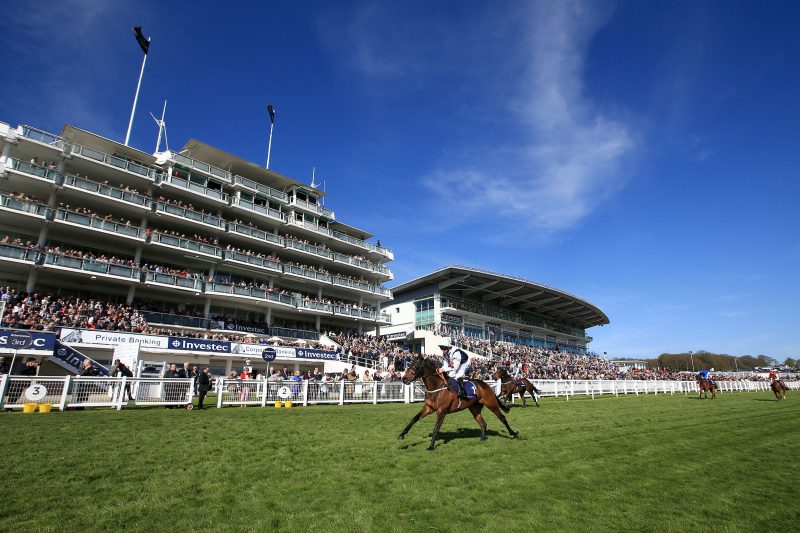 Ante-post favourite Saxon Warrior is one of 131 three-year-olds going forward for the 2018 Investec Derby, Britain's premier Classic and richest race, on the second day of the Investec Derby Festival, Saturday, June 2, at Epsom Downs following the first scratchings' stage.
The March 6 acceptance stage was the first for the 2018 Investec Derby since 448 were entered as yearlings in December, 2016 and details are unveiled today.
There were 129 left in for the world's most famous Flat race at this stage last year, while a maximum of 20 runners can line up at 4.30pm on June 2.
The Classic, staged over a mile and a half of the unique Epsom Downs Racecourse, has a total prize fund of at least £1.5 million and is being run for the 239th time.
Wings Of Eagles provided trainer Aidan O'Brien with his sixth success in the Investec Derby last year and Ireland's champion Flat trainer has 26 entries remaining, all for Coolmore partnerships, the most of any handler.
They include unbeaten G1 Racing Post Trophy hero, the Japanese-bred Saxon Warrior, by Deep Impact out of a Galileo mare, and The Pentagon, a Galileo colt who finished third behind his stable companion at Doncaster.
Saxon Warrior is 4/1 favourite with Unibet, official betting partner of the Investec Derby Festival, with The Pentagon second favourite at 8/1.
Impressive maiden winners and Galileo colts Amedeo Modigliani (14/1), Kenya (20/1) and James Cook (33/1), who is a full-brother to top-class racemare Found, also go forward for Investec Derby glory.
If successful this year, O'Brien would join Robert Robson, John Porter and Fred Darling as the most successful trainer in the Classic, which was first run in 1780.
O'Brien's son Joseph, who rode two Investec Derby winners Australia (2014) and Camelot (2012) for his father, has six entries still remaining in the 2018 Investec Derby, including Drapers Guild, High Mounte, Stella d'Oro and Subjudice – all owned by his mother Annemarie.
Newmarket trainer John Gosden, victorious with Benny The Dip (1998) and Golden Horn (2015), has the neck Racing Post Trophy runner-up Roaring Lion (12/1), owned by Qatar Racing, and winning debutant Photographer (50/1) among his 11 entries.
Godolphin trainer Charlie Appleby, also based in Newmarket, has nine contenders, headed by highly-regarded G3 Autumn Stakes victor Ghaiyyath (16/1) and French G3 scorer Glorious Journey (33/1), who is unbeaten in two starts.
Saeed bin Suroor, Godolphin's other main trainer who sent out Lammtarra to Investec Derby success in 1995, has seven three-year-olds going forward, the majority unraced.
Dual Derby winning owner Sheikh Hamdan Al Maktoum has three entries, notably unbeaten G3 Tattersalls Stakes victor Elarqam (25/1) – one of four engaged for North Yorkshire-based trainer Mark Johnston.
Another entry for Johnston is Dee Ex Bee (50/1), who gained a wildcard entry by virtue of winning the totepool Conditions Stakes at Epsom Downs in October last year.
The Investec Derby is the only Classic that has eluded Her Majesty The Queen as an owner. Her colours were carried by 1953 runner-up Aureole and Carlton House, who finished third in 2011.
The Queen, a regular attendee at Epsom Downs Racecourse on Investec Derby Day, has two contenders among the acceptors announced today – Elector (33/1), a winner on debut at Ascot, and the unraced Sea The Stars colt Sextant (50/1). Both homebreds are trained by Sir Michael Stoute in Newmarket.
Harry Dunlop is eyeing the Investec Derby for Knight To Behold (40/1). The son of Sea The Stars was narrowly denied on debut in the Haynes, Hanson & Clark Conditions Race at Newbury, which has produced four Derby winners over the years, before beating subsequent winner Bow Street in a mile maiden at Newmarket in October.
Newmarket trainer Roger Varian's four entries include Yarmouth maiden scorer Willie John (40/1), who was bought out of William Haggas' yard for 1.9 million guineas at Tattersalls in February and is now owned by Sheikh Mohammed Obaid Al Maktoum.
Andre Fabre, victorious with Pour Moi in 2011, accounts for half of the four French-trained entries, with dual scorer Cascadian (25/1) and Dubawi colt Zucchini, both owned by Godolphin.
The remaining French acceptors are Near Gold (Freddy Head FR, 33/1), a good winner on his second start at Chantilly in October, and Study Of Man (Pascal Bary FR), who beat Near Gold when they clashed on debut at Saint-Cloud in September.
There are a total of 41 Irish-trained entries, four more than last year, with Dermot Weld, successful with Harzand in 2016, the best represented apart from the two O'Briens, having six contenders.
There are three other ways for three-year-olds to achieve a 2018 Investec Derby entry – at the £9,000 second entry stage on April 3, at the £85,000 supplementary entry stage on May 28, or by succeeding in the £50,000 Listed Investec Blue Riband Trial at the Investec Spring Meeting, which is staged at Epsom Downs Racecourse on Wednesday, April 25.
The next scratchings deadline for the Investec Derby is on Tuesday, May 22.
Ed Nicholson, Head of Unibet Racing communications & sponsorship said: "Aidan O'Brien's Saxon Warrior heads Unibet's Investec Derby market at 4/1, and the master of Ballydoyle has nine of the top 13 in our betting. He is sure to be well represented come the first Saturday in June in his quest to win a seventh Investec Derby"
Latest prices from Unibet, official betting partner of the Investec Derby Festival
4/1 Saxon Warrior; 8/1 The Pentagon; 12/1 Roaring Lion; 14/1 Amedeo Modigliani; 16/1 Ghaiyyath; 20/1 Gustav Klimt, Kenya; 25/1 Cascadian, Delano Roosevelt, Elarqam, Flag of Honour, Giuseppe Garibaldi, Kew Gardens, Nelson; 33/1 Alternative Fact, Brundtland, Elector, Family Tree, Gardens of Babylon, Glorious Journey, House Edge, James Cook, Marechal Ney, Masar, Near Gold, Showroom; 40/1 Bombyx, Hazapour, Knight To Behold, My Lord And Master, Rostropovich, Willie John; 50/1 Being There, Dee Ex Bee, Latrobe, Occupy, Photographer, Sextant, Shareef Star, The Revenant, Thrave, Wadilsafa, Wafy; 66/1 Corelli, First Eleven, Loyal Promise, Perfect Illusion, Sevenna Star, Stephensons Rocket, The King, Wax And Wane; 100/1 Bond Street, Christopher Robin, Theobald
Entries for The Investec Derby
Group 1, £1,500,000 total prize fund. Epsom Downs, Saturday, June 2, 2018, 1m 4f 6y. For three-year-old colts (9st) and fillies (8st 11lb). 
AL EMARAT (IRE) Ahmad Abdulla Al Shaikh Kevin Ryan
AL MUFFRIH (IRE) Sheikh Juma Dalmook Al Maktoum William Haggas
ALTERNATIVE FACT The Alternative Lot Ed Dunlop
AMEDEO MODIGLIANI (IRE) Sue Magnier Aidan O'Brien IRE
ASTROMACHIA John Connolly & Odile Griffith Amanda Perrett
BALIYAD (IRE) HH Aga Khan Dermot Weld IRE
BEING THERE (FR) Godolphin Charlie Appleby
BOMBYX Anthony & Victoria Pakenham James Fanshawe
BOND STREET (IRE) Derrick Smith Aidan O'Brien IRE
BRUNDTLAND (IRE) Godolphin Charlie Appleby
CACOPHONOUS Clive Washbourn David Menuisier
CALIBURN (IRE) M M Stables Hugo Palmer
CARADOC (IRE) P K Siu Ed Walker
CASCADIAN Godolphin Andre Fabre FR
CENTROID Khalid Abdullah Dermot Weld IRE
CHRISTOPHER ROBIN (IRE) Michael Tabor Aidan O'Brien IRE
COGITAL John Connolly & Odile Griffith Amanda Perrett
COMMONWEALTH (IRE) Sir Peter Vela Martyn Meade
CONCLUSION (JPN) Michael Tabor Aidan O'Brien IRE
COOLONGOLOOK S Stuckey Luca Cumani
CORELLI (USA) George Strawbridge John Gosden
CORGI M Hughes & M Kerr-Dineen Hughie Morrison
CRIMSON MYSTERY (IRE) Moyglare Stud Farms Ltd Dermot Weld IRE
CROSSED BATON Khalid Abdullah John Gosden
CYPRESS CREEK (IRE) Michael Tabor Aidan O'Brien IRE
DALILEO (IRE) Hussain Alabbas Lootah Mark Johnston
DEE EX BEE Sheikh Hamdan Bin Mohammed Al Maktoum Mark Johnston
DELANO ROOSEVELT (IRE) Michael Tabor Aidan O'Brien IRE
DEYAARNA (USA) Godolphin Saeed bin Suroor
DISCOVER DUBAI (IRE) Godolphin Saeed bin Suroor
DOWNDRAFT (IRE) R O'Gara/Mrs M V Magnier/Mrs P Shanahan Joseph O'Brien IRE
DRAPERS GUILD Annemarie O'Brien Joseph O'Brien IRE
DREAM WARRIOR Godolphin Charlie Appleby
DRESS COAT Godolphin Saeed bin Suroor
DUBHE Godolphin Charlie Appleby
DUKHAN Al Shaqab Racing Hugo Palmer
EBADALI (IRE) HH Aga Khan Dermot Weld IRE
ELARQAM Hamdan Al Maktoum Mark Johnston
ELECTOR The Queen Sir Michael Stoute
FAMILY TREE Derrick Smith Aidan O'Brien IRE
FIRST ELEVEN Khalid Abdullah John Gosden
FLAG OF HONOUR (IRE) Michael Tabor Aidan O'Brien IRE
FREETOWN (IRE) Sue Magnier Aidan O'Brien IRE
FULL MOON (IRE) Derrick Smith Aidan O'Brien IRE
GARDENS OF BABYLON (IRE) Derrick Smith Aidan O'Brien IRE
GHAIYYATH (IRE) Godolphin Charlie Appleby
GHOSTWATCH (IRE) Godolphin Charlie Appleby
GIUSEPPE GARIBALDI (IRE) Sue Magnier Aidan O'Brien IRE
GLENCADAM MASTER Angus Dundee Distillers Plc John Gosden
GLOBAL GIANT Dr Johnny Hon Ed Dunlop
GLORIOUS JOURNEY HH Sheikha Al Jalila Racing Charlie Appleby
GUSTAV KLIMT (IRE) Sue Magnier Aidan O'Brien IRE
HASANABAD (IRE) HH Aga Khan Dermot Weld IRE
HAZAPOUR (IRE) HH Aga Khan Dermot Weld IRE
HAZARFAN Mohammed Jaber Ed Dunlop
HIGH MOUNTE (IRE) Annemarie O'Brien Joseph O'Brien IRE
HOUSE EDGE Edward J Ware Michael Bell
HOWMAN (IRE) Sheikh Mohammed Obaid Al Maktoum Roger Varian
HUNTING HORN (IRE) Derrick Smith Aidan O'Brien IRE
IN DEMAND (IRE) The Yes Men Charlie Fellowes
ISPOLINI Godolphin Charlie Appleby
JAMES COOK (IRE) Derrick Smith Aidan O'Brien IRE
JETSTREAM (IRE) R A Scarborough & Sue Magnier Charles Hills
KENYA (IRE) Michael Tabor Aidan O'Brien IRE
KEW GARDENS (IRE) Sue Magnier Aidan O'Brien IRE
KING AND EMPIRE (IRE) Qatar Racing Limited Andrew Balding
KNIGHT TO BEHOLD (IRE) L Neil Jones Harry Dunlop
LATROBE (IRE) Lloyd J Williams Joseph O'Brien IRE
LAUGHING STRANGER (USA) Susan Roy & N M Watts Jeremy Noseda
LOVEISILI Sheikh Mohammed Obaid Al Maktoum Roger Varian
LOYAL PROMISE (IRE) Sun Bloodstock SARL 1 Martyn Meade
LUCIUS TIBERIUS (IRE) Sue Magnier Aidan O'Brien IRE
MADRID (IRE) Michael Tabor Aidan O'Brien IRE
MARECHAL NEY Anthony Oppenheimer John Gosden
MASAR (IRE) Godolphin Charlie Appleby
MASTER OF THE MOON Abdulla Al Mansoori Ismail Mohammed
MILITARY LAW Qatar Racing Limited John Gosden
MONOXIDE Canning Downs Stud Martyn Meade
MOON OF BARODA Tony Wechsler & Ann Plummer Charles Hills
MOUNT ARARAT (IRE) Hubert Strecker & Elaine Burke Karl Burke
MSAYYAN (IRE) Al Shaqab Racing John Gosden
MUZAAWEL Godolphin Saeed bin Suroor
MY LORD AND MASTER (IRE) T Bridge William Haggas
NATIONAL SECURITY (IRE) Godolphin Jim Bolger IRE
NEAR GOLD Ecurie Jean-Louis Bouchard Freddy Head FR
NELSON (IRE) Michael Tabor Aidan O'Brien IRE
OCCUPY (USA) Highclere Thoroughbred Racing-David Weir Ralph Beckett
OSTILIO Sheikh Mohammed Obaid Al Maktoum Simon Crisford
PERFECT ILLUSION Mr & Mrs R Gorell/N Botica & Partner Andrew Balding
PHOTOGRAPHER Denford Stud John Gosden
PREPARE FOR BATTLE (USA) Michael Tabor Aidan O'Brien IRE
PRIZERING (IRE) Godolphin Saeed bin Suroor
PROSCHEMA (IRE) Empire State Racing Partnership Tom Dascombe
RASHDAN (FR) Al Shaqab Racing Hugo Palmer
RECORDMAN Godolphin Saeed bin Suroor
REGAL DIRECTOR (IRE) Sheikh Mohammed Obaid Al Maktoum Simon Crisford
ROARING LION (USA) Qatar Racing Limited John Gosden
ROSTROPOVICH (IRE) Michael Tabor Aidan O'Brien IRE
SARIM (IRE) Al Shaqab Racing Jamie Osborne
SAXON WARRIOR (JPN) Derrick Smith Aidan O'Brien IRE
SEAT OF POWER (IRE) Orbis Bloodstock (UK) Limited David Simcock
SEVENNA STAR (IRE) Gestut Ammerland John Gosden
SEXTANT The Queen Sir Michael Stoute
SHAREEF STAR Saeed Suhail Sir Michael Stoute
SHARJA SILK Sheikh Mohammed Obaid Al Maktoum Roger Varian
SHARP SUITED Sheikh Mohammed Obaid Al Maktoum Simon Crisford
SHOWROOM (FR) Highclere T'bred Racing- Nick Skelton Mark Johnston
SILVER QUARTZ Al Asayl Bloodstock Ltd Hugo Palmer
SIR EREC (IRE) Michael Tabor Aidan O'Brien IRE
SOVEREIGN DUKE (GER) One Too Many Partners Henry Candy
STELLA D'ORO (USA) Annemarie O'Brien Joseph O'Brien IRE
STEPHENSONS ROCKET (IRE) Bjorn Nielsen Ed Walker
STUDY OF MAN (IRE) Flaxman Stables Ireland Ltd Pascal Bary FR
SUBJUDICE (IRE) Annemarie O'Brien Joseph O'Brien IRE
SURYA Lady Bamford John Gosden
TENEDOS V I Araci Hugo Palmer
THE KING (IRE) Mill House LLC Jessica Harrington IRE
THEOBALD (IRE) Jackie Bolger Jim Bolger IRE
THE PENTAGON (IRE) Derrick Smith Aidan O'Brien IRE
THE REVENANT Al Asayl Bloodstock Ltd Hugo Palmer
THRAVE Thomas Barr Henry Candy
THUNDERHOOVES Kilco (International) Ltd John Ryan
VOYAGER BLUE Mr & Mrs I H Bendelow Jamie Osborne
WADILSAFA Hamdan Al Maktoum Owen Burrows
WAFY (IRE) Hamdan Al Maktoum Charles Hills
WAJAAHA (IRE) Godolphin Saeed bin Suroor
WAX AND WANE Tim Dykes Karl Burke
WILLIE JOHN Sheikh Mohammed Obaid Al Maktoum Roger Varian
YOUNG RASCAL (FR) Bernard Kantor William Haggas
ZABRISKIE (IRE) Flaxman Stables Ireland Ltd Aidan O'Brien IRE
ZUCCHINI Godolphin Andre Fabre FR