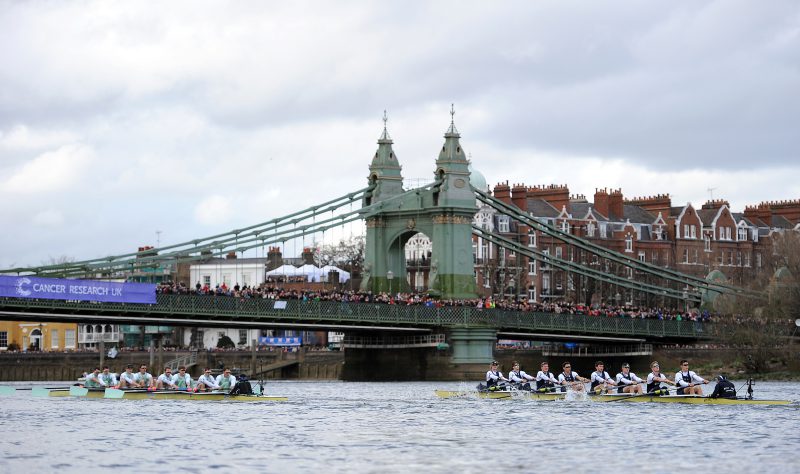 Cambridge are firm favourites to recapture the Boat Race crown in 2018.
The Dark Blues of Oxford took victory on the Thames last year, but the Light Blues – who lead the overall standings 82 to 80, are being backed to win again.
Both teams have been confirmed, as an anticipated 250,00 will watch the two eight-man crews take to the water in the capital.
Oxford men's crew
Bow: Claas Mertens
2: Vassilis Ragoussis
3: Will Cahill
4: Anders Weiss
5: Will Geffen
6: Benedict Aldous
7: Iain Mandale
Stroke: Felix Drinkall
Cox: Zachary Thomas Johnson
Cambridge men's crew
Bow: Charles Fisher
2: Patrick Elwood
3: James Letten
4: Dara Alizadeh
5: Spencer Furey
6: Finn Meeks
7: Rob Hurn
Stroke: Freddie Davidson
Cox: Hugo Ramambason
Ladbrokes make Cambridge firm favourites, and they have revealed that they have already taken a bet of £1,000 on Cambridge to triumph.
Cambridge are priced at 4/11 with Oxford as long as 2/1.
The bookies are also going 16/1 about either crew sinking, while 16/1 says a new record is set on the Thames.
Alex Apati of Ladbrokes said: "One punter in particular is seemingly confident in Cambridge, who'll head into the race as clear favourites ahead of their bitter rivals."