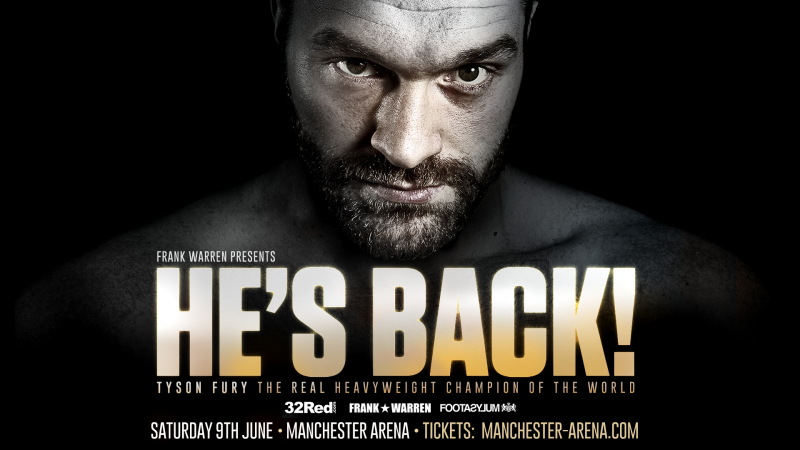 Former heavyweight champion Tyson Fury has confirmed his comeback will take place in Manchester this summer.
The former IBF, WBA and WBO champion will take on an an unnamed opponent in what will be his first fight since 2015, when he beat Wladimir Klitschko.
Fury was suspended in 2016 amid "anti-doping and medical issues" and accepted a backdated two-year ban in December, but he is now ready for a return.
"The King has returned," said Fury. "I'm back to reclaim what is rightfully mine. This is going to be an interesting journey. There's a lot of fascinating challenges out there for me and I'm looking forward to getting started. I can't wait to get in the ring and put on a display for all of my fans.
"I'm the fittest that I've ever been. My timing and my reflexes are better than they've ever been. I'm coming into the prime of my career and I'm more confident than I've ever been. All of my focus is on my return at the Manchester Arena on June 9th.
"All of the current Heavyweight Champions out there are very vulnerable and very beatable."
— DON TYSON FURY (@Tyson_Fury) April 12, 2018
Bookmakers are taking Fury serious and he is just 2/1 to have a world title by the end of next year and just 4/1 that he has beaten the current two World Heavyweight champions – Anthony Joshua and Deontay Wilder.
"Fury's return adds even more intrigue to the heavyweight division and no doubt, given his past, he will be fast-tracked to the big fights," said William Hill spokesman Joe Crilly.