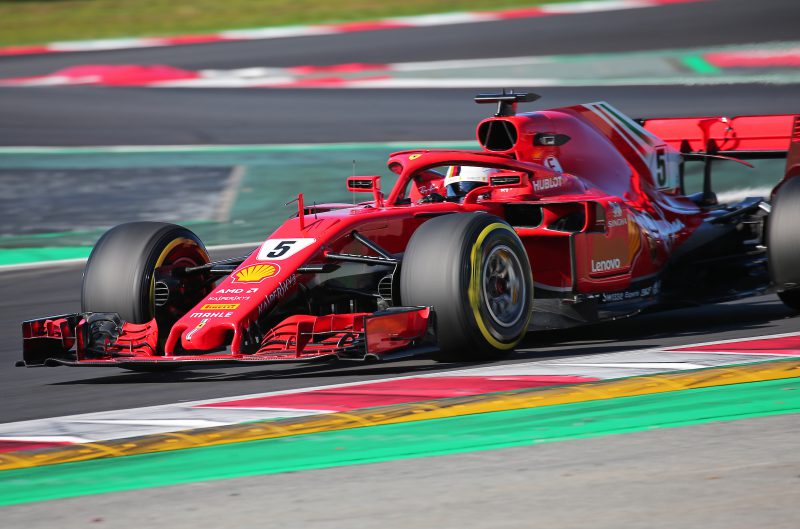 Sebastian Vettel looks to continue his brilliant start to the season in China and win the opening three races of the season for the first time in his career.
The German superstar could be the first Ferrari man to win the opening three races since Michael Schumacher in 2004, although fellow countryman Nico Rosberg did complete the feat in 2016 on his way to the World title.
Vettel himself almost completed the opening treble in 2011 but Lewis Hamilton stopped him, and the defending world champion will again be hoping to do that in China this weekend.
12/04 F1 Grand Prix of China – Preparations https://t.co/1BGkIuBL0L pic.twitter.com/HPUW4GfHgI

— LHamilton.PL (@LHamiltonPL) April 12, 2018
Despite their great start to the season, Vettel admits that Mercedes will be hard to be beat in China, given they have dominated this even in recent seasons having won the last four.
"It's a different track, so I think, honestly, the first two races have been quite different, so it's not that straightforward to predict the third one. I think overall if you take into account all the testing we did etc, then Mercedes is still the favourite going in," said Vettel.
"Certainly we'll try to have a different outcome than that. I think if we do our homework, if we get the car balance right and we get everything together, then it should be a good weekend – I don't see why not."
Hamilton has not endured much luck so far this season but he is hoping for a strong showing in China, although he expects Ferrari to challenge.
"They are going to be hard to beat," said the reigning champion.
"Their straight-line speed in the last few races has been faster than ours and we have the longest straights here. So I'm anticipating they will be very, very fast and hard to beat.
"They are faster than us on the straights and as quick as us through the corners. Their engine programme has really taken a big step this season. It will be interesting to see how their reliability will be – as it will be for Renault and us.
"This should be a good track for us but I think it's going to be close."
Red Bull have endured a poor start as they were expected to challenge Ferrari and Mercedes, but Daniel Ricciardo is hopeful of an up-turn in their fortunes.
"I don't think we are actually looking too bad. We'll make some adjustments and be stronger," he said.
😍 @Haas_Automation #VF18's looking lovely as ever ahead of #FP1. #ChineseGP #HaasF1 #F1 🏎🇺🇸 pic.twitter.com/xRJtM1JYqa

— Haas F1 Team (@HaasF1Team) April 13, 2018
The mid-field battle has been fascinating so far this season with Haas, Sauber and Toro Rosso making breakthroughs, whilst McClaren are scoring points again.
Haas's Romain Grosjean is loving how competitive it is and said: "In Melbourne it was Haas, Renault, McLaren, Toro Rosso; In Bahrain it was Toro Rosso, us, Renault, McLaren.
"It's super tight and super exciting, and even in qualifying you know you need to get things right, and the same thing in the race.
"Hopefully we can stay in front and have a good season."
CHINA GRAND PRIX – ROUND 3

Location: Shanghai International Circuit, Shanghai
Track size: 3.387 miles with 16 turns
Number of laps: 56
2017 winner: Lewis Hamiton – Mercedes
Lap record holder: Lewis Hamilton – Mercedes – 1:35.378
Race winner odds from Betsafe:
Driver:
| | |
| --- | --- |
| Lewis Hamilton (GBR – Mercedes) | 7/10 |
| Sebastian Vettel (GER – Ferrari) | 10/3 |
| Valtteri Bottas (FIN – Mercedes) | 10/1 |
| Kimi Raikkonen (FIN – Ferrari) | 11/1 |
| Max Verstappen (NED – Red Bull) | 16/1 |
| Daniel Ricciardo (AUS – Red Bull) | 16/1 |
| Fernando Alonso (ESP – McLaren) | 500/1 |
| Nico Hulkenberg (GER – Renault) | 500/1 |
| Romain Grosjean (FRA – Haas) | 500/1 |
| Kevin Magnussen (DEN – Haas) | 500/1 |
| Carlos Sainz Jr. (ESP – Renault) | 500/1 |
| Stoffel Vandoorne (BEL – McLaren) | 1000/1 |
| Pierre Gasly (FRA – Toro Rosso) | 1000/1 |
| Sergio Perez (MEX – Force India) | 1000/1 |
| Esteban Ocon (FRA – Force India) | 1000/1 |
| Brendon Hartley (NZL – Toro Rosso) | 1000/1 |
| Lance Stroll (CAN – Williams) | 3000/1 |
| Marcus Ericsson (SWE – Sauber) | 3000/1 |
| Sergey Sirotkin (RUS – Williams) | 3000/1 |
| Charles Leclerc – (MON – Sauber) | 3000/1 |
Team:
| | |
| --- | --- |
| Mercedes | 5/11 |
| Ferrari | 5/2 |
| Red Bull | 8/1 |
| Renault | 250/1 |
| Haas | 250/1 |
| McLaren | 300/1 |
| Toro Rosso | 500/1 |
| Force India | 500/1 |
| Williams | 2000/1 |
| Sauber | 2000/1 |
2018 Results
Australian Grand Prix – Winner: Sebastian Vettel (Ferrari)
Bahrain Grand Prix – Winner: Sebastian Vettel (Ferrari)
Drivers' Championship:
1 Sebastian Vettel GER FERRARI 50
2 Lewis Hamilton GBR MERCEDES 33
3 Valtteri Bottas FIN MERCEDES 22
4 Fernando Alonso ESP MCLAREN RENAULT 16
5 Kimi Räikkönen FIN FERRARI 15
6 Nico Hulkenberg GER RENAULT 14
7 Daniel Ricciardo AUS RED BULL RACING TAG HEUER 12
8 Pierre Gasly FRA SCUDERIA TORO ROSSO HONDA 12
9 Kevin Magnussen DEN HAAS FERRARI 10
10 Max Verstappen NED RED BULL RACING TAG HEUER 8
11 Stoffel Vandoorne BEL MCLAREN RENAULT 6
12 Marcus Ericsson SWE SAUBER FERRARI 2
13 Carlos Sainz ESP RENAULT 1
14 Esteban Ocon FRA FORCE INDIA MERCEDES 1
Constructors' Championship
1 FERRARI 65
2 MERCEDES 55
3 MCLAREN RENAULT 22
4 RED BULL RACING TAG HEUER 20
5 RENAULT 15
6 SCUDERIA TORO ROSSO HONDA 12
7 HAAS FERRARI 10
8 SAUBER FERRARI 2
9 FORCE INDIA MERCEDES 1
10 WILLIAMS MERCEDES 0
We have also spoken to Betsafe's Ian Belchin, F1 odds compiler for the Betsson Group, to get his view on the Bahrain GP
The China GP circuit is unique as it possess the longest straights of all the 2018 circuits, making it perfect for the fastest cars to exploit.
The Ferrari cars have been winning that top speed race so far, as their straight-line speed in the last few races has had the beating of all other cars. A Ferrari car has won the last two races and they could have had both cars on the podium for both races as well, but the Bahrain Kimi Raikkonen pit stop error stopped that.
I think the weather and team tyre management will decide who wins the 2018 China GP. Early forecasts are predicting a wet practice and qualification sessions, but a possible dry Sunday race.
The China race circuit corners are notorious for being very hard on tyre wear. Corners 1 and 2 are always great fun for the viewers to watch as there are many different options and lines for the drivers to take, so expect overtaking opportunities here. 
Team Ferrari has the early momentum so far in the 2018 championship season and in Kimi, they have a driver who will be frustrated and motivated for the next race.
My tip is for The China F1 race is Kimi Raikkonen to finish on the podium. Betsafe.com are offering this at odds of 2/1