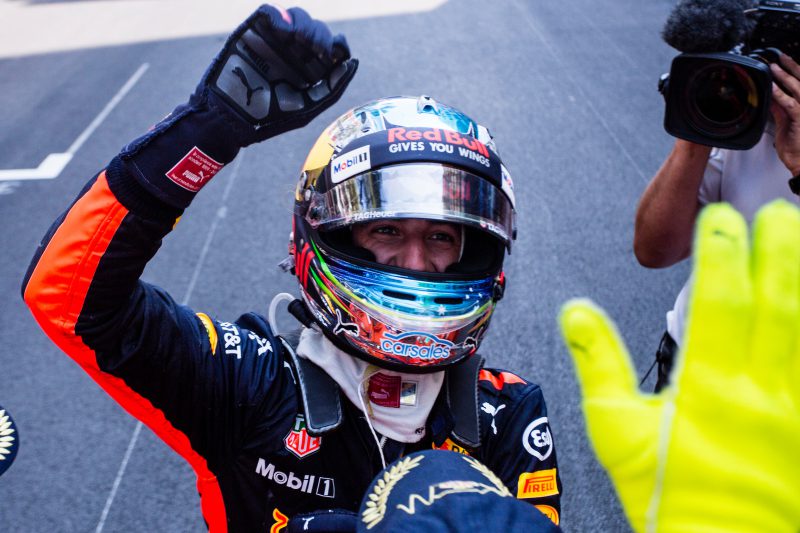 Round Four of the Formula One calendar sees the first street race of the season in Azerbaijan.
The Baku circuit has proven hugely popular since its inception in 2016, but few would have thought that world champion Lewis Hamilton would still be waiting for his first win of the new season.
Red Bull ace Daniel Ricciardo was the shock winner in China, and he is the defending champion in Baku after taking the victory 12-months ago.
Ricciardo's win in China has set the Paddock talking about his future, with his contract at Red Bull due to expire at the end of the season and some have suggested he could be in line to move to Mercedes next to Hamilton.
"I would love to be challenged against the best and Lewis is arguably up there, so for sure that would be a good challenge. I've got a good challenge now obviously with Max, and I had Seb, so I don't want to say it's just Lewis I'm looking for. But that would be a good challenge."
Ricciardo did deny reports that he was in talks with Ferrari, adding:  "That's not true, I can say that.
"I've only had talks with Red Bull. Even last year we were pretty open with each other, I think through the media they are interested in keeping me. We've had some talks. I'm aware of other reports, but there hasn't been anything else, they're not true, at least up until now."
Coming to you from… Somewhere in Azerbaijan! 🇦🇿@danielricciardo @max33verstappen #AzerbaijanGP pic.twitter.com/Lkn31zm9gI

— Red Bull Racing (@redbullracing) April 26, 2018
The championship leader remains Sebastian Vettel, who is just nine points ahead of Hamilton in second – but both are hoping to avoid a repeat of last year's on-track shenanigans which saw the German hit the Brit when he reacted badly to maneovure from the world champion during a safety car.
But Hamilton insists that the relationship between him and Vettel is hugely improved, revealing:  "It is good to see fire in the people you are competing with. It is good to see they are not perfect.
"We all make mistakes and how people handle it and progress is what you can learn from. He continues to progress as the champion that he is. The respect has grown a considerable amount since then."
And despite the struggles this season, Hamilton insists he is enjoying the competition, adding: "I am enjoying the battle, the experience, it is what motor sport is all about.
"Finishing first is a great feeling but it feels better coming from further down. When you have had a harder slog to get there it always feels better. When the win does come it is going to feel great and then you move on and try to repeat it."
Feels good to be back in Baku 🔥 #F1 📷 by @latimages @MercedesAMGF1 pic.twitter.com/lmykvTYnpU

— Lewis Hamilton (@LewisHamilton) April 26, 2018
AZERBAIJAN GRAND PRIX – ROUND 4

Location: Baku City Circuit, Baku
Track size: 3.7 miles with 20 turns
Number of laps: 51
2017 winner: Daniel Ricciardo – Red Bull
Lap record holder: Sebastian Vettel – Ferrari – 1:43.441
Race winner odds from Betsafe:
Driver:
| | |
| --- | --- |
| Lewis Hamilton (GBR – Mercedes) | 13/10 |
| Sebastian Vettel (GER – Ferrari) | 2/1 |
| Valtteri Bottas (FIN – Mercedes) | 9/1 |
| Max Verstappen (NED – Red Bull) | 10/1 |
| Daniel Ricciardo (AUS – Red Bull) | 10/1 |
| Kimi Raikkonen (FIN – Ferrari) | 14/1 |
| Fernando Alonso (ESP – McLaren) | 250/1 |
| Nico Hulkenberg (GER – Renault) | 250/1 |
| Carlos Sainz Jr. (ESP – Renault) | 250/1 |
| Stoffel Vandoorne (BEL – McLaren) | 500/1 |
| Romain Grosjean (FRA – Haas) | 500/1 |
| Sergio Perez (MEX – Force India) | 500/1 |
| Kevin Magnussen (DEN – Haas) | 500/1 |
| Esteban Ocon (FRA – Force India) | 500/1 |
| Pierre Gasly (FRA – Toro Rosso) | 500/1 |
| Brendon Hartley (NZL – Toro Rosso) | 1000/1 |
| Lance Stroll (CAN – Williams) | 2000/1 |
| Sergey Sirotkin (RUS – Williams) | 2000/1 |
| Marcus Ericsson (SWE – Sauber) | 3000/1 |
| Charles Leclerc – (MON – Sauber) | 3000/1 |
Team:
| | |
| --- | --- |
| Mercedes | 10/11 |
| Ferrari | 7/4 |
| Red Bull | 5/1 |
| Renault | 150/1 |
| Haas | 250/1 |
| McLaren | 250/1 |
| Force India | 500/1 |
| Toro Rosso | 500/1 |
| Williams | 1000/1 |
| Sauber | 1500/1 |
2018 Results
Australian Grand Prix – Winner: Sebastian Vettel (Ferrari)
Bahrain Grand Prix – Winner: Sebastian Vettel (Ferrari)
China Grand Prix – Winner: Daniel Ricciardo (Red Bull)
Drivers' Championship:
1 Sebastian Vettel GER FERRARI 54
2 Lewis Hamilton GBR MERCEDES 45
3 Valtteri Bottas FIN MERCEDES 40
4 Daniel Ricciardo AUS RED BULL RACING TAG HEUER 37
5 Kimi Räikkönen FIN FERRARI 30
6 Fernando Alonso ESP MCLAREN RENAULT 22
7 Nico Hulkenberg GER RENAULT 22
8 Max Verstappen NED RED BULL RACING TAG HEUER 18
9 Pierre Gasly FRA SCUDERIA TORO ROSSO HONDA 12
10 Kevin Magnussen DEN HAAS FERRARI 11
11 Stoffel Vandoorne BEL MCLAREN RENAULT 6
12 Carlos Sainz ESP RENAULT 3
13 Marcus Ericsson SWE SAUBER FERRARI 2
14 Esteban Ocon FRA FORCE INDIA MERCEDES 1
15 Sergio Perez MEX FORCE INDIA MERCEDES 0
16 Charles Leclerc MON SAUBER FERRARI 0
17 Romain Grosjean FRA HAAS FERRARI 0
18 Lance Stroll CAN WILLIAMS MERCEDES 0
19 Sergey Sirotkin RUS WILLIAMS MERCEDES 0
20 Brendon Hartley NZL SCUDERIA TORO ROSSO HONDA 0
Constructors' Championship
1 MERCEDES 85
2 FERRARI 84
3 RED BULL RACING TAG HEUER 55
4 MCLAREN RENAULT 28
5 RENAULT 25
6 SCUDERIA TORO ROSSO HONDA 12
7 HAAS FERRARI 11
8 SAUBER FERRARI 2
9 FORCE INDIA MERCEDES 1
10 WILLIAMS MERCEDES 0
We have also spoken to Betsafe's Ian Belchin, F1 odds compiler for the Betsson Group, to get his view on the Azerbaijan GP
After three races Sebastian Vettel is topping the 2018 driver standings at 54 points, with Lewis Hamilton 9 points behind him, followed by Valtteri Bottas a further 5 points behind.
But Mercedes have not won any races so far this season, so things could have looked much worse.
The Baku track has only hosted two Baku Grand Prix before and at just over 6km in length, it is the second longest circuit on the calendar this year.
This is the fastest street track as there is a long straight of over 2km in length and also a very narrow section of track, in the old city section, that is only 7.6m wide at one point.
Three safety cars were deployed during the last race and the restart after the safety car involves some very crucial timing from the drivers (remember the Vettel vs Hamilton crash and wheel nudge last year!), so this has the potential to be one of the most action packed races of the year.
So far our customers are favouring Lewis Hamilton to win the Race. Betsafe.com are offering this at odds of 13/10.
Myself, I can see this being a race for a calm, Finnish, driver to win. Both Bottas and Raikkonen will have roles to play during this race but once again I am backing Kimi to finish on the podium. Betsafe.com are offering this at odds of 7/4.