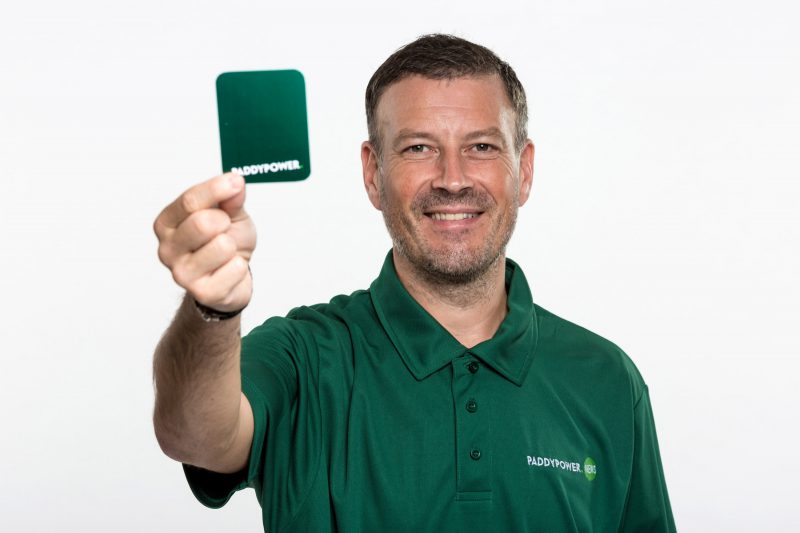 Former Premier League referee Mark Clattenburg explains to PaddyPower why he doesn't miss the high-profile league, as he returns to London to referee again for the first time since controversial departure.
Clattenburg is refereeing the CONIFA World Football Cup in London, which kicks off on May 31 and he is looking forward to getting back on the field in England, but he insists he doesn't miss the top-flight.
"It's a relief to get away from the Premier League. The pressures inside your own country are sometimes more difficult than high-profile international games," he said.
It can affect your family. All the social media things that are written, it affects people who know you. Where, if you make the same mistakes abroad, nobody seems to comment.
I think more of our referees will go overseas. In the Premier League, people are criticising you constantly. When you go abroad you don't seem to get spoken about.
That criticism is one of the catalysts for my decision to quit the Premier League. Is it worth doing this job? You make a right decision, you're told it's wrong, and you're driving home hundreds of miles with that in your head.
Managers never come out and apologise for it, or come into the dressing room privately and say they've made a mistake. The drama of it is unique, but I don't miss the day-to-day Premier League.
I'D DRINK BEER TO RELIEVE THE PRESSURE OF BIG GAMES
How do you release the tension around refereeing big games? Drink lots of beer! I used to call my wife after a game, and she'd know by my voice if I'd had a bad game or not.
When I got home, she'd be in the bed and the fridge would be full of beer if I had a nightmare. If I'd had a good game, she'd wait up.
It's horrible after a game if you've made a mistake – it would be a horrible drive home. If you had a good game, you would want to listen to the radio stations talking about the match. But, if you'd had a 'mare, you'd turn the Bluetooth on and play some music.
The worst was when Chelsea played Manchester United, and I'd been accused of being racist by Jon Obi Mikel. I had to fly out of Heathrow and it was breaking news all over the world, having to deal with that and the aftermath while getting on the flight.
I remember boarding and the guy sitting next to me said 'you're the referee aren't you? Fucking hell, you've made some headlines'. You realise then how huge the impact football has.
I couldn't leave the house for the next week. To be accused of something you hadn't done was difficult to deal with, because you get frustrated. You have to leave the investigations to run their course.
They asked us to come back and referee and I wasn't in the right state of mind for it for a while.
I thought about quitting a lot after that, but the problem you've got as a professional is you've left your other industry for nine years. I was an electrical engineer, and I couldn't back to that because the game had changed. What could I do? I had mortgage to pay, I'd a family, I'd a house.
It becomes different when refereeing becomes your job. You have to think differently. There aren't many alternatives.
VAR IS BEING USED WRONGLY
The problem with VAR at the moment is there's no transparency. It's being handled by a faceless man in a studio in London, he can't speak to the crowd, the players, anyone.
The minute he speaks, and you can see the decision on the big screen, the perception of VAR will be completely different.
The problem football will always have with VAR is that football is such an opinionated sport. Matter of fact things rarely happen, other than offside. The rest are all based on opinion.
But part of the game is that mistakes will happen. The problem I've seen is that its implementation has been wrong – it's used too frequently, to re-referee the game when it isn't needed. It upset a lot of referees.
It's only really meant for scandalous decisions, like Thierry Henry's handball against Ireland. The consequences of that can't be allowed to happen anymore.
There are a few rule changes I'd like to see. I really like the Green Card that's been introduced to the CONIFA World Football Cup in London this month by Paddy Power.
It means players will get dismissed for dissent or diving, forcing their team to substitute them. I think FIFA should follow suit, absolutely. It'll address two major issues in our game.
I'd also like to introduce a new way of punishing time-wasting by goalkeepers. When they take too long with a goal kick, give a corner rather than a yellow card.
If you book them, the keeper is laughing, because it's the 88th minute and he's just delaying the game further. Ben Foster is one of the worst for 'absorbing time' and it annoys everyone.
You'd probably never use it, because they'd be too scared to give away a corner, but the threat would work.