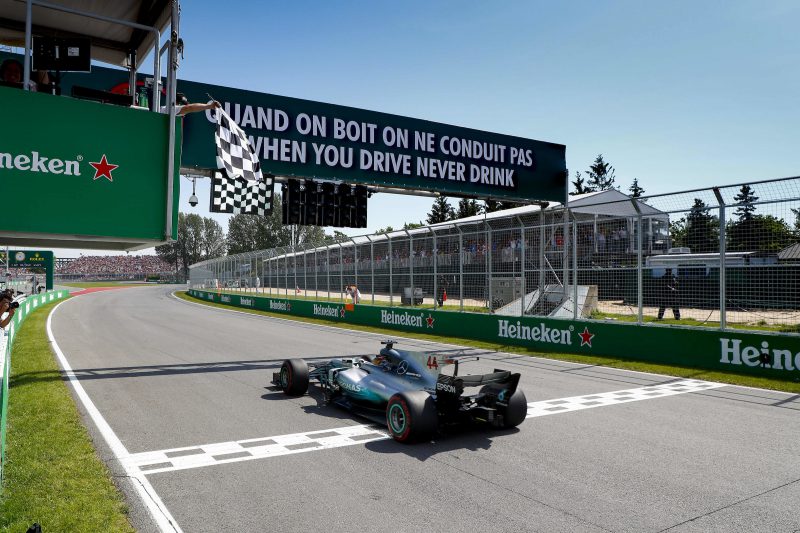 Canada is next up on the Formula 1 calendar and it is back to raw power, after the intricacies of Monaco.
Montreal, with its famed Wall of Champions on the last corner, is always one of the most popular and watched Grand Prix of any season, and this year is no different with Red Bull and Ferrari both mounting genuine bids to topple Mercedes' dominance at the top.
Daniel Ricciardo comes into Canada off the back of a victory in Monte Carlo as he led home Ferrari's Sebastian Vettel and Lewis Hamilton in his Mercedes.
World champion Hamilton still enjoys a 14 point lead over Vettel but Ricciardo closed to within 38 points as it appears a possible three-way battle for the Drivers' title.
However, Hamilton is anticipating a weekend of struggle after Mercedes confirmed there would be a delay to their new engine upgrades – with Canada marked as the point in the season when teams would opt to move to their second power units of the season.
So all the teams with Mercedes power will have to continue with the same engine they started the season until France later this month whilst all Ferrari, Renault and Honda cars will benefit from a new engine this weekend, which could be crucial at the high speed circuit that is Montreal.
If the others are bringing upgrades and have fresh engines, we won't be in a position to fight," said Hamilton – who love Canada with six wins to his name, indeed he is just one short of record holder Michael Schumacher.
"It is a power circuit. There is power loss over the life of an engine. All I am hoping for is reliability.
"If I am on the seventh race, with a power difficult circuit, I just want to see it through. Naturally I am still here to win.
"But they have upgraded engines, which can be from 0.1-0.2 seconds. Ferrari are very strong on the straights. It will be interesting to see whether we can match them or not, but we are going to be giving it everything we've got.
"It will be the seventh race on the engine. The goal is to make the engine stay the same all the way through, but naturally it is degraded, you lose brake horse power over races and if we're in the 7-8,000km or whatever it is, it will definitely have lost performance so at a power circuit it will probably be magnified."
Whilst Hamilton firmly believes Ferrari are the ones to watch, Vettel insists that Red Bull need to be respected.
"They [Red Bull] can be a danger," he said.
"This track is different again and a different layout but I don't know what they are having or not – and what they have brought for updates and so on.
"I think we need to wait and see, but I expect it to be close just like the other races and hopefully Ferrari (are) in front."
This weekend also marks a special weekend for former world champion Fernando Alonso, who is taking part in his 300th Grand Prix.
Congratulations Fernando on your 300th GP You are a Legend, simply one of the best, and my F1 Hero. Good luck in Canada. #fernando300 #CanadianGP pic.twitter.com/HjauNwLhBQ

— Debbie Alo#14 ǂ⃝⃝⃝⃝ (@debbienando14) June 7, 2018
Alonso will become just the fourth driver in history to appear in 300 F1 race weekends, and only behind Rubens Barrichello (326), Jenson Button (309) and Michael Schumacher (308).
"It's a special weekend. Hopefully we can put in a good performance," said Alonso.
CANADA GRAND PRIX – ROUND 7

Location: Circuit Gilles Villeneuve, Montreal
Track size: 2.709 miles with 14 turns
Number of laps: 70
2017 winner: Lewis Hamilton – Mercedes
Lap record holder: Lewis Hamilton  -Mercedes 1:14.551
Race winner odds from Betsafe:

Driver:
| | |
| --- | --- |
| Lewis Hamilton (GBR – Mercedes) | 3/2 |
| Sebastian Vettel (GER – Ferrari) | 2/1 |
| Valtteri Bottas (FIN – Mercedes) | 7/1 |
| Max Verstappen (NED – Red Bull) | 10/1 |
| Kimi Raikkonen (FIN – Ferrari) | 12/1 |
| Daniel Ricciardo (AUS – Red Bull) | 15/1 |
| Fernando Alonso (ESP – McLaren) | 500/1 |
| Sergio Perez (MEX – Force India) | 500/1 |
| Kevin Magnussen (DEN – Haas) | 500/1 |
| Esteban Ocon (FRA – Force India) | 500/1 |
| Nico Hulkenberg (GER – Renault) | 750/1 |
| Romain Grosjean (FRA – Haas) | 750/1 |
| Carlos Sainz Jr. (ESP – Renault) | 750/1 |
| Stoffel Vandoorne (BEL – McLaren) | 1500/1 |
| Pierre Gasly (FRA – Toro Rosso) | 1500/1 |
| Lance Stroll (CAN – Williams) | 2000/1 |
| Brendon Hartley (NZL – Toro Rosso) | 2000/1 |
| Charles Leclerc – (MON – Sauber) | 2000/1 |
| Marcus Ericsson (SWE – Sauber) | 3000/1 |
| Sergey Sirotkin (RUS – Williams) | 3000/1 |
Team:
| | |
| --- | --- |
| Mercedes | EVS |
| Red Bull | 5/1 |
| Williams | 1500/1 |
| Toro Rosso | 1000/1 |
| Force India | 250/1 |
| Renault | 500/1 |
| Haas | 350/1 |
| McLaren | 350/1 |
| Sauber | 1500/1 |
| Ferrari | 6/5 |
2018 Results
Australian Grand Prix – Winner: Sebastian Vettel (Ferrari)
Bahrain Grand Prix – Winner: Sebastian Vettel (Ferrari)
China Grand Prix – Winner: Daniel Ricciardo (Red Bull)
Azerbaijan Grand Prix – Winner: Lewis Hamilton (Mercedes)
Spain Grand Prix – Winner: Lewis Hamilton (Mercedes)
Monaco Grand Prix – Winner: Daniel Ricciardo (Red Bull)
Drivers' Championship:
1 Lewis Hamilton GBR MERCEDES 110
2 Sebastian Vettel GER FERRARI 96
3 Daniel Ricciardo AUS RED BULL RACING TAG HEUER 72
4 Valtteri Bottas FIN MERCEDES 68
5 Kimi Räikkönen FIN FERRARI 60
6 Max Verstappen NED RED BULL RACING TAG HEUER 35
7 Fernando Alonso ESP MCLAREN RENAULT 32
8 Nico Hulkenberg GER RENAULT 26
9 Carlos Sainz ESP RENAULT 20
10 Kevin Magnussen DEN HAAS FERRARI 19
11 Pierre Gasly FRA SCUDERIA TORO ROSSO HONDA 18
12 Sergio Perez MEX FORCE INDIA MERCEDES 17
13 Esteban Ocon FRA FORCE INDIA MERCEDES 9
14 Charles Leclerc MON SAUBER FERRARI 9
15 Stoffel Vandoorne BEL MCLAREN RENAULT 8
16 Lance Stroll CAN WILLIAMS MERCEDES 4
17 Marcus Ericsson SWE SAUBER FERRARI 2
18 Brendon Hartley NZL SCUDERIA TORO ROSSO HONDA 1
19 Romain Grosjean FRA HAAS FERRARI 0
20 Sergey Sirotkin RUS WILLIAMS MERCEDES 0
Constructors' Championship:
1 MERCEDES 178
2 FERRARI 156
3 RED BULL RACING TAG HEUER 107
4 RENAULT 46
5 MCLAREN RENAULT 40
6 FORCE INDIA MERCEDES 26
7 SCUDERIA TORO ROSSO HONDA 19
8 HAAS FERRARI 19
9 SAUBER FERRARI 11
10 WILLIAMS MERCEDES 4