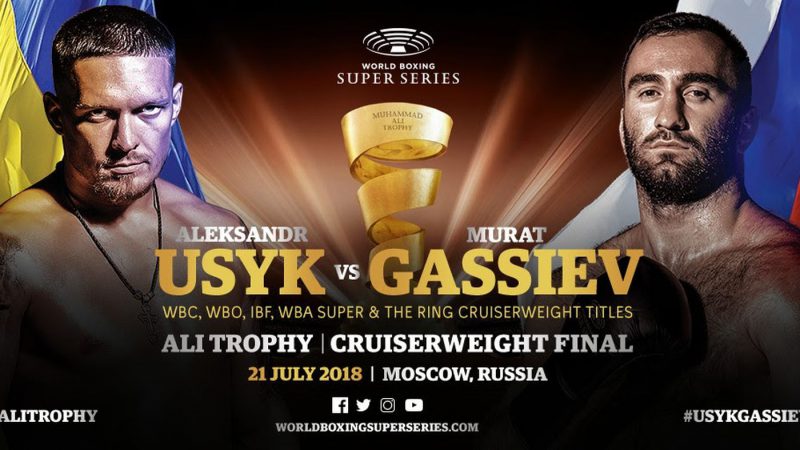 Oleksandr Usyk (14-0) and Murat Gassiev (26-0) meet in Moscow this weekend to make history in the first World Boxing Super Series final with all four world titles on the line for the winner and the first ever boxer in history to lift the Muhammed Ali trophy.
Usyk puts his WBC and WBO world titles in the mix with Gassiev adding his IBF and WBA belts for the first time in cruiserweight history to create a new lineal world champion and overnight superstar.
The fight is as good as it gets for the boxing purists, it's boxing porn, and it could continue to get even better if the winner plots a move to the heavyweight division next. For now, there's a potential 36 minutes of incredible cruiserweight action to enjoy.
BACKGROUND
Ukrainian Usyk switched from football to boxing, aged 15, in 2002 and won a bronze medal in the European Championships at middleweight just four years later in 2006. Just two years on from that and he won gold at the next European Championships held in Liverpool, this time at light-heavyweight.
He then followed the same pattern in the Worlds, winning bronze in 2009 and coming back two years later to scoop up the gold, both times in the heavyweights.
The pinnacle of his amateur career came at the London 2012 Olympics beating Artur Beterbiev – currently the IBF world light-heavyweight champion – to go on to win the gold.
Gassiev had a very different boxing background, experiencing only 25 amateur fights, deciding to turn pro at just 17-years-old and claiming his first title within two years – the WBC Youth title.
PRO CAREER
As an Olympic gold medallist, Kiev's boxing hero was naturally fast-tracked to titles and claimed the WBO Inter-Continental cruiserweight title in just his fifth pro bout via seventh-round TKO over Daniel Bruwer (25-4-1) in his home country. It was his fifth successive stoppage and first professional title in his maiden year in the paid ranks.
He quickly defended it four times within the next year between December 2014-December 2015, all via TKO victories in his home town of Kiev.
He then landed the WBO World title by being the first to defeat Krzysztof Glowacki in 2016 in his 10th fight and first time completing the distance with a UD win.
He defended his WBO strap twice before entering the World Boxing Super Series where he made the finals by beating the joint-longest reigning cruiserweight world champion of all-time Marco Huck in the quarter-finals. He then added the green belt to his collection by narrowly defeating Mairis Briedis on points in the Latvian's home town of Riga.
Gassiev debuted in September 2011 but didn't land his first title until June 2013 in his 12th fight in the form of the WBC Youth World cruiserweight title. He defended that strap once at the end of the year, then kicked off the following year by adding the IBF East/West European title in his 15th fight.
At the end of 2014, he continued his rise within the IBF rankings by adding the Inter-Continental version to his increasing hoard, which he successfully defended once in 2015 before landing a shot at the IBF World in December 2016, which he narrowly won via split decision over the reigning champion and fellow countryman Denis Lebedev in Moscow.
That was his last appearance before entering the WBSS where he got through the quarters by blasting through Krzysztof Wlodarczyk in three rounds in the first defence of his IBF strap, then added the WBA belt in the semis by stopping Yunier Dorticos in the final round.
TALE OF THE TAPE
Oleksandr Usyk           Murat Gassiev
Age: 31                         Age: 24
From: Ukraine              From: Russia
Debut: November 2013 Debut: September 2011
Height: 6'3"                  Height: 6'3 ½"
Reach: 78"                    Reach: 76"
Fights: 14                     Fights: 27
Won: 14                       Won: 26
KO's: 11                       KO's: 19
Lost: 0                          Lost: 0 (1 NC)
Drawn: 0                      Drawn: 0
KO %: 79                     KO%: 70
Rounds: 105                 Rounds: 120
World Titles: 2              World Titles: 2
POWER
The pair both have power, evident in their KO ratio's – both above 70% – but their strengths differ greatly. Usyk relies on relentless pressure and doesn't possess naturally concussive power. When he lands his hardest punch, the receiver doesn't always go down. It often takes a barrage of unrelenting shots to force them off their feet.
Gassiev has more natural brute strength in his arsenal, some of the early guys he fought felt his raw power and immediately gave up. He can knock opponents down with a single punch and many don't want to get back up again. Some don't even have the choice, that left hook that landed on Shimmel was a knockout of the century candidate! He can produce this at the highest level, as he has shown against Wlodarczyk with those fierce uppercuts and with another trademark left hook against the game Dorticos, eventually knocking him through the ropes on the third knockdown with 16 seconds left of the fight!
PREDICTION
Because of the volume of punches Usyk throws and also taking into account he likes to stay close and in range at all times, he will be prone to copping a few shots from Gassiev on occasion. If one of those lands cleanly, then it's a potential finisher.
However, I will always rate the boxer over the puncher and I think that's exactly what this fight is about. It's a little unfair on Gassiev to label the fight as 'Boxer vs Puncher' or even 'Brain vs Brawn' because the Russian is an intelligent fighter himself with his feints and fawns, and is a master at setting traps.
That said, there's quite a lot of categories he can't match his opponent in, namely footwork, movement and hand speed. Usyk is slick, sly, sharp and speedy and I think he will utilise all of those skills to win via points decision in a very close, gritty, eventful and, ultimately, memorable fight.