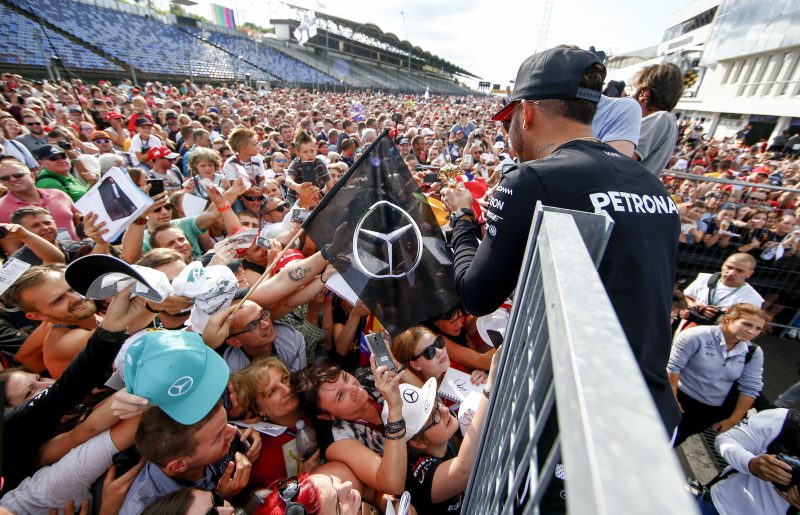 The next stop on the Grand Prix calendar is the legendary Hungaroring, as the title battle between Lewis Hamilton and Sebastian Vettel continues at a pace.
It was all change again in the Formula 1 last weekend as Lewis Hamilton climbed above title rival Sebastian Vettel, who crashed out on home soil with the race in the palm of his hand.
Mercedes and Hamilton are not expected to feature prominently this weekend, but the British superstar is the most successful driver ever in Hungary with five wins to his name.
The Hungaroring is the third shortest Formula 1 circuit on the current calendar and the second slowest after Monaco, and as such Red Bull are seen as the biggest threat in Budapest.
"It's usually not our strongest track," said Hamilton.
"It's not a power circuit so hopefully this extra chunk of power that Ferrari have doesn't serve them as well there and maybe we can have a decent fight with them.
"But they've always been really good on tyres and that's quite a hot track so undoubtedly they'll continue to be fast but I've got high hopes for it still.
"Red Bull will be very quick, I'm sure, in the next races where it is really strong for them. So it should be a closely matched race."
Vettel is looking to bounce back in Hungary, and he is confident in his Ferrari.
"Everyone knows what we can do, so I'm confident looking forward to Hungary," Vettel said.
"We have showed it enough times. We have a strong car so we can be as confident as … more (confident) than anybody else."
Back in the #RB14 for #FP1 at the HungarianGP 🇭🇺#F1 @danielricciardo pic.twitter.com/UKr7jjLzyI

— RICCIARDO (@ricciardo) July 27, 2018
But it is Red Bull looking to make an impact with Daniel Ricciardo and Max Verstappen
"I like the Hungarian GP," said Ricciardo. "Everyone always says it's Monaco without walls, but it's not, it's Hungary!
"It's fast, it's normally really hot and even though it's a tight track there's still quite a lot of overtaking and always a bit going on.
"The middle sector is one of the best of the whole year, it's pretty fast with really quick changes in direction."
Verstappen added:  "It's going to be difficult. In Monaco the differences in engines were smaller than they are now. It'll be difficult to go for pole, but I think we'll be close. And unless things go wrong for others, you really have to start from pole to win. From second it's already a difficult challenge."
HUNGARY GRAND PRIX – ROUND 12

Location: Hungaroring, Hungary
Track size: 2.72 miles with 17 turns
Number of laps: 70
2017 winner: Sebastian Vettel Ferrari
Lap record holder: Fernando Alonso McLaren 1:20.182
Race winner driver odds from Unibet: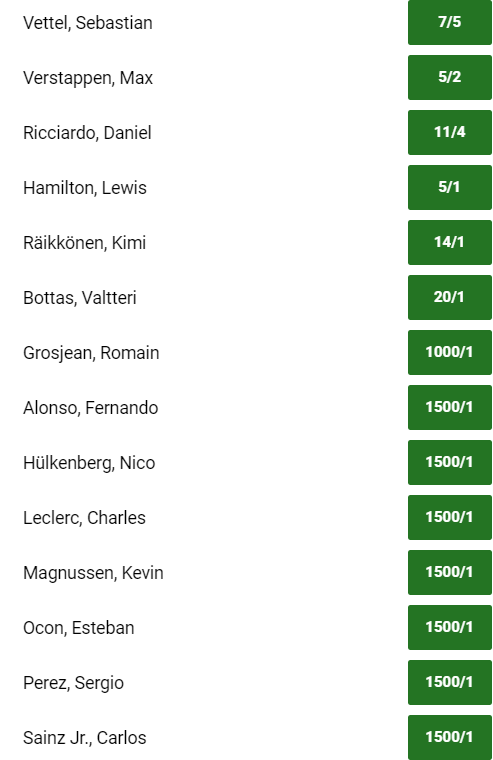 Race winner team odds from Unibet: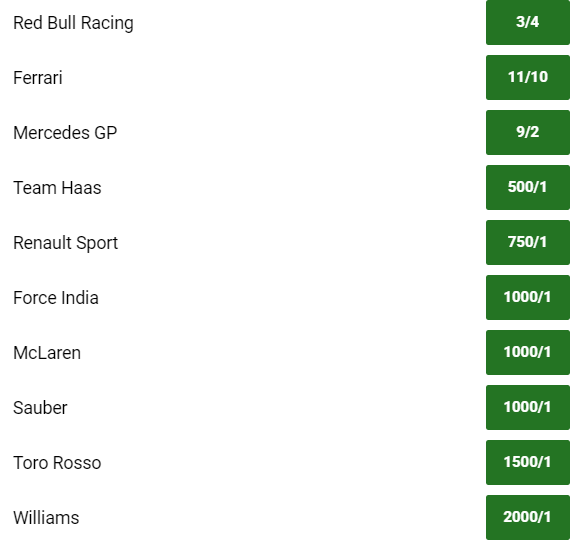 2018 Results
Australian Grand Prix – Winner: Sebastian Vettel (Ferrari)
Bahrain Grand Prix – Winner: Sebastian Vettel (Ferrari)
China Grand Prix – Winner: Daniel Ricciardo (Red Bull)
Azerbaijan Grand Prix – Winner: Lewis Hamilton (Mercedes)
Spain Grand Prix – Winner: Lewis Hamilton (Mercedes)
Monaco Grand Prix – Winner: Daniel Ricciardo (Red Bull)
Canada Grand Prix – Winner: Sebastian Vettel (Ferrari)
France Grand Prix – Winner: Lewis Hamilton (Mercedes)
Austria Grand Prix – Winner: Max Verstappen (Red Bull)
British Grand Prix – Winner: Sebastian Vettel (Ferrari)
German Grand Prix – Winner: Lewis Hamilton (Mercedes)
Drivers' Championship:
1 Lewis Hamilton GBR MERCEDES 188
2 Sebastian Vettel GER FERRARI 171
3 Kimi Räikkönen FIN FERRARI 131
4 Valtteri Bottas FIN MERCEDES 122
5 Daniel Ricciardo AUS RED BULL RACING TAG HEUER 106
6 Max Verstappen NED RED BULL RACING TAG HEUER 105
7 Nico Hulkenberg GER RENAULT 52
8 Fernando Alonso ESP MCLAREN RENAULT 40
9 Kevin Magnussen DEN HAAS FERRARI 39
10 Sergio Perez MEX FORCE INDIA MERCEDES 30
11 Esteban Ocon FRA FORCE INDIA MERCEDES 29
12 Carlos Sainz ESP RENAULT 28
13 Romain Grosjean FRA HAAS FERRARI 20
14 Pierre Gasly FRA SCUDERIA TORO ROSSO HONDA 18
15 Charles Leclerc MON SAUBER FERRARI 13
16 Stoffel Vandoorne BEL MCLAREN RENAULT 8
17 Marcus Ericsson SWE SAUBER FERRARI 5
18 Lance Stroll CAN WILLIAMS MERCEDES 4
19 Brendon Hartley NZL SCUDERIA TORO ROSSO HONDA 2
20 Sergey Sirotkin RUS WILLIAMS MERCEDES 0
Constructors' Championship:
1 MERCEDES 310
2 FERRARI 302
3 RED BULL RACING TAG HEUER 211
4 RENAULT 80
5 FORCE INDIA MERCEDES 59
6 HAAS FERRARI 59
7 MCLAREN RENAULT 48
8 SCUDERIA TORO ROSSO HONDA 20
9 SAUBER FERRARI 18
10 WILLIAMS MERCEDES 4