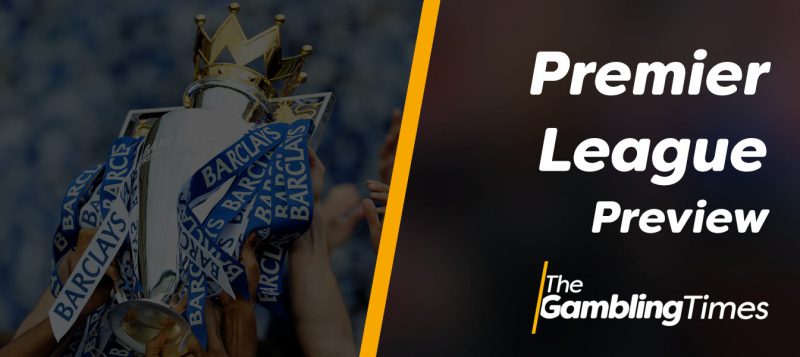 The Premier League season kicks-off this weekend and we take a look at all 20 teams.
See below for a preview on every club for the top-flight season ahead, including predictions from former England, Crystal Palace and Tottenham midfielder Andy Gray and our own Football Insider Graeme Bailey and bet365's Steve Freeth.
Our Football INDEX expert Ryan Bradford will also give you his pick for each side going into the new season.

Football INDEX is a stockmarket game where players, known as Traders, take a position on the "future success" of footballers with real money – CLICK HERE to play and start winning, and take advantage of your £20 cashback only with TheGamblingTimes.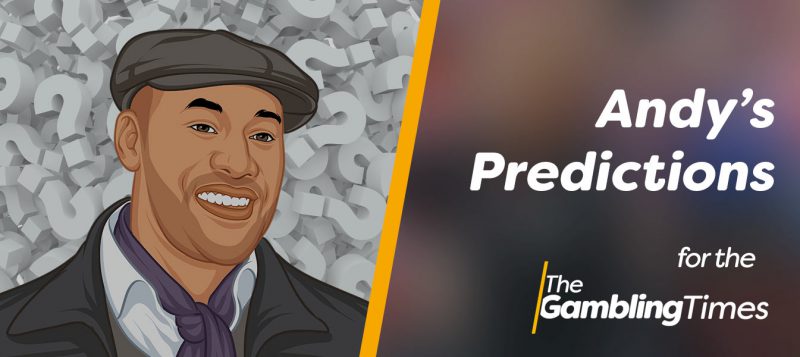 CLUB BY CLUB PREVIEW – PREDICTED TABLE BASED ON bet365 ODDS
1st – MANCHESTER CITY @ 4/6
Last season: 1st – Champions
Pep Guardiola says: "If after winning the title they are thinking 'ok…we're really good' that's the moment we start to go down. To be clear with them, the guys who are good, we'll say they are good and if they are bad, we are going to say they are bad. I try to be fair with what I see on the pitch, and off the pitch, try to choose the right line up and try to win games and do our best."
bet365 Pick: Sergio Aguero top Manchester City goal scorer – 8/11
ANDY SAYS: 1st – City are going to win this at a canter in my eyes, I don't see anyone getting near them to be honest come then end of the season they will easily retain their crown.
GRAEME SAYS: 1st – I tipped City last year, and I am going for them again but won't be as clear cut and I would have liked to have seen another central midfielder come in – but they are still the ones to beat.
FOOTBALLIndex – One to follow: Riyad Mahrez –Man City's record transfer signing. He was voted Premier League player of the season when Leicester won the league in the 15/16 season. Since then, Mahrez has only showed occasional flashes of brilliance as he looked for a move away from Leicester. He finally got his wish this summer, and with better players surrounding him, I expect him to shine for City this season.
2nd – LIVERPOOL @ 4/1
Last season: 4th
Ins: Naby Keita, Fabinho, Xherdan Shaqiri, Alisson Becker
Outs: Emre Can, Ovie Ejaria, Jon Flanagan, Adam Bodgan, Harry Wilson, Danny Ward, Ryan Kent, Allan, Ben Woodburn
Jurgen Klopp says: "We have not bought a team whilst the others have sold theirs, it is not like this.We don't have a free way to go to the championship, it will be really hard. They [top-six rivals] are still there, but we have improved our position for us. What it means for the league we will see."
bet365 Pick: Mo Salah 19 or less Premier League goals – 2/1
ANDY SAYS: 2nd – In a similar fashion to City, I don't see Liverpool being troubled that much for second place, I think they will be closest to top-spot and put up a challenge, they have improved and look decent but not enough to win but they are still well ahead of the rest.
GRAEME SAYS: 2nd – Hard to see who has had a better summer in the transfer window than Liverpool, they have improved most parts of not just their squad but starting XI – they could very well be City's biggest title rivals….and they should be.
FOOTBALLIndex – One to follow: Xherdan Shaqiri – Signed from Stoke during the summer, he got Liverpool fans excited with a stunning overhead kick against Man United in pre-season. If he can produce more moments like that for Liverpool during the season, then he should provide plenty of opportunities for dividends.
3rd – MANCHESTER UNITED @ 7/1
Last season: 2nd
Jose Mourinho says: "The other clubs who compete with us are really strong and have fantastic squads, like Chelsea, Tottenham or Manchester City, or they are investing massively like Liverpool, that are buying everything and everybody. And if we don't make our team better it will be a difficult season for us."
bet365 Pick: Not to finish top-four – 9/4
ANDY SAYS: 5th – I think United drop out of the top-four and it all stems form the manager. I think is getting passed it, in the send he can't be bothered almost – he is not positive, has little desire and that comes across to the players and you can see it in their style of play.
GRAEME SAYS: 4th – You always underestimate Jose Mourinho at your peril, United have not done as much as they want in the window but I still have them down for a top-four finish and perhaps they might push the top-two but I don't see a title challenge throughout.
FOOTBALLIndex – One to follow: Paul Pogba – As we enter Pogba's third season since his return to Man United from Juventus, the expectation on Pogba to consistently produce the goods has never been higher. He was outstanding for France as he led them to World Cup glory this summer but hasn't been able to consistently hit the same heights when playing for Man United, yet. If the addition of Fred in Man United's midfield frees him from his defensive shackles, it could allow Pogba to dominate this season and realise his immense talent.
4th – CHELSEA @ 12/1
Last season: 5th
Maurizio Sarri says: "If I want to stay here for 10 years, then I have to win. Then it depends on the club but I want to stay here for a long time."
bet365 Pick: Not to finish in top four – 6/5
ANDY SAYS: 4th – This will be a hard season for Chelsea, but I think they should be better – the win the new boss Sarri plays I think goals will come, and they will get back in the Champions League under him.
GRAEME SAYS: 5th – I am not sure I agree with the Bookmakers in having Chelsea in the top-four, I like Sarri and think he will make a strong push but much will depend on the final few days of the window. But I think they will be better than last year, especially on the eye.
FOOTBALLIndex – One to follow: Callum Hudson-Odoi – Despite the fact he won't even turn 18 until November, there is much excitement surrounding Hudson-Odoi. He has starred for Chelsea in pre-season and the expectation is that he will very much be part of their first team squad this season. He may be a little pricey on the Index at the moment, but I still think he is worth investing in given his immense potential, especially if you are prepared to hold him long-term.
5th – TOTTENHAM HOTSPUR @ 16/1
Last season: 3rd
Mauricio Pochettino says: "Winning is my concern and I feel responsible for this after four years with the club to try to achieve this. Maybe our history and the reality is different, but the players are fighting and working so hard and we are there with them."
bet365 Pick: Top London club – 11/8
ANDY SAYS: 3rd – I think Tottenham get third, my old club are in good shape but they are not taking that step to challenge the top-two and I think they are some way behind those two, but again some way ahead of the others chasing.
GRAEME SAYS: 3rd – Spurs have kept their main men – in Kane, Eriksen and Alli – they have talent to frighten anyone, I can see them challenging for the title again, but not sure they have enough to get beyond City, or even Liverpool.
FOOTBALLIndex – One to follow: Lucas Moura – Signed by Spurs from PSG in January, Moura has taken a little time to settle to the English game. His impressive performances in pre-season for Tottenham however would suggest he has now fully acclimatised to the English game, and is ready to consistently produce the sort of form that persuaded PSG to fork out on his signature in the first place.
6th – ARSENAL @ 20/1
Last season: 6th
Unai Emery says: "I want to win. The performances, every day, for work on attacking, defending, is to be competitive each match. My first idea is getting better day-to-day with our players and working hard with our players, to transmit my ideas. The system for me isn't the most important. For me, the most important thing is to be and to create one competitive team. And then, we have the quality."
bet365 Pick: Finish top-four – 2/1
ANDY SAYS: 6th – I am putting Arsenal down in sixth, but I think it is a case of watch this space, I quite like the new boss so they could very well jump above Chelsea and Man United here, but we have to see how they go but I would be happy to change my mind on them quite quickly.
GRAEME SAYS: 6th – I just don't see how Arsenal get any higher, they look more solid – although if they can get Lacazette and Aubameyang firing week in, week out then they will have chance of the top-four
FOOTBALLIndex – One to follow: Lucas Torreira – Torreira, 22, impressed for Uruguay at the recent World Cup and could add some much needed 'bite' to Arsenal's midfield this season. His former coach Marcello Donatelli described him as the second-best midfielder in Europe behind Busquets. If he can live up to that praise for Arsenal next season he will be very much one to keep an eye on!
7th – EVERTON @ 250/1
Last season: 7th
Marco Silva says: "The players are working really hard and they are trying to do everything to understand the different philosophy and ideas. They are working and of course we are doing our work as well behind the scenes to improve the squad."
bet365 Pick: Bottom half finish – 9/4
ANDY SAYS: 9th – I think they will do OK, but I don't see much more than that – I don't think they will pull up any trees but I don't see them being in trouble at the other end either, it won't be easy for Marco Silva but will he hang around for long, am not sure about that either.
GRAEME SAYS: 10th – I am not convinced by Everton, I don't see them struggling but I think that top-ten is the most they can hope for, I think others around them have got better.
FOOTBALLIndex – One to follow: Richarlison – Signed from Watford this summer, big things will be expected of the reported £50 million-pound man. He started very brightly for Watford under Marco Silva last season, but after Silva was sacked, he faded quite badly and never really picked up again. It will be interesting to see if he can consistently reproduce his early form from last season because if he can, he is likely to be destined for bigger and better things.
8th – WOLVERHAMPTON WOLVES @ 250/1
Last season: Championship winners
Nuno says: "I am very cautious of what's going on. We are one year ahead of schedule. We have to improve and work hard but we cannot say we are going to fight for the top 10 – that will be a big mistake."
bet365 Pick: Top half finish – 11/10
ANDY SAYS: 7th -They are going to be the surprise package for me, they look good and have spent money accordingly – if you take top six away, then they win the next mini-league.
GRAEME SAYS: 8th -What is not to like about Wolves, they have made some great signings, they will be easily top-half in my eyes and could even push top-six at some point.
FOOTBALLIndex – One to follow:  Ruben Neves – He his probably Wolves' best player and perhaps one of most talented players to ever play for the club. He was made captain of Porto when still only a teenager and has always been destined for the very top. With Wolves' promotion to the Premier League, Neves has the perfect place to showcase his enormous talent next season. If he does, I can't imagine he will stay at Wolves beyond this season.
9th -WEST HAM UNITED @ 300/1
Last season: 13th
Manuel Pellegrini says: "The players that have come in with our new project, both the new signings and the players who were here before, feel that the club is doing things well. I think that all of them know that they cannot repeat the season that they did last year in the Premier League, because this is not a team that should be fighting against relegation. When you put together the work, the ambition and the fact we have changed a lot of things, we hope that we can make a good season."
bet365 Pick: Marko Arnautovic top goalscorer – 7/4
ANDY SAYS: 11th – Will Pellegrini work at West Ham? I am not sure it will translate to be honest. He is used to working with top players, like from his Manchester City days – again I don't see them getting dragged into trouble but not sure I see massive progress.
GRAEME SAYS: 7th – I really like what West Ham have done, some quality players have been brought in and their starting XI is considerably improved, for me they will be the best of the rest and I can see them closing the gap on Arsenal.
FOOTBALLIndex – One to follow:  Felipe Anderson – A player of undoubted quality who in previous years was heavily linked to a move to Man United. Anderson is a versatile midfielder who is strong both offensively and defensively. If he performs for West Ham to his capabilities, there could be a lot of bigger clubs wondering how they missed out on signing him.
10th – LEICESTER CITY @ 300/1
Last season: 9th
Claude Puel says: "It is a good feeling. If our players are interesting a lot of clubs it is because we made good recruitment and work in our training sessions. It is important to continue this work."
bet365 Pick: Jame Vardy Premier League top-scorer – EW at 40/1
ANDY SAYS: 8th – I can see a slight improvement in Leicester, and they have done well to keep Jamie Vardy and Harry Maguire, and even added to them – they are decent for sure.
GRAEME SAYS: 9th – I quite like the business Leicester have done, and they could easily be pushing for 7th here with the likes of Jamie Vardy and Harry Maguire, but am not sure Claude Puel is the man to get it out of them – but very much top-half.
FOOTBALLIndex – One to follow: Harry Maguire – Heavily linked with a move to Man United this summer after starring for England during the World Cup. The affectionately named 'slabhead' has improved immeasurably in the last couple of seasons and should he perform well for Leicester again this season, they may not be able to keep bigger clubs at bay come next summer's transfer window.
11th – SOUTHAMPTON @ 500/1
Last season: 17th
Mark Hughes says: "We have a group here that is talented, that has real potential and real growth in the group as well, because they are all still young in terms of years.They will all benefit from what we all went through last year. I think we will learn from that and be better again this year."
bet365 Pick: Under 43 points – 5/4
ANDY SAYS: 13th – Southampton did well to stay up and see them progressing under Mark Hughes, at times they will be in the battle but I see them being more than OK this season.
GRAEME SAYS: 19th – Sorry to say but I don't see enough in this Saints squad to stay up, I think goals will be an issue and I am not convinced Mark Hughes is the man to keep them up – so as it stands for me they are going down.
FOOTBALLIndex – One to follow:  Mohamed Elyounoussi – Signed by Saints in the summer, presumably as a direct replacement for the outgoing of Dusan Tadic. He is a tricky winger who averaged a goal every three games in the Swiss league for Basel last season, as well as chipping in with plenty of assists. It remains to be seen whether he can carry that sort of form into the Premier League, but if he can, then there should be plenty of value in his share price.
12th – BURNLEY @ 750/1
Last season: 7th
Sean Dyche says: "We have our targets for the new season, regardless of whether we are playing European football or not, and bringing those players in is more important than bulking up the numbers."
bet365 Pick:Bottom half finish – 4/11
ANDY SAYS: 12th – Burnley did really well last season, I don't see a repeat of that, they will be in mid-table, which is all they will be looking for really.
GRAEME SAYS: 11th – Burnley are still building, they will again push for top-half but I think they might just go underneath, but I don't see Sean Dyche letting them get dragged into trouble at the wrong end.
FOOTBALLIndex – One to follow:  Chris Wood – Signed from Leeds last summer, Wood scored a respectable 10 Premier League goals last season. With Burnley on the cusp of group stage Europa League football, there should be plenty of PB opportunities for Wood during the upcoming season, who, at currently less than £1 on the Index, represents decent value.
13th – CRYSTAL PALACE @ 750/1
Last season: 11th
Roy Hodgson says: "We have 38 tough games to come, the moment we start kidding ourselves its not going to be that way will be a major mistake."
bet365 Pick: Bottom half finish – 4/11
ANDY SAYS: 10th – I have my old team down for a top-half finish, they can't start anywhere near as bad as they did last time, and they were pretty clear come the end, I think they will more than OK.
GRAEME SAYS: 13th – Roy Hodgson is proven Premier League quality, he has too much know how to let Palace get dragged into deep relegation trouble and I quite like the business they have done. They might skirt with the drop but I don't see them being in huge danger.
FOOTBALLIndex – One to follow: Max Meyer – Signed by Crystal Palace on a free from Schalke. Big things were expected from Meyer as a teenager coming through the ranks at Schalke, but he hasn't quite lived up to the hype yet. Still only 22, Meyer is still young enough to improve and is definitely one to watch out for this season.
14th – NEWCASTLE UNITED @ 750/1
Last season: 10th
Rafa Benitez says: "We finished 10th in the league and now we will try and stay in the Premier League – our main target – and see what happens but that will be our main target because you see the potential of other teams."
bet365 Pick:Under 42 points – Evens
ANDY SAYS: 14th – Newcastle will get what they want here, they will stay up and at the end of the day that is the task that Rafa Benitez has to fulfil and he will.
GRAEME SAYS: 17th – I am not convinced at all by Newcastle, I think they have had a poor summer in the transfer market and are in real danger of going down, I am giving them the benefit of the doubt only because of the Rafa factor.
FOOTBALLIndex – One to follow: Kenedy – According to WhoScored, Kennedy was one of Newcastle's best performing players last season. Signed from Chelsea after a successful loan spell, Kennedy has bags of talent and Newcastle could be the place that finally allows him to showcase it.
15th – FULHAM @ 1000/1
Last season: Championship play-off winners
Slavisa Jokanovic says: "I believe we need to be more solid. In the Premier League if we are not solid we are going to be in a dangerous situation. We have shown we have the quality."
bet365 Pick: Over 39 points – 10/11
ANDY SAYS: 17th – I don't know what it is about Fulham, I am just not convinced by Fulham and I think they have a real fight on their hands to stay up here, and I think they will just about but it will be a battle.
GRAEME SAYS: 12th – Fulham were a joy to watch last year and I don't see that changing, they have had a wonderful summer in the transfer market and I see them challenging for top-ten this season.
FOOTBALLIndex – One to follow:  Jean Michael Seri – He was heavily linked to a move to Barcelona last summer after an impressive 16/17 season. However, Seri wasn't able to replicate the same type of form for Nice last season, so Barca's interest cooled. Fulham decided to snap him up, and by all accounts they have a very talented midfielder on their hands who has a great eye for a through ball. I expect to do well for Fulham next season – definitely one to watch.
16th – WATFORD @ 1000/1
Last season: 14th
Javi Gracia says: "All of the players have done outstanding work this pre-season and this week we'll recover some players who have been some days out of the team and I think it will be a good moment to start for us. I think we have spent a lot of time together and the time from last season and this month has helped us to form a group of players and build up a team to be able to create a style and a clear way of playing."
bet365 Pick: To be relegated – 2/1
ANDY SAYS: 15th – Watford are in for a bit of a struggle, but they look decent enough and there are definitely worse teams than them in this league, they shouldn't be going down.
GRAEME SAYS: 16th – I think Watford need to get off to a good start, they could be dragged into real danger if they don't get points on the board early doors, indeed Gracia could be one of the first out if he does not deliver quickly, but I think they stay up.
FOOTBALLIndex – One to follow: Gerard Deulofeu – The former Barcelona man has bundles of talent but has never really stayed a club long enough to show it on a consistent basis. He was starting to shine for Watford last season until injury derailed his season somewhat. If he can stay injury free this season, then Watford may not feel the departure of Richarlison to Everton too heavily.
17th – AFC BOURNEMOUTH @ 1000/1
Last season: 12th
Eddie Howe says: "We have tried to analyse everything and tried to find a way to make sure we hit the ground running this season."
bet365 Pick: Between 41 and 43 points – 4/1
ANDY SAYS: 18th – So, this is my first team to go down – I think Bournemouth's squad of players have over-achieved – I think the old legs, particularly in defence will catch up to them and they will go down.
GRAEME SAYS: 15th – I quite like the signings Bournemouth have made and they have gone for quality over quantity, and I believe that will be enough to keep them up.
FOOTBALLIndex – One to follow: Diego Rico – The Spanish full-back will be unknown to most causal football fans. Bournemouth signed him from Leganes this summer, after reportedly fighting off competition from Borussia Dortmund and Benfica. He is banned for the first few games of the season due to a suspension he picked up in his last league game for Leganes, but, if and when he establishes himself in the first team after that, he could be a very shrewd PB option at a decent price.
18th – BRIGHTON & HOVE ALBION @ 1000/1
Last season: 15th
Chris Hughton says: "We are happy with the squad we have got. But we have a chairman who wants us to have as good a squad as we can come the start of the season."
bet365 Pick: Over 41 points – 13/8
ANDY SAYS: 16th – Brighton will stay up, Chris Hughton will do his job and I think they will take it, indeed Brighton staying up means he has done a more than decent job.
GRAEME SAYS: 14th – Brighton are building year on year and I see them doing it again, I like the signings Chris Hughton has made, they are better than they were and they stay up.
FOOTBALLIndex – One to follow: Alireza Jahanbakhsh – After a stellar season with AZ Alkmaar in the Dutch league last season, where he was the top scorer with 21 goals, Jahanbakhsh was expected to further enhance is burgeoning reputation at the World Cup with Iran and catch the eye of some of the big clubs from around Europe. Unfortunately, things didn't quite happen for him during the tournament as Iran went out narrowly in the group stages. Brighton decided he was still worth taking a punt on him though, and if he can replicate anything like the goalscoring form of last season, I would expect his price on the Index to rise significantly!
19th – HUDDERSFIELD TOWN @ 1500/1
Last season: 16th
David Wagner says: "I will improve and I have to improve. I'm anything but ready and for me personally, this experience we have had in the last season will help me to be better in the future."
bet365 Pick: To be relegated – 11/10
ANDY SAYS: 20th – Huddersfield wont be able to reproduce their form from last season, they are no more the surprise package and I think they will get caught out here – I see them finishing bottom.
GRAEME SAYS: 18th – This was a tough call, but I think Town might just find this too hard – they were poor in the second-half and am not convinced by their summer work, but it will be close, they won't be adrift by any means.
FOOTBALLIndex – One to follow: Ramadan Sobhi – The young Egyptian winger showed glimpses of star dust last season for Stoke but that was mainly in substitute cameo appearances. If he can get more regular game time for Huddersfield this season, then I expect him to catch the eye.
20th – CARDIFF CITY @ 2000/1
Last season: Championship runners-up
Neil Warnock says: "What's the worst that can happen this season? We can be bottom at Christmas having lost 10 games and I get the sack. I don't worry about that. Getting the sack doesn't worry me any more. If I get the sack here, I will probably have another go in the Championship."
bet365 Pick: To finish bottom – 2/1
ANDY SAYS: 19th – History will repeat itself here, Neil Warnock will leave and his tactics won't be good enough, it is about a direct style and players aren't built like that anymore – they are going down.
GRAEME SAYS: 20th – I think Cardiff will give it a good go, they will shock some teams but their squad is just too weak to stay up in my eyes.
FOOTBALLIndex – One to follow: Aron Gunnarson – At the time of writing, very few Cardiff players are available to buy on the Index so if you are looking to add a Cardiff player to your portfolio then Gunnarson looks to be your best (and perhaps only) option!