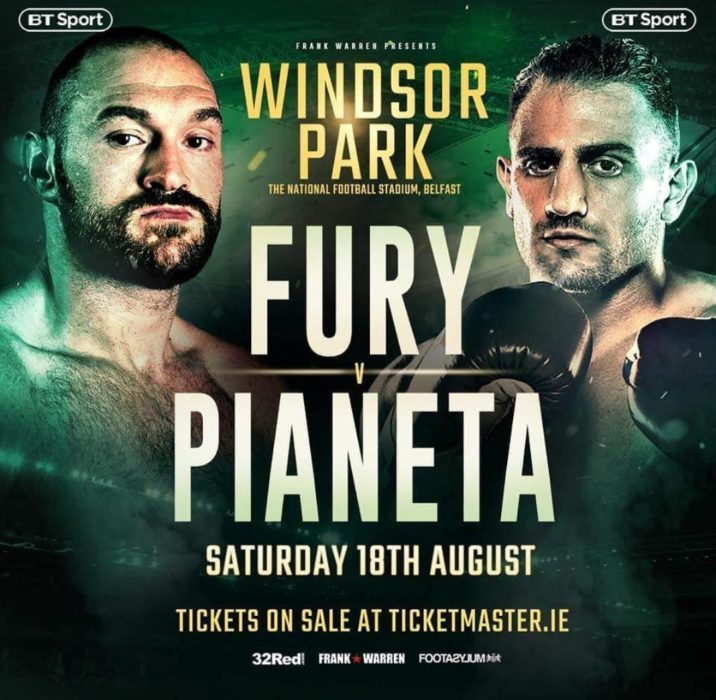 Lineal world heavyweight champion Tyson Fury (26-0-KO19) will take on former European champion and two-time world title challenger Francesco Pianeta (35-4-1-KO21) at Windsor Park on August 18.
'The People's Champion' Tyson Fury returned from two-and-a-half-year hiatus against Sefer Seferi (23-1) on June 9 in front of his home fans in Manchester and retired the cruiserweight in fourth round.
The performance was not convincing but there were flashes of brilliance from the big man and it was a dominant display over weak opposition.
It really was just a routine win against an opponent that would not cause too much trouble to simply allow Tyson to dust off the cobwebs and get rid of the ring rust ahead of the more serious fights in his comeback campaign.
Pianeta, for me, represents a more serious contender in 'The Gypsy King's' return, as a man who won the WBC world youth crown before picking up EBU and WBO European titles, and has twice challenged for world honours – losing to Wladimir Klitschko in 2013 and to Ruslan Chagaev two years later. A southpaw and former European champion that has twice fought at world level is a completely credible opponent, at this stage of the comeback trail.
The 33-year-old has claimed five titles during his 13-year career but has only had his hand raised three times in his last five fights.
He gives away four inches in height to Fury and will be considerably lighter having weighed in at 254lbs at his heaviest and tipping the scales at just 242lbs in his last fight, which is over 2stone less than Tyson in his last appearance.
No doubt that Tyson's continued dedication to training will see a trimmer figure in the ring on Saturday night, but expect him to be over a stone heavier than his dance partner still.
Strict trainer Ben Davison, who only allowed the 6'9" heavyweight one week off in eight months of training for his last fight, has laid down the law and told Tyson that he wants him to have his serious head on and not play to the sell-out crowd at Windsor Park.
Tyson has also reiterated the instructions, stating that the joker will be gone in the next fight and its strictly business.
It will need to be if Frank Warren pulls off the WBC world title shot at titlist Deontay Wilder, who will be sat ringside for this fight.
There will be an inevitable face off after the event, that's if the result goes according to Team Fury's plans, so expect some potentially big news following the heavyweight contest.
Verdict
First things first, there's a hungry and ambitious word title contender to get past before any glimpse of a green belt can be realised.
Pianeta, who comes in off the back of a loss and has been knocked out three times before in his career already – Klitschko (R6); Chagaev (R1); Johnson (R7) – and I believe he'll be going asleep again this weekend.
Four of his last five victories have come via knockout so Tyson, who has been floored before by Steve Cunningham, will have to be at his best and show no signs of showboating or complacency.
From what I've heard from the big man himself and his trainer, there's no reason to suspect anything other than a dominant and ruthless rendition from the man eager to win back the world titles he never lost in the ring.
For that reason, I expect Tyson to stop the 'The Italian Ace' between rounds 3-6.