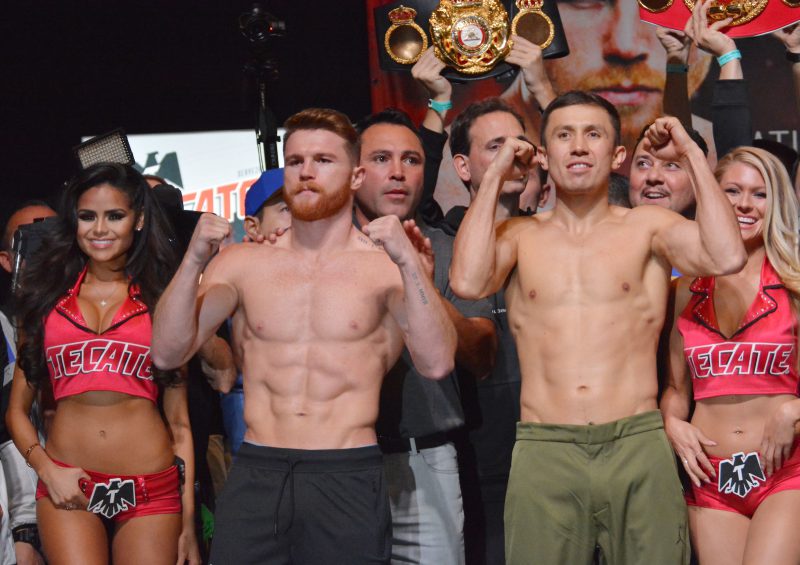 Undefeated Gennady Golovkin is odds-on favourite to beat Canelo Alvarez in their much anticipated middleweight unification re-match in Las Vegas this weekend.
The two met 12-months ago, with the contest ending in a controversial split decision draw, with many giving the Kazak superstar the fight by some margin.
Golovkin will put up the WBC and WBA belts, as well as the lesser IBO title, while for Alvarez the Ring magazine and lineal middleweight titles will be on the line.
To add to the controversy, since their first fight Alvarez has served a drugs ban after testing positive for banned substance clenbuterol, which the Mexican claimed was a result of contaminated meat consumed while training in Guadalajara.
Golovkin has not hid his disdain for Canelo, insisting that his opponent is clearly using drugs.
"Come on, I told you, it's not meat, Canelo's team are using these drugs and everybody's trying to pretend it's not happening," said 36-year-old Golovkin – known as Triple G.
"This guy, he knows. This is not his first day in boxing. He proves he gets benefits from everyone and he can get away with it.
"The commentators, commission, doping commission. This is a very bad business, [it's] not sport. Check him on a lie detector and then we can find out everything."
28-year-old Alvarez – whose only official loss to date came on points to the legendary figure Floyd Mayweather – has an equally poor opinion of Golovkin.
"The little respect I had for [Golovkin] was lost, he crossed the line with so much of what they said, so much crying that they brought into this," the Mexican said.
"This will help me get everything out in the fight."
Going into the fight and Bookmakers are favouring the European fighter, with Golovkin rated at 8/13 ahead of Alvarez at 11/8.
"Many people felt Golovkin had done enough to win their initial fight and it is GGG who is the warm favourite to get the result this time around in their rematch in Vegas," said Coral's John Hill.
"The most likely outcome in the method of victory market, according to the betting, is Triple G winning by stoppage in what should be another blockbuster contest between two of the best pound-for-pound boxers on the planet.
"There was a huge interest in the betting in their initial contest and we expect there to be even more this time around in what is going to be one of the biggest fights of the year in the sport."