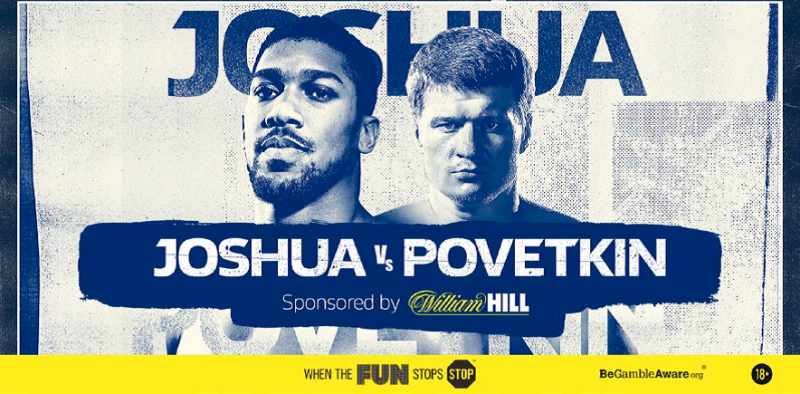 Anthony Joshua is odds-on to defend his IBF, WBA and WBO crowns against Alexander Povetkin this weekend.
Joshua takes on the 39-year-old Russian at a sold out Wembley, but despite being odds on favourite the English champion is insistent that he respects the threat of his opponent.
"In this division, not only are fighters talented but one punch can change the course of a fight, we all know that story. He has that punching power with knockouts on his record so it's down to me to handle business accordingly," he said
"Its how tough they are and how much they want it. You can have the best attributes but if you don't want to fight then you're not going to give it.
"He might have a good left hook but I have to annihilate that early. He has a lot of things in his locker so we have to shut him down early.
"I've put my flag there [Wembley] with (Wladimir) Klitschko, it brings out a good fight night in general, now we're back again. Povetkin is the right opponent to bring that style of fight out of me.
"The win is the most important thing but of course the knockouts always entertaining and boosts up the stock."
Despite being a huge outsider for the bout, Povetkin insists he is in it to win it.
"There is never any thoughts about losing, I think just about coming to the ring and winning. I do everything for that," Povetkin said.
"We have two scenarios – whether Anthony Joshua will decide to have a rumble, or he will keep the distance. We have both scenarios, we don't know how it will go. We're ready for any style of fight.
"I just want to win, this is most important."
Fight sponsors, William Hill, are predicting that £10m could be wagered on the outcome across the betting industry.
Hills, for whom Joshua is their Global Ambassador, make the champ a 1/9 shot to defeat Povetkin who is 7/1 to cause an upset.
Joshua has claimed that he should "be clever now" and not chase the knockout but despite this, odds of 1/3 overwhelmingly point to a KO victory for him while it is 3/1 he wins by decision.
"Anthony Joshua is one of the biggest draws in world sport and any time he heads into the ring we expect huge sums to be wagered on him," said William Hill spokesman Joe Crilly.
"Joshua has been favourite to win every professional fight he has ever taken part in but even if he was not, we would expect his army of fans to back him like he cannot lose. We predict punters will do just that this weekend."