The Ryder Cup, one of sports greatest competitions, takes place this weekend in France, as Team Europe takes on Team USA looking to recapture the title.
The biennial competition has been played for since 1927, when Samuel Ryder donated the now famous Golf Trophy, but then it was between Great Britain and USA. Since 1979 it has been between Europe and USA.
The match-play based competition is hosted alternately in Europe and then the United States, and this time around France will host for the very first time – although there will be no French players on show at the impressive Le Golf National.
Soon… pic.twitter.com/96URyLbUEo

— Ryder Cup Europe (@RyderCupEurope) September 16, 2018
The two sides are captained by non-playing veteran players – who are voted into their roles by the respective PGA Tours and time around it is Denmark's Thomas Bjorn leading Europe and Jim Furyk heading the American charge.
Each captain chooses four players – although the majority of the sides are made up of qualifying criteria from he previous years golf, and this does mean the greatest players on the planet are on show, and this year there that is no different – indeed 2018 will see all the top-ten players in the world all taking part in the Ryder Cup for the very first time.
Plus all four major winners are in Paris. The Americans boast this year's US Open and PGA winner in the shape of Brooks Koepka, along with Masters champion Patrick Reed, whilst Europe have The Open champion Francesco Molinari.
Indeed there are a number of major champions on show. America's team has nine major winners, with European boasting five.
The teams in full:
Europe: Paul Casey (captain's pick), Tommy Fleetwood, Sergio Garcia (captain's pick), Tyrell Hatton. Rory McIlroy, Francesco Molinari, Alex Noren, Thorbjorn Olesen, Ian Poulter (captain's pick), Jon Rahm, Justin Rose, Henrik Stenson (captain's pick).
United States: Bryson DeChambeau (captain's pick), Tony Finau (captain's pick), Rickie Fowler, Dustin Johnson, Brooks Koepka, Phil Mickelson (captain's pick), Patrick Reed, Webb Simpson (captain's pick), Jordan Spieth, Justin Thomas, Bubba Watson, Tiger Woods.
Both captains arrive in Paris with five vice-captains, who help him manage the players both on and off-the-course, and are normally veterans of the event themselves.
Bjorn is looking to reclaim the trophy and maintain Europe's position of dominance from recent years, as they have won 8 of the last 11 matches – although Team USA took the trophy on its last staging in Minnesota, when they actually won 17-11 which was the largest winning margin since 2006.
1️⃣?? Johnson
2️⃣?? Rose
3️⃣?? Koepka
4️⃣?? Thomas
5️⃣?? Molinari
6️⃣?? McIlroy
7️⃣?? DeChambeau
8️⃣?? Rahm
9️⃣?? Fowler
??? Spieth

For the first time ever the top ten players in the @OWGRltd are playing in the #RyderCup.

— Ryder Cup (@rydercup) September 24, 2018
Bjorn admits that Europe are up against one of the best American sides ever assembled.
"We don't fear anyone because we have played against them so many times before individually," Bjorn said.
"These are 24 of the best players in the world, when they go up against each other they are all capable of amazing things.
"We will go out and do what we can and play our game. We know this is one of the strongest American teams of all time and we have to play our best."
Furyk arrives looking to become the first American to guide his team to victory on European soil since 1993.
"There are some veteran players that have played in a lot of these teams that have never won on foreign soil. That is a part that is missing from their careers," he said,
"It is not anything I need to mention in the team room. They are well aware of it and aware of how difficult it is to win in Europe."
The pro's point of view…
Our resident golf expert is Cliff Jackson. Cliff is a leading youth coach and PGA professional at the famed Seaton Carew Links – one of the oldest courses in the world.
What a weekend we have ahead of us, it is so hard to choose the winners here – these are two of the best sides ever assembled, they really are…
Team USA have to get the vote really, but there could be a point or a half in this either way.
Looking at the top-scorers for each side, for me you can't look beyond Patrick Reed for the Americans – he loves this competition, and now a major winner too.
Team Europe, there are a lot of good young players and I am a huge Tommy Fleetwood fan but I think Rory or Rosey will bring it home as top European.
The Bookie says…
We caught up with Betfair's Joe Dyer to get their views the Ryder Cup
There's an interesting betting story in the Betfair Exchange Ryder Cup market where USA began the week at odds-on against but may well be even money or bigger by the time the first ball is struck in competition at Le Golf National.
Backed at a low of 1.8 (4/5) and trading at 1.9 (10/11) on the Betfair Exchange at the beginning of the week, Jim Furyk's team are now 1.97 (nearly even money) as punters latch on to a weak away record that has seen the US fail to win in five consecutive Ryder Cups on European soil.
Europe are 2.38 (11/8) for the win with the tie rated 13 (12/1). It'll be fascinating to see where those odds lie on Friday morning.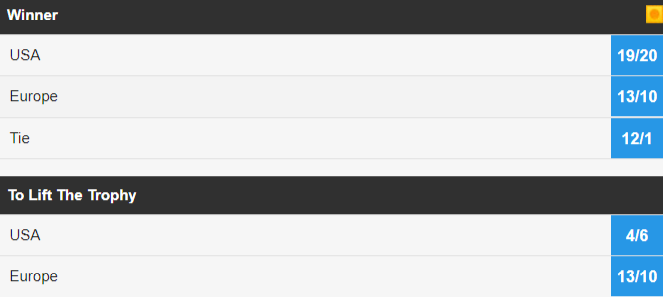 Many punters will be looking to play bigger odds in the pointscorer markets – either Top Euro or US (three places paid at a fifth of the odds on the Betfair Sportsbook) or overall (four places paid, 1/5 the odds).
Rory McIlroy, at 9/2, heads the Sportsbook's Euro odds from 5/1 Justin Rose with a trio available to back at 8/1 – Tommy Fleetwood, Francesco Molinari and Jon Rahm. Ryder Cup talisman Ian Poulter is 10/1 followed by 11/1 Henrik Stenson, 12/1 Paul Casey and the 14/1 pair of Alex Noren and Sergio Garcia. Outsider backers can chance their arm on Tyrell Hatton at 25/1 and Thorbjorn Olesen at 30/1.
Dustin Johnson is 5/1 favourite in the Top US market, but the competition is a little stronger according to the odds. Justin Thomas is 6/1, Brooks Koepka 13/2, with Tiger Woods and Jordan Spieth 7/1 and Patrick Reed 8/1. Rickie Fowler heads the double-figure odds brigade at 11/1 Followed by 12/1 Bryson Dechambeau and 17/1 Webb Simpson. Tony Finau is 25/1 while Phil Mickelson is 30/1 and Bubba Watson the outsider of the lot at 33/1.
Rose heads the betting for top overall at 10/1 with Koepka, McIlroy and DJ a tick bigger.
Outside of that spread, there is a huge number of markets to get stuck into and both the Sportsbook and Exchange will carry betting for the foursomes, fourballs and final day singles with the Exchange markets all in-play.