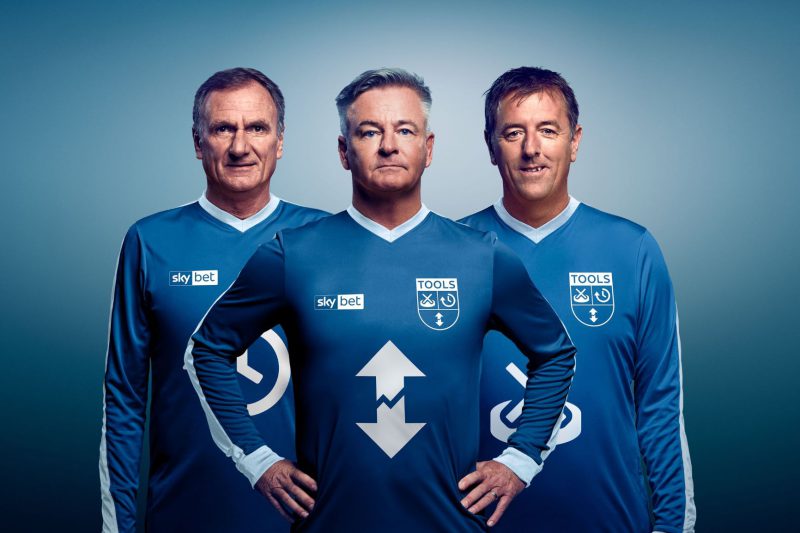 The follow up to the most popular Sky Bet advert ever – an industry-first dedicated safer gambling ad – hits screens this weekend, as Soccer Saturday pundits Charlie Nicholas, Matt Le Tissier and Phil Thompson launch an enhanced trio of safer gambling tools in a campaign called 'Three Simple Tools'.
The TV ad can be viewed here – https://www.youtube.com/watch?v=OVnUrj2_nEo&feature=youtu.be
The new campaign, from UK's most popular online betting brand, evolves the responsible gambling message to consumers, from raising overall awareness of safer gambling and the existence of tools, to normalising the use of 'Deposit Limits', 'Cool-off Periods' and the brand new 'Profit and Loss' features as part of everyday behaviour.
'Profit and Loss' aims to put customers in control of their betting behaviour, by presenting them with an overall picture of their gambling habits at the click of a button from desktop or the app. Customers can see how much they have won or lost over certain periods of time easily.
Richard Flint, Sky Betting & Gaming CEO, said "Our first safer gambling campaign broke new ground because we were the first betting brand to produce a dedicated safer gambling advert, and we put a big-budget campaign behind the cause of safer gambling awareness. We hope to build on these impressive results with the launch of 'Three Simple Tools' – including the new 'Profit and Loss' tool – to give customers a simple to understand indication of their betting balance over a selected period of time, to keep them informed and help them manage affordability.
"Research indicates customers increasingly want to bet with trusted companies that provide a safe environment. Advertising forms a part of an increasingly multi-channel dialogue with the public in order to keep making betting and gaming safer and that's what we are doing here."
The previous award-winning 'When the Fun Stops, Stop' responsible gambling campaign featuring Sky Sports' Jeff Stelling, provided persuasive messaging to place responsible gambling front of mind with consumers on the availability of safer gambling tools.
'Three Simple Tools' sees Sky Bet's familiar line up of Soccer Saturday talent emulate Sky Bet's well-loved commercial campaigns, with the company committing over £3.5m of its overall TV spend to safer gambling in 2018.
Each pundit represents 'a tool' designed to help keep betting from getting in the way of the enjoyment of sport.
The campaign is launched at a time where the right to advertising freedoms for the gambling sector are under question and support Sky Bet's stance that restrictive advertising will not reduce problem gambling, that advertising brings rising standards of player protection that can be enforced through the regulator and also that there is no proven link between ads and gambling related harm.
Research evidences that customers and non-customers alike are in agreement that Sky Bet was not only doing the right thing, but also that its advertising was standing out and resonating with the betting customer.
Coupled with product changes last summer, Sky Bet has seen a marked increase in both the awareness and use of responsible gambling tools. Consumer marketing is working to create safer gambling and a sustainable business and industry.
The tools are all available on the latest update of the Sky Bet app and on skybet.com. The introduction of the 'Three Simple Tools' comes after Sky Bet announced a £1m responsible gambling education programme with EPIC Gambling Risk, which is currently being taken to all of the 72 clubs in the EFL.