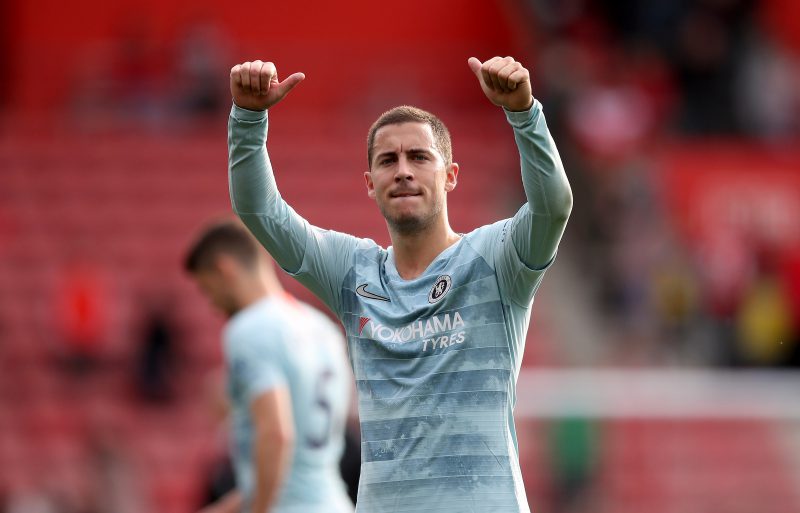 Eden Hazard has insisted he is yet to decide whether to sign a new deal with Chelsea or not, but sources believe that Real Madrid are fully confident that they will land the Belgian next summer.
Chelsea have not given up hope of that they can persuade Hazard to extend his contract which has less than two-years left.
Hazard saw his good friend Thibaut Courtois land a dream move to Real this summer, after letting his contract run down to just 12-months – something he can do this season.
The brilliant Belgian forward has been in sensational form for Chelsea under Maurizio Sarri this term, and that has given The Blues hierarchy some hope he can be persuaded to stay.
But sources close to Real have told me that they remain convinced that Hazard won't be re-signing, and indeed the Spanish giants are delighted with how he has been performing and that will only solidify the belief in the corridors of power at the Santiago Bernabeu that he is right for them.
Hazard has insisted that he is yet to make up his mind, but he admits he doesn't want to see his relationship with the club sour – as happened with Courtois, who had to force through his move.
"I want what's good for me, but I want what's good for the club because the club has given me everything," he said.
"I don't want to say: 'Yes, I am signing a new contract' and then in the end I don't end up signing. So I will see. Sometimes in my head, I wake up in the morning and think I want to go. Sometimes I think I want to stay. It is a hard decision. It is my future. I am 27 and I will turn 28 in January."
Bookmakers are convinced that Real will be Hazard's next port of call and Coral make it 4/6 that Madrid will be his next home.
"Eden Hazard has dropped his strongest hint yet that he would be open to a move to Real Madrid, and after a fantastic start to the season, the Belgium international is now odds-on to move to the Spanish giants in a transfer which could occur in either of the next two transfer windows," said Coral's John Hill.