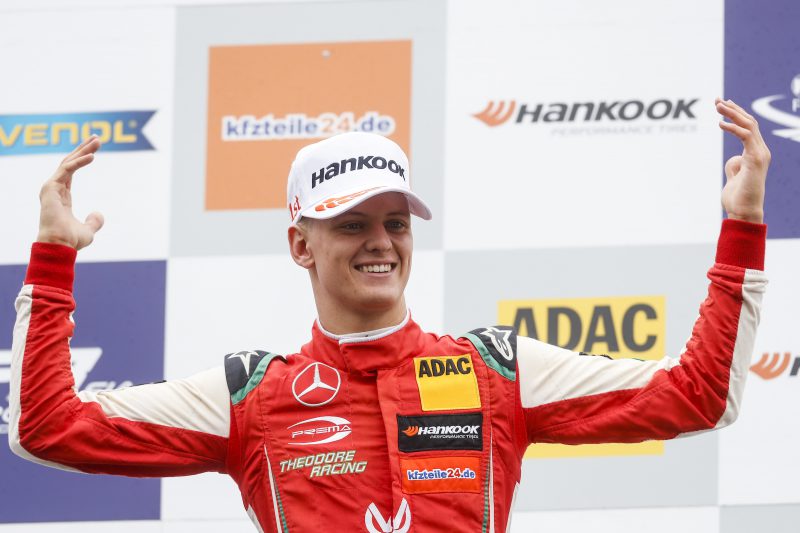 Mick Schumacher is being tipped to follow in his father's Michael's footsteps after claiming his first major single seater title.
The 19-year-old, son of seven-time Formula 1 world champion Michael, has won the European Formula 3 title with a race to spare.
He is now eligible for a Formula 1 seat, should one be offered and there is understood to be interest from a number of teams and manufacturers.
"Am I ready for Formula 1? I prefer to move forward gradually, step by step, preparing really well," he said.
"So it's important to always make the right decision. We will decide in the coming weeks.
"Every driver has the goal of being in Formula 1, it's the premier class and to stand up to the best there is the optimum.
"We are talking to some teams and putting together the best strategy for next year."
Current world champion Lewis Hamilton believes the teenager is destined for the top.
"I don't think it will a burden," said Hamilton.
"There will 100% be a Schumacher back in F1, partly because of the name but secondly because he is doing a good job."
Bookmakers are offering odds of 5/1 that Schumacher junior could become F1 world champion by 2025.
Alistair Gill of Unibet commented; "Having just wrapped up his first single seater title in the European F3 Championship, Mick Schumacher is installed at 5/1 to follow his record holding dad Michael into the esteemed list of F1 Drivers Championship winners by 2025.
"The 'No' side of the bet is priced at 1/10, highlighting just how tough the F1 world is to break in to, let alone to win a Championship, even with the surname Schumacher. But, should he find himself a race seat soon, 5/1 could represent a great price if he has anywhere near his dad's talent."