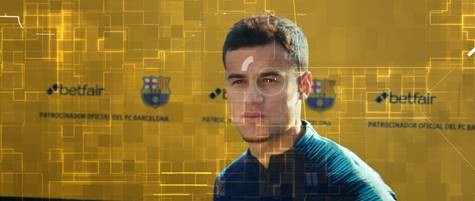 Online gambling company Betfair and creative agency Leo Burnett London have launched an integrated campaign called 'Betfair Play Smart' targeted at new and existing customers and using world-renowned sports legends to show them what it takes to 'Play Smart'.
Leo Burnett London were tasked to create a campaign that highlights Betfair's position in the market as the go-to place for smart betting by leveraging their sponsorship contracts with Arsenal F.C, FC Barcelona and Juventus F.C.
Using Betfair's access to high profile talent as part of their sponsorship contracts, the campaign consists of four online films, using 12 world renowned football players, including; Bernd Leno (Arsenal FC) Leonardo Bonucci (Juventus FC) and Philippe Coutinho (FC Barcelona)
The club films convey how the football players assess, predict and anticipate moves before they happen, both on and off the pitch, emphasising Betfair's position as being the place for smart bettors and a platform that embodies 'Playing Smart'.
The Play Smart campaign is the sponsorship evolution of the Betfair campaign 'Where Gut Instinct Meets Smarts', building on the cognitive process of blending instincts, intelligence and competitiveness and the ability to 'Play Smart'.
The campaign will be supported on social channels including Facebook, YouTube, Instagram and Twitter with a series of tactical short form edits, designed to drive viewers to watch the three club films. The edit featuring FC Barcelona's attacking midfielder Philippe Coutinho was also first broadcast on TV in Spain on Tuesday 12th February.
Stephen Mault, Brand Director at Betfair said: "We set out to create a digital led campaign, that would leverage our high-profile partnerships with FC Barcelona, Juventus and Arsenal to support our international growth.
"The creative positions the brand as the destination for the smart bettor, while building association between the brand and our high-profile partners. We're delighted with the creative and the output is testament to the combined effort of brand and agency."
Liam Hopkins, Board Account Director at Leo Burnett London said: "Betfair have managed to navigate a whole series of parameters to deliver a pioneering campaign in under one hour for each club shoot.
"They have positioned themselves as the place for people who 'Play Smart' and showcased their fantastic football sponsorship portfolio at the same time in this truly collaborative effort."