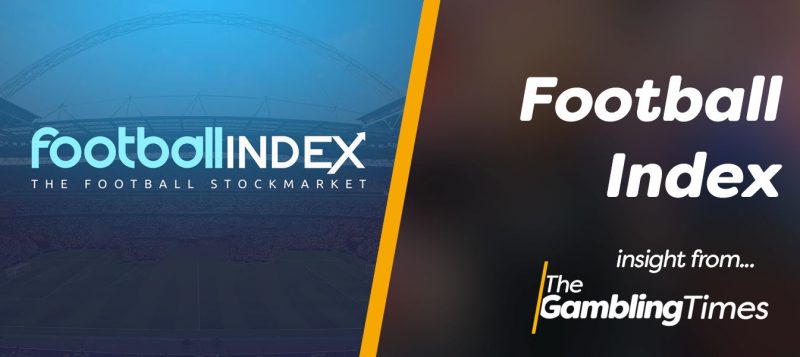 On the morning of Wednesday 20th February 2019, Cristiano Ronaldo's share price on the Index was hovering around the £9.20 mark.
Later that same day, Ronaldo started for Juventus in their last 16 Champions League tie at Atletico Madrid. Unfortunately for Juventus, they eventually lost the game 2-0, making the task of qualifying for the quarter-finals substantially more difficult, as they will need to win at least 2-0 in the return leg in a few weeks' time. Not impossible, but very difficult, especially without an away goal in the bank.
In the moments following Atletico Madrid scoring the second of their two goals, the impact on Ronaldo's share price was staggering. His share price plummeted and, as you can see from the screenshot below, his share price basically fell off the cliff.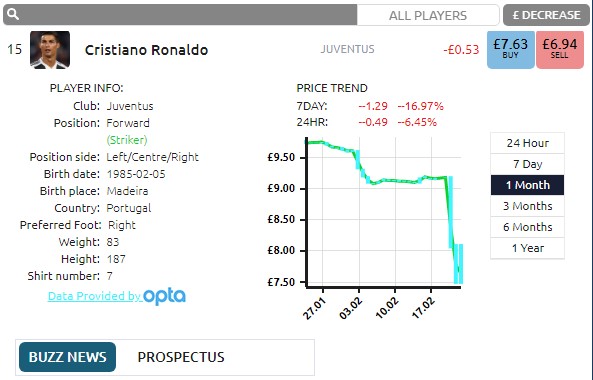 As I write this blog, his share price is languishing around the £7.60-mark, light years away from his all-time Index peak of £13.29 reached in late September last year.
Ronaldo finished the game with no signs of injury, and even won the media buzz that night due to his reaction/gestures to the Atletico Madrid fans' abuse and the journalists gathered in the media zone after the game.
So, given that Ronaldo is clearly able to win dividends on the Index, why did the defeat in one Champions League game have such a knock-on effect to his share price? Does the Champions League matter that much to traders?!
Based on the first leg, Atletico Madrid look heavy favourites to qualify and so, the chances are that Juventus will go no further in the competition after the return leg. However, Juventus are sure to be in the Champions League next season and given that Ronaldo hasn't suffered a career threatening injury, and is only one year into a four-year deal, surely holders of Ronaldo don't believe the defeat spells something close to the end of his career?!
There could be many differing reasons for the mass selloff, but in my view, it gives a very concerning indication of the short-term strategy applied by many Football Index traders.
Ronaldo very recently turned 34 and I suspect to many potential Index traders, they are concerned that he is 'too old' to perform consistently at the highest level for much longer. They may even look at the Ibrahimovic situation when he got injured badly a couple of seasons ago and fear that if Ronaldo suffered a similar type of injury, he would have to leave Juventus and jet off to America to see out the rest of his playing days in a less competitive environment, i.e a non-performance or goal and assist dividend paying league.
The general lack of confidence and uncertainty over Ronaldo's footballing ability, status and position in the football world in the foreseeable future, directly affected his share price and created almost a 'snowball effect' where some longer-term holders decided it was time to cash out, followed by shorter term holders panic selling. Then, before you know it, his price has fallen 20% in a few hours.
With all of the money coming off Ronaldo, unless the sellers all decide to cash in and withdraw their cash, the funds usually end up being invested in other players and at the moment, the Index seems to think that there is no better investment that Chelsea's Callum Hudson-Odoi (CHO).
As you will see from his recent graph, CHO's share price has seen a massive rise, very similar to Ronaldo's sharp decline. Why is that given that CHO has barely played for Chelsea in recent weeks?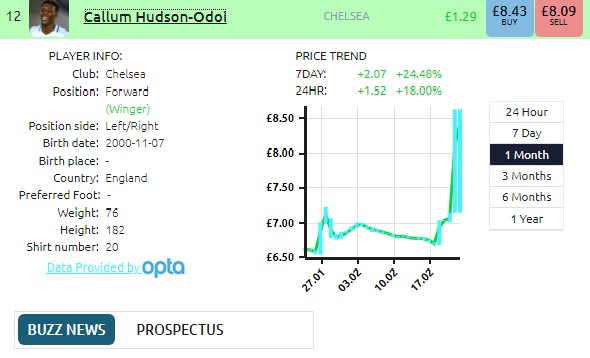 The reasoning behind it is probably the reverse logic that saw the mass exodus on Ronaldo. CHO is a young prospect with almost limitless potential. Whilst he may not be anywhere near Ronaldo's level just yet, he has plenty of time on his side. Plenty of time to have stories written about him, plenty of time to score goals and make assists.
Index traders are therefore far more confident in investing in a young prospect with bags of future potential, than they are a seasoned professional. So, according to a large proportion of Index traders, if you're over 30 years old, you're basically ready for the retirement home!
I still believe Ronaldo can be very profitable for Index traders, as can CHO, but with so much money now in the Index, there is much more of an emphasis on traders to think about the timing of their trades. It looks like gone are the days where you can buy pretty much anyone at any price, and just wait for the share price to go up and up.