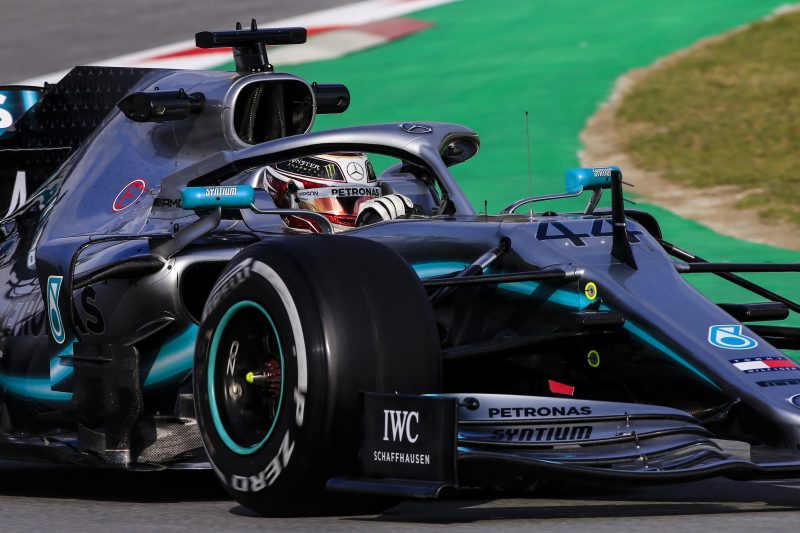 The 2019 Formula 1 season gets underway this weekend and we take a look at every team and driver.
Last season we saw Lewis Hamilton take his fifth world Drivers' title, with Mercedes securing the Constructors' crown for a fifth year in succession.
Hamilton is now the second most successful driver of all time, level with Juan Manuel Fangio and now just two behind Michael Schumacher.
Meredes and Hamilton look determined to do it again, but Ferrari and Red Bull – now with new Honda engines – look closer than ever, meaning 2019 could be the best Formula 1 season in years.
Hamilton is once again teamed with Valterri Bottas, but his main rivals Sebastian Vettel and Max Verstappen have new team-mates.
Monaco starlet Charles Leclerc has been promoted from Alfa Romeo to partner Vettel, whilst Pierre Gasly has been moved in the Red Bull senior seat from Torro Roso to partner Verstappen.
Young British stars George Russell and Lando Norris make the step up with Williams and McClaren respectively, whilst British-Thai ace Alexander Albon will line-up with Torro Roso.
There is also a return to the grid for Daniil Kvyat (Torro Roso) and Robert Kubica (Williams), who have won back seats in F1 after a number of years away.
There are two new team, sort of, on the grid. Force India will now be known as Racing Point – but still resplendent in pink, whilst Sauber are now Alfa Romeo – underlining their role as B team to Ferrari.
There have been a number of subtle changes, including new front and rear wings, and the tyre system simplified, but fans will probably like the fact that petrol allowance has been increased meaning that drivers will no longer be required to save fuel during a race and allow them to run at 100% capacity at all times during a race.
Unibet will be providing insight and odds for all our F1 previews throughout the season and Alistair Gill has talked to us about the new season ahead.
Before a starting light has gone out, Lewis Hamilton finds himself form favourite to take the Drivers' Championship at Evens and exactly no one is surprised. There is an argument that until we have seen more testing results and at least one GP has been and gone, the price is far too short. However, even a slow start last year and the apparent superiority of Ferrari wasn't enough to stop Hamilton and his Mercedes over the course of the season, so the likelihood is that value or not to the punter, the price is about right for what is by far the most likely outcome.
Perennial second favourite Sebastian Vettel is priced at 5/4 and, as the prices would suggest, is the likeliest and best placed to challenge Hamilton. Hamilton's team mate Valteri Bottas may feel a bit short changed to be priced at 16/1 behind both Ferrari new boy Charles Leclerc (9/2) and Red Bull's Max Verstappen (8/1), but the argument would be that if the Mercedes car is good enough to win the Championship, Hamilton will stroll it, and if it isn't, others will pick up the pieces.
In the Constructors Championship, as has been the case throughout recent F1 history, it appears Mercedes and Ferrari will battle it out for the win at 3/4 and 6/4 respectively, Red Bull will pick up the 'podium scraps' priced at 9/2 and, at 150/1 bar, the others will fight for 'best of the rest'.
We run all the teams and drivers for 2019
ALFA ROMEO
Last season: 48 points – 8th overall
Title odds: 300/1

ANTONIO GIOVINAZZI – ITALIAN
"Finally, after eight years, an Italian driver will come back on the F1 grid and I am proud I will be that Italian. Alfa Romeo Racing with a Ferrari engine, it's a really fantastic combination. I always believed my opportunity would come."
Last season: Did not take part
Title odds: 750/1

KIMI RAIKKONEN – FINNISH
"I think for sure here [Alfa Romeo] is more relaxed. It's more about racing, and less about politics and bull****. Generally that's easier for everybody, you know. I think that's what everybody prefers, for sure."
Last season: 251 points – 3rd overall
Title odds: 150/1
FERRARI
Last season: 571 points – 2nd overall
Title odds: 23/20
SEBASTIAN VETTEL – GERMAN
"I think we are all excited. You start to see the car, little bits of it and then you see it slowly come together. Now I'm really excited and can't wait to get in. I am looking forward to this year. I believe the team are on the right path and hopefully we can keep improving."
Last season: 320 points – 2nd overall
Title odds: 5/4

CHARLES LECLERC – MONAGASQUE
"I'm extremely excited to start this new adventure. Obviously it has been a dream since childhood. I've been part of the Ferrari driver academy for some years now which has helped me massively to develop as a driver with the final goal of one day having this seat. Now it is happening so it is a very proud day for me today and I'm extremely excited to start this new adventure."
Last season: 39 points – 13th overall
Title odds: 9/2
HAAS
Last season: 93 points – 5th overall
Title odds: 300/1

ROMAIN GROSJEAN – FRENCH
"It's very early to say exactly what's going on in the pecking order. Some teams are looking for sponsors, and some others are looking for performance, and some others are looking for more reliability on long runs. It's difficult to draw conclusions after the first day. I think the idea of the team has been always to do better [each year], and as we've done so far, it doesn't mean that the finishing order has to be better, it means that the season has to be better."
Last season: 37 points – 14th overall
Title odds: 500/1
KEVIN MAGNUSSEN – DANISH
"It's very sexy [the car]. It's a beautiful car. It handles very well. The feeling in the car is better than it was last year. I think the team has done a really good job on its understanding of the new front wing and getting ready for the season to start. I'm really looking forward to driving the car on different kinds of circuits."
Last season: 56 points – 9th overall
Title odds: 1500/1

MCLAREN
Last season: 62 points – 6th overall
Title odds: 500/1

CARLOS SAINZ JNR – SPANISH
"Until anyone turns up the engines in Australia, and we see the top speeds, it's going to be very difficult to find out how good the step is, or if the others have made a step as big as we have done."
Last season: 53 points – 10th overall
Title odds: 200/1

LANDO NORRIS – BRITISH
"I've spent a lot of time working with engineers and making my final preparations before taking to the track in Melbourne. I feel ready and I'm looking forward to working with Carlos and the team as we take on the 2019 season together."
Last season: Did not take part
Title odds: 500/1

MERCEDES
Last season: 655 points – 1st overall
Title odds: 3/4

LEWIS HAMILTON – BRITISH
"I feel stronger than I've been in a long time. I worked with different people a few days on and a few days off just to pick up new technique."
Last season: 408 points – 1st overall
Title odds: Evens

VALTTERI BOTTAS – FINNISH
"I feel it's a nice fresh start. I've learned that the first half of the season is always very important. I started the year pretty well, just sometimes lost some points because of different things. I'm ready to go for it and try to be a better me."
Last season: 247 points – 5th overall
Title odds: 22/1

RACING POINT
Last season: 52 points – 7th overall
Title odds: 750/1

SERGIO PEREZ – MEXICAN
"I have never experienced this level of motivation before with the other teams I've been with. We've been through some such a difficult period for so many years, always lacking the cash and the parts and so on. Now for the first time we are a proper team and can be a big surprise this season. I want to get my best season in F1. Expectations are really high in the team so I'm so much looking forward to it."
Last season: 62 points – 8th overall
Title odds: 500/1
LANCE STROLL – CANADIAN
"My batteries are fully charged and I'm feeling in great shape. After those long cardio sessions and winter training camps, it's refreshing to just get back to the racing. It is an extra special weekend for me because it's also my first race in a new team."
Last season: 6 points – 18th overall
Title odds: 750/1
RED BULL
Last season: 419 points – 3rd overall
Title odds: 9/2

MAX VERSTAPPEN – DUTCH
"I always try to get the best result out of it, I'm not there to just sit second or sit third. I'm a winner and I want to win every single race and I will always go for it. If you are fighting for the championship sometimes second is enough, for sure. But I've never been in that position yet in Formula One, so every opportunity I get to win a race I will always go for it."
Last season: 249 points – 4th overall
Title odds: 8/1

PIERRE GASLY – FRENCH
"It's only my second full season in Formula One and there are a lot of things to learn this year, which makes it even more challenging. I've prepared myself well all winter for this first race and first season with the team. It's going to be a special weekend for me wearing Red Bull Racing colours."
Last season: 168 points – 6th overall
Title odds: 50/1

RENAULT
Last season: 122 points – 4th overall
Title odds: 200/1

DANIEL RICCIARDO – AUSTRALIAN
"It is always difficult but I think the team has progressed during the winter. I don't know how much, but I am convinced the team has done great steps to move forward this year. We now depend on the others and to know how they have done, but we're convinced we've made a step forward."
Last season: 170 points – 6th overall
Title odds: 75/1

NICO HULKENBERG – GERMAN
"At testing, and across the winter, there was a lot of speculation and anticipation, but the first race weekend is when the talking stops and we find out for real where we stand. Testing went reasonably well, but we don't know anything for certain until we hit the track in Australia. The midfield will always be competitive, but we focus on ourselves, stay on top of things and ensure our developments give us improvements."
Last season: 69 points – 7th overall
Title odds: 250/1

TORO ROSSO
Last season: 33 points – 8th overall
Title odds: 750/1

DANIIL KVYAT – RUSSIAN
"I don't want to say whether I've changed or not. I know there's been a lot of speculation about this and whether I've matured or not and so on, but I prefer to let my driving on the track answer."
Last season: Did not take part
Title odds: 1000/1

ALEXANDER ALBION – THAI
"It's a big deal for me to be a Thai driver. It's been a long time since there's been a Thai in Formula 1 and I'm just hoping to do everyone proud."
Last season: Did not take part
Title odds: 1000/1

WILLIAMS
Last season: 7 points – 10th overall
Title odds: 1000/1

ROBERT KUBICA – POLISH
"When my drive with Williams was announced people said: 'Congratulations, the hard job is done,' I said: 'No. The hard job is just starting.'"
Last season: Did not take part
Title odds: 500/1

GEORGE RUSSELL – BRITISH
"I want to become a Formula One world champion. I recognise that it is an incredible achievement to make it to this stage, but the journey starts again. I don't want to be here for one or two seasons. I want to be in F1 for 15 or 20 years, and the only way I am going to do that is by giving my everything and competing at this level."
Last season: Did not take part
Title odds: 1000/1