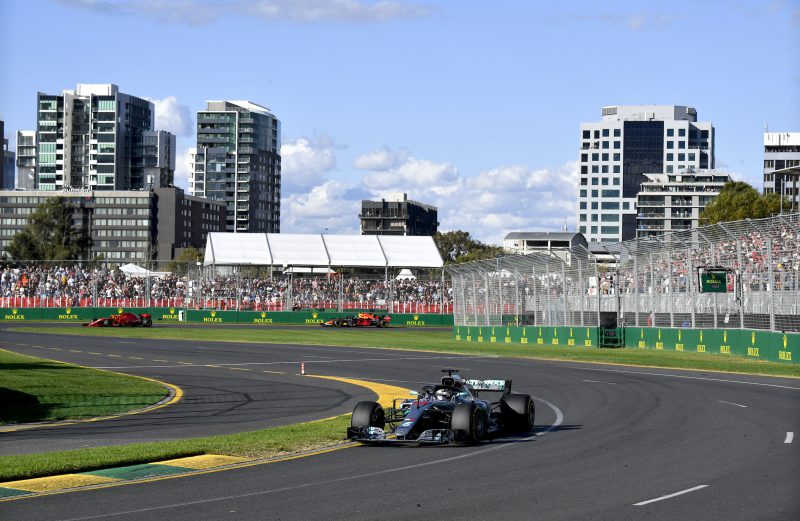 Melbourne in March means once thing, the starts of the Formula 1 season with the Australian Grand Prix.
The Australian GP is naturally one of the most anticipated races on the calendar as fans get to see the new cars and who will be in the running for the titles in new season.
Lewis Hamilton is the defending champion, but he does not have a great record at Albert Park with only two wins, and it is his main rival Sebastian Vettel who is looking for a third successive win in Melbourne.
So happy to be back 🇦🇺👊🏾 pic.twitter.com/9zDV9MR9yf

— Lewis Hamilton (@LewisHamilton) March 11, 2019
And Hamilton believes that Ferrari did come out of winter testing on top.
"We have work to do," Hamilton admitted.
"It might be closer than we think, it might be a bigger gap than we think. We don't know what they've got up their sleeve."
Vettel comes into the new season confident that Ferrari have upped their game
"We had our weaknesses last year here and there and we obviously try to fix those and do much better this year. So far, the spirit is right, the team is on track, the car feels good so let's see how we start the year," said the German.
Many are hoping that Dutch star Max Verstappen could make a push for the title in his Red Bull – now powered by Honda.
"It would be better to stay home if you don't believe you can do it. Of course it sounds arrogant to think like that but it would be stupid not to," said Verstappen.
AUSTRALIA GRAND PRIX – ROUND 1

Location: Melbourne Grand Prix Circuit
Track size: 3.295 miles with 20 turns
Number of laps: 58
2018 winner: Sebastian Vettel – Ferrari
Lap record holder: 1:24.125 Michael Schumacher (2004)
Race winner driver odds from Unibet: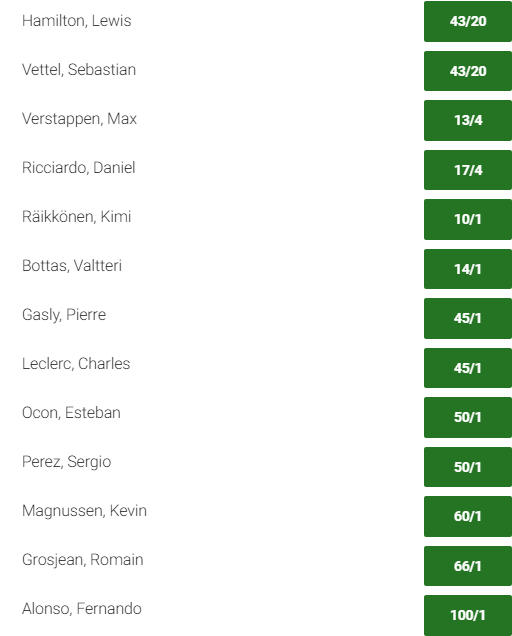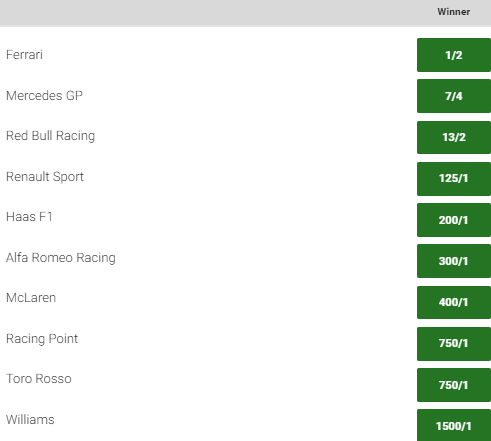 2019 Results
Australian Grand Prix –
Bahrain Grand Prix –
China Grand Prix –
Azerbaijan Grand Prix –
Spain Grand Prix –
Monaco Grand Prix –
Canada Grand Prix –
France Grand Prix –
Austria Grand Prix –
British Grand Prix –
German Grand Prix –
Hungary Grand Prix –
Belgium Grand Prix –
Italy Grand Prix –
Singapore Grand Prix –
Russia Grand Prix –
Japan Grand Prix –
Mexico Grand Prix –  
USA Grand Prix – 
Brazil Grand Prix – 
Abu Dhabu Grand Prix –
We also spoke with Alistair Gill of Unibet to get their views on the Grand Prix
We open the new F1 season with Sebastian Vettel as the 8/5 favourite for the curtain raiser in Melbourne, followed of course by the reigning champion Lewis Hamilton at 21/10. Vettel's new team mate Charles Leclerc is next at 11/4, followed by Max Verstappen at 9/1 and 12/1 BAR. The noises from Lewis Hamilton are that he expects Ferrari to be stronger than Mercedes and, given how the early stages of last season went, Vettel is probably a worthy favourite on the info we have so far, although the money we have seen so far is marginally shading towards Hamilton.
For qualifying, Vettel again takes the fav spot at 6/4, followed by Hamilton at 37/20. As I have said time and time again, Lewis Hamilton's ability to get the quickest possible single lap out of a car is perhaps one of the strongest of his multiple F1 talents, so the value for me would be with him here.