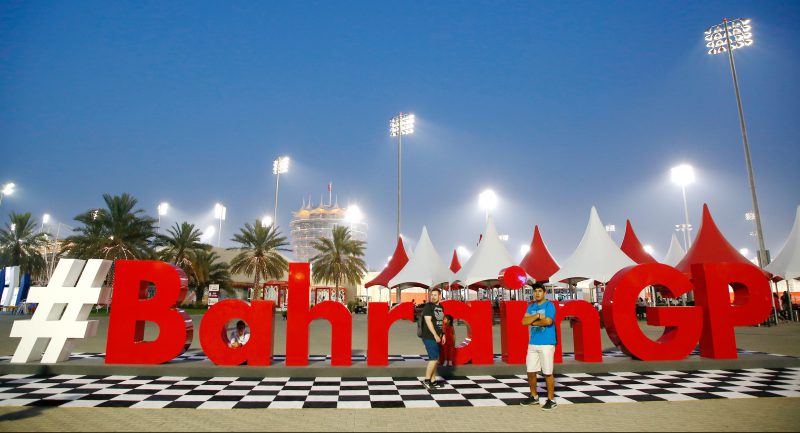 Formula 1 is in Bahrain for the second Grand Prix of the new season.
The opening GP of 2019 saw Valterri Bottas record a shock opening win for Mercedes, with world champion and team-mate Lewis Hamilton joining him on the podium along with Red Bull's Max Verstappen.
Ferrari's relatively poor showing in fourth and fifth for Sebastian Vettel and Charles Leclerc caught many by surprise but Hamilton is expecting them to bounce back strongly – starting in Bahrain.
"I think everyone was surprised by our showing in Australia," he said.
"No-one was expecting to see a gap like that with Ferrari. They were ahead – that is what we saw in testing – but it wasn't the case that weekend.
"We just did our normal job, but I am sure they will come back strong. So, we have to be ready and we have to stay on our toes."
Here we are! 🇧🇭 #essereFerrari #BahrainGP pic.twitter.com/HVnFwmwJnk

— Scuderia Ferrari (@ScuderiaFerrari) March 28, 2019
And Hamilton also knows that Vettel comes to Bahrain as a four-time winner, and is indeed looking for a third successive win at the International Circuit.
And Ferrari team boss Mattia Binotto is confident that his team will put things right.
"In Bahrain, we expect to see the effect of the corrections we have made," he said.
"We are well aware that our competitors will once again be very strong. With that in mind, we are keen to get back on track and face up to them."
BAHRAIN GRAND PRIX – ROUND 2

Location: Bahrain International Circuit
Track size: 3.363 miles with 14 turns
Number of laps: 57
2018 winner: Sebastian Vettel – Ferrari
Lap record holder: 1:31.447 Pedro de la Rosa (2005)
Race winner driver odds from Unibet: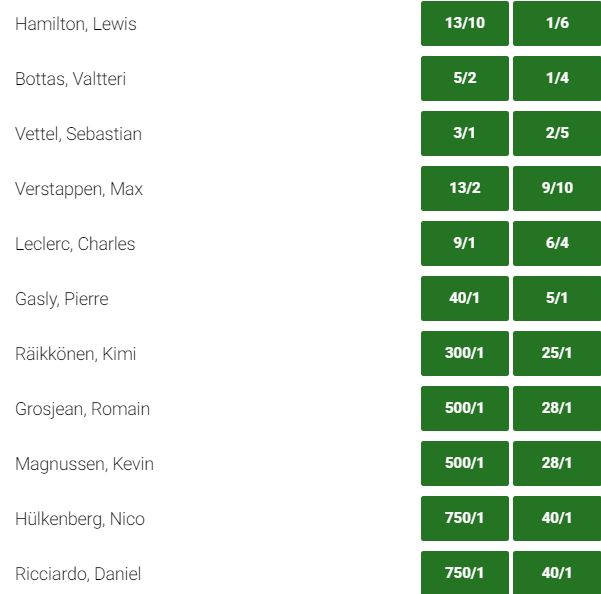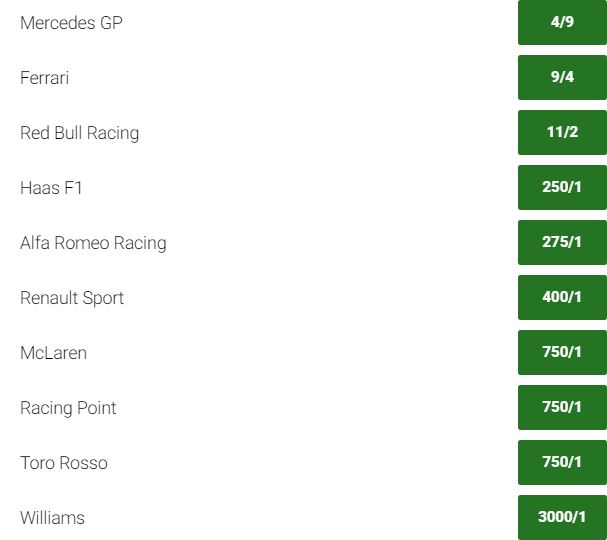 2019 Results
Australian Grand Prix – Valterri Bottas (Mercedes)
Bahrain Grand Prix –
China Grand Prix –
Azerbaijan Grand Prix –
Spain Grand Prix –
Monaco Grand Prix –
Canada Grand Prix –
France Grand Prix –
Austria Grand Prix –
British Grand Prix –
German Grand Prix –
Hungary Grand Prix –
Belgium Grand Prix –
Italy Grand Prix –
Singapore Grand Prix –
Russia Grand Prix –
Japan Grand Prix –
Mexico Grand Prix –  
USA Grand Prix – 
Brazil Grand Prix – 
Abu Dhabu Grand Prix –
We also spoke with Alistair Gill of Unibet to get their views on the Grand Prix
Round 1 gave us a shock that was only half a shock, as Mercedes showed far more pace than many were anticipating to win the race easily ahead of the struggling Ferrari's. However, the man in the Silver Arrow was not who we expected as Valtteri Bottas romped home to take the season opener.
In light of the Mercedes/ Ferrari performances in Melbourne, the 2 Mercedes men sit at the top of the table for qualifying, Hamilton 5/4 and Bottas 5/2. If last week was a fluke of any kind in terms of Ferrari's lack of pace, Sebastian Vettel at 3/1 to take pole could be some value in the market here and we have seen some very early money for him.
For the race, the top 3 in the market sit the same as qualifying, Hamilton the favourite at 13/10 on the basis that with Mercedes looking quicker, he would have won last week but for damage subsequently found on his car. Bottas is second at 5/2 and Vettel is again 3/1 which. Much like qualifying, if you think last week was not a true representation of Ferrari's pace V Mercedes, then that could look like value come the chequered flag. But it would need quite a turnaround though on early evidence