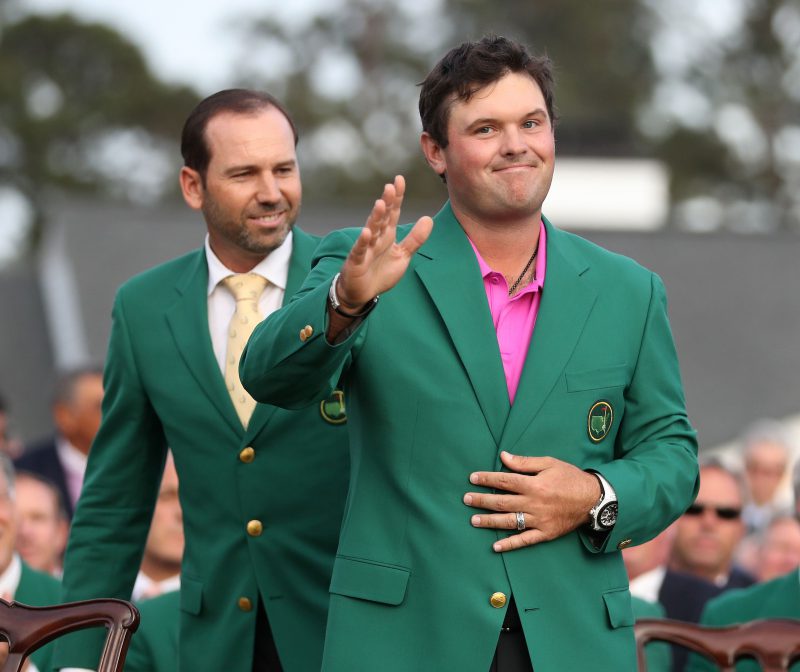 The Masters tournament is the first of golf's 'Majors' every year and is special for so many reasons and we look ahead to the 2019 edition.
Conceived by golf administrator Clifford Roberts and the legendary Bobby Jones, it was established in 1938 and is the only major event ever to be played at the same course every year – the Augusta National Golf Club, on a course designed by Jones along with famed British course builder Dr Alister McKenzie.
The Masters awards their winners a 'green jacket' and although each winner owns the jacket, they have to leave it in the dressing room at Augusta – only the winner that year has permission to take it from the club grounds.
The Masters also boasts the smallest field of any of the four majors, as it is still categorised as an invitational event and is not just the 100 top players in the world.
The course itself now rivals St Andrews for the most famous in the world, given it gets the most exposure of any golfing venue in the world.
T-minus three days @TheMasters #AmenCorner pic.twitter.com/4y3bfIdjz0

— Mitch Fountain (@mitchfo3) April 8, 2019
Every hole at Augusta has a story to tell but more often that not the best tales are found from Amen Corner – the most famous three-holes in the world. The par 4 11th (White Dogwood), the par 3 12th (Golden Bell) and par 5 13th (Azalea) are famed for where tournaments can be won or last. Most recently the world's best have come a cropper here. Rory McIlroy's now famous collapse in 2011 was sealed with struggles on all three after going into the final round leading by four, and in 2016 defending champion Jordan Spieth hit a quadruple bogey on the 12th to hand the title to Danny Willett.
This year's defending champion is Patrick Reed and he gets to choose the menu for the 'Champions Dinner' hosted on Tuesday, and he has gone for his own favourites including the highlight of rib-eye steak with mac and cheese.
"I could eat a ribeye steak for breakfast, lunch and dinner," Reed said. "Mac and cheese, same thing. It's kind of one of those things, pretty easy decision. I'll refine it a little bit and bring up options if guys don't want to eat something heavy, they have a lighter option as well.
"I really want everyone to enjoy the night and have something good to eat, no matter what it is."
This is followed by the informal 'Par-3 competition' on the Wednesday which is played on the Par-3 course on site before the tournament starts on the Thursday. The Par-3 curse remains in place to this day, as nobody who has won the Par-3 contest has ever gone on to win the main event.
THE MASTERS
Augusta National, Georgia
First staged in 1934
Current champion is Patrick Reed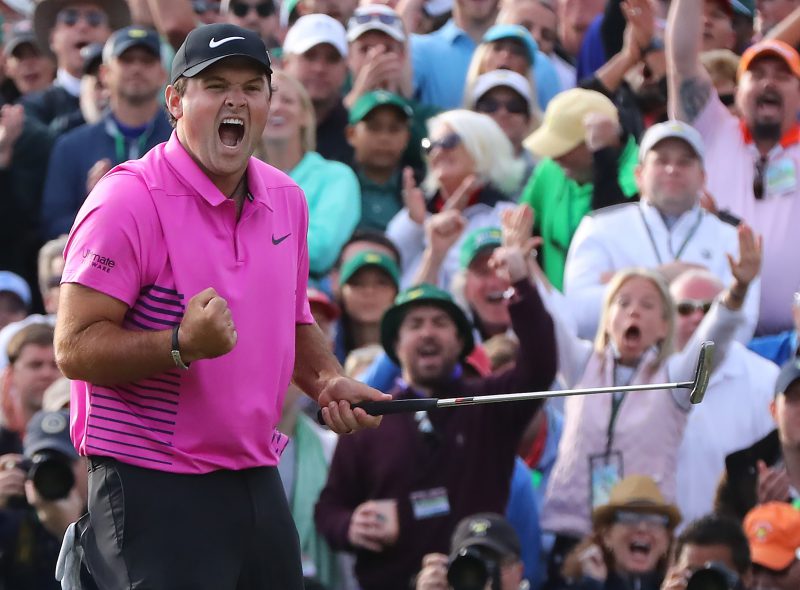 OVERVIEW: The Masters is as good as it gets, no better looking tournament in golf and it is always the most anticipated, but that is probably because it is the first.
So, as expected every major player is here looking for the Green Jacket – with Rory McIlroy – looking to complete the Grand Slam – the favourite, along with new world number one Juston Rose and Dustin Johnson, all Major winners without a victory at Augusta.
"I've probably put myself under too much pressure the last couple of years to try and win the Masters," said McIlroy.
"I've had four top-10s in a row since going there [chasing the Grand Slam]. I don't want to make predictions but I'd like to think that if I'm going to go back to Augusta over the next 10 or 15 years, at least a quarter or a third of those times I'm going to give myself a pretty good chance to win.
"One of these years, I'm sure I'll get myself into position. 'Whether it's this year, or 10 years down the line, hopefully I'll capitalise on it."
But…there would be no more popular winner than Tiger Woods. Back to form, he is looking for his first major since 2008 and his first Masters since 2005.
"I feel like I can win," said 43-year-old Woods.
"I've proven that I can do it. I put myself there with a chance to win the last two major championships of the year. I was right there and just needed to have a couple more things to go my way and not throw away a couple shots here and there.
"I just feel like that I've improved a lot over the past 12, 14 months but I've more than anything just proven to myself that I can play at this level again. I've worked my way back into one of the players that can win events.
"For me to have gotten in the winner's circle after the years I've had, the past few years … I didn't really know if I would ever get there again and lo and behold I got there."
TOP TEN BETTING: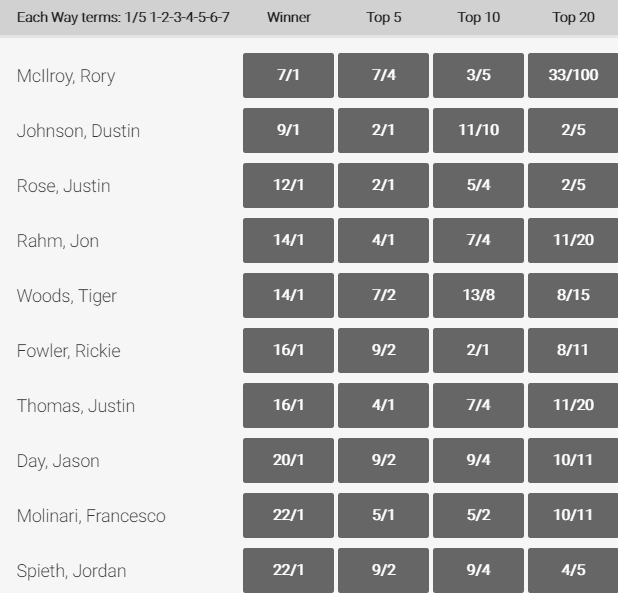 The Bookies point of view…
32Red's Sponsorship manager Jack Milner delivers a weekly verdict on each tournament.
Welcome to the greatest week of the year, as golf returns to Augusta National for the Masters. Set in the backdrop of arguably the most picturesque golf course in the world, The Masters is a throwback to a simpler time, with tradition very much at the heart of the most revered and coveted golf tournament.
A place where mobile phones are forbidden on course, where past winners tee-off together and are welcomed back year upon year, and a place where the best in the world compete for no trophy but the most sought after of green jacket.
Patrick Reed fended-off the pair of Jordan Spieth and Rory McIlroy, seeking the final leg of golf's grand slam, to win a maiden Master s Title last year however, those tempted by the 66/1 for 'Captain America' to go back-to-back will surely be wary of the fact that only three players have successfully defended their Title successfully in the post-war era; Jack Nicklaus, Nick Faldo and Tiger Woods – and Paddy Reed isn't in that bracket, and likely never will be.
It's the latter who makes most appeal this week, with one Tiger creating history at Aintree last weekend, what's to say another can't do likewise across the pond? 'Big Cat' completed the most amazing of comebacks with success in the Tour Championship at East Lake in September but was arguably even better prior to that looked destined to lift the Claret Jug when surging up the leaderboard in the final round at Carnoustie.
Whilst lacking the length of such powerhouses such as Dustin Johnson, Justin Thomas, Rory McIlroy, Brooks Koepka et al, it's been Tiger's shot-making that has appeared better than ever ; ranking fourth on tour in Greens-In-Regulation and 54th in terms of Driving Accuracy. Combine that an unparalleled knowledge of the bumps, arches and curves around Augusta's infamous greens and he becomes a terrific price at 14/1 with 32Red.
I personally think that this week will come down to the tour's cleanest and crispest shot-makers and would like to have Europeans, and brilliant double act in last year's most famous bromance, Francesco Molinari and Tommy Fleetwood onside at 22/1 and 25/1 respectively with 32Red.
The former has a long game to die for and has consistently competed without unable to complete a maiden breakthrough across the pond, despite excellent efforts in defeat at last year's US Open (when losing by a shot to Brooks Koepka at Erin Hills) and losing all chance at last month's Players Championship when finding the water at 17.
Molinari meanwhile, was red-hot favourite entering the final four of the WGC Matchplay, having been advised at 25/1 before the start of the week, before  ultimately running out of puff when losing out to eventual winner Kevin Kisner. He has improved dramatically on tour, winning four times worldwide in the past 12 months, including a maiden major with one of the greatest rounds in major golf to go bogey free on Sunday at last year's Open Championship to life the Claret Jug at Carnoustie. Providing it all clicks for the Italian he warrants maximum respect as golf's most consistent and complete players.
I am loathe to omit Kevin Kisner given the roller coaster he has given backers, including myself, in majors during the past two years and he is likely to be solid over all four rounds but is now too short at around the 50/1 mark, having been double the price three weeks ago. He is over-looked in favour of compatriots Bryson Dechambeau and Xander Schaufele. I'll get a kicking on the tweet machine for the aftertiming but I backed both at three-figure prices last summer with both having the raw talent of major winners in waiting. The latter won the Tour Championship 18 months ago and narrowly missed out at The Open Championship last July, whilst Bryson found ways to win – no less than five times on all tours during the last year or so. Both are over-priced at 33/1 and 40/1 respectively with 32Red.
My selections:
Tiger Woods @14/1 with 32Red
Francesco Molinari @22/1 with 32Red
Tommy Fleetwood @25/1 with 32Red
Bryson Dechambeau @25/1 with 32Red
Xander Schaufele @40/1 with 32Red
The pro's point of view…
Our resident golf expert is Cliff Jackson. Cliff is a leading youth coach and PGA professional at the famed Seaton Carew Links – one of the oldest courses in the world.
If you don't like The Masters, you don't like life…
So I am not sure Patrick Reed is in a position to defend the jacket, but I do think both Jordan Spieth and Tiger Woods could add to their wardrobe, imagine Tiger on the Sunday – I think that is the dream result, along with Rory McIlroy completing the Grand Slam, I am just not sure he is putting that well.
For the outsiders I like the look of Charley Hoffman and Paul Casey, but for the winner…
I am going British, but rather than Rory I think Justin Rose might be celebrating becoming world number one by winning the year's opening major.