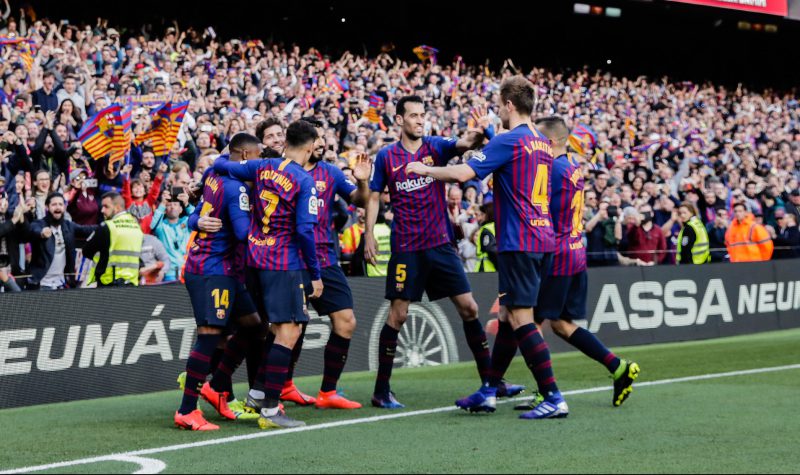 Barcelona are favourites to take the Champions League ahead of their semi-final opponents Liverpool.
The last four of the Champions League has been decided and previous favourites Manchester City have failed to make it through – losing to Tottenham on away goals.
Tottenham now face Ajax in the last four, and although Mauricio Pochettino's side are favourites to book a place in June's final – Bookmakers believe the winners are coming from the other semi-final.
And it is Barcelona who are just favourites, ahead of Liverpool.
"We are very excited. It's been a while since we were in the semi-finals – now we'd love to get to the final," said Barca boss Ernesto Valverde.
"We are confident, but we know that five bad minutes can leave you eliminated."
Barca face Liverpool and Reds boss Jurgen Klopp is excited to be facing the Catalan giants.
"It is really good news that there is a proper football game between Liverpool and Barcelona. To be in the semi-final for a second time in a row is a big statement. I'm really proud of the boys, it is brilliant what they did. Doing it in different ways makes it even more special," he said.
Spurs boss Mauricio Pochettino is delighted to be in the last four, having overcome City in an amazing semi-final clash.
"We are in the semi-final and we deserve to be in the semi-final, my players are heroes," said Pochettino. "I told you before, whatever happens I am going to feel proud. We made history, I am more than happy, more than proud."
Ajax make up the last four and coach Erik Ten Hag is delighted to be there after their stunning win over Juventus, following on from knocking out Real Madrid in the previous round.
"This team grows and grows. We know how to push boundaries every time. And with Tottenham there will be another challenge. We look forward to it," he said.
BetVictor's Head of ante post Football Michael Triffitt commented: "Spurs are 7/2 from 10/1 to lift the trophy after finally ending Manchester City's quad hopes. Fellow English outfit Liverpool will join them after a comfortable success over Porto. The Reds are 9/4 from 3/1 to take the crown and have a mouth watering clash with Barcelona who are 7/4 market leaders."
There is now the chance of an all English final, for the first time since 2008 when Manchester United beat Chelsea in Russia, and BetVictor offer 5/2 on that happening.