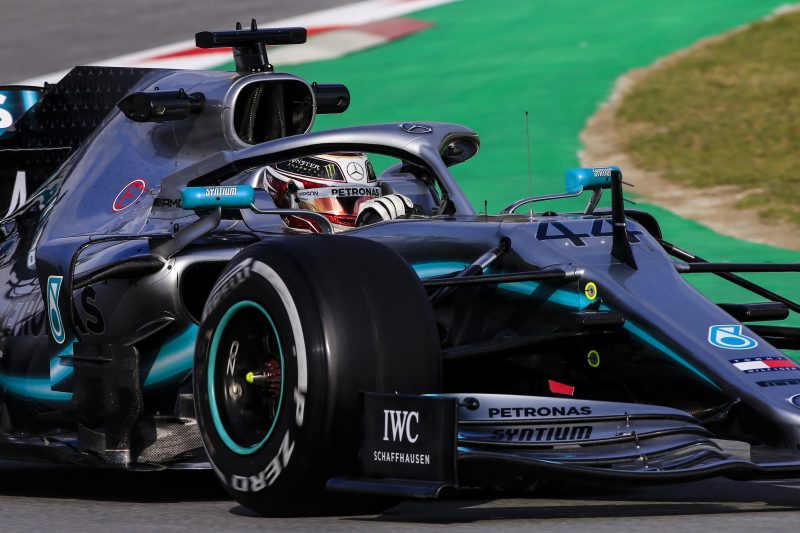 The Formula One season is only entering its fifth round, but the season could be over before we know it unless somebody can resist Mercedes dominance.
The Silver Arrows have smashed all records after completing a one-two in the opening four rounds, leaving rivals Ferrari and Red Bull trailing in their wake.
At the start of the season everyone thought it would be Ferrari and their new number two driver Charles Leclerc who would be pushing world champion Lewis Hamilton and Sebastian Vettel – but instead it is Valtteri Bottas who finds himself leading as we arrive in Barcelona.
And despite the title race looking like a two-horse race at this stage, Mercedes chief Toto Wolff is not anticipating any issues.
"We are lucky that they have a very good relationship. They get on with each other. There is not a lot of games in the background, and I am very happy about that. But we have to be conscious as we have seen a relationship deteriorate," he said.
"Both of the drivers have an ambition to win the championship. We want them to be lions in the car, so you can't expect the behaviour of a sheep. But equally the respect needs to stay in there.
"We are very strong as a team and we wouldn't allow a relationship between drivers to deteriorate to a point that it has a negative effect on the team."
Ferrari have been forced to rush through some upgrades to their car in order to try and get on top of Mercedes' dominance so far in 2019.
Team boss Mattia Binotto said: "We are behind in the championship and we have to catch up, which we know means that our development work will be the key to this season."
One issue for Ferrari is that they come to Barcelona with just one win in the last decade – Fernando Alonso in 2013, and Vettel is hoping to put that right.
Vettel said: "I've always had very positive weekends in Barcelona with Ferrari, even if we've never won. I hope this might be the moment to put that right."
SPAIN GRAND PRIX – ROUND 5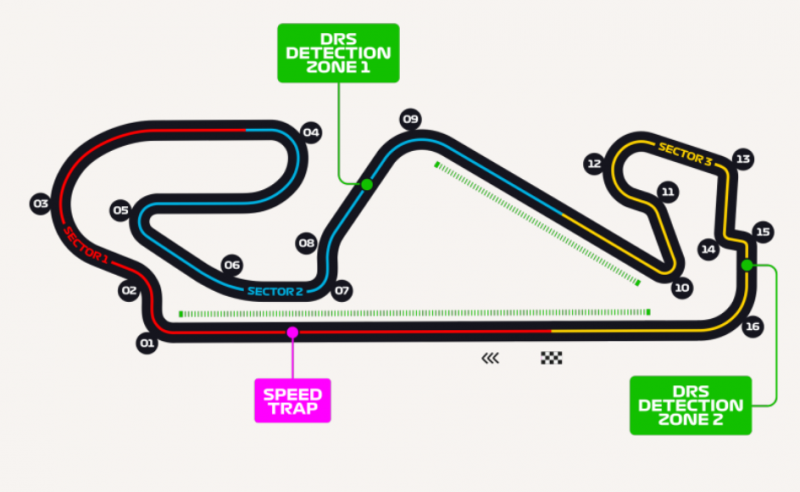 Location: Circuit de Barcelona-Catalunya
Track size: 2.89 miles with 16 turns
Number of laps: 66
2018 winner: Lewis Hamilton – Mercedes
Lap record holder: 1:18.441 Daniel Ricciardo (2018)
Race winner driver odds from Unibet: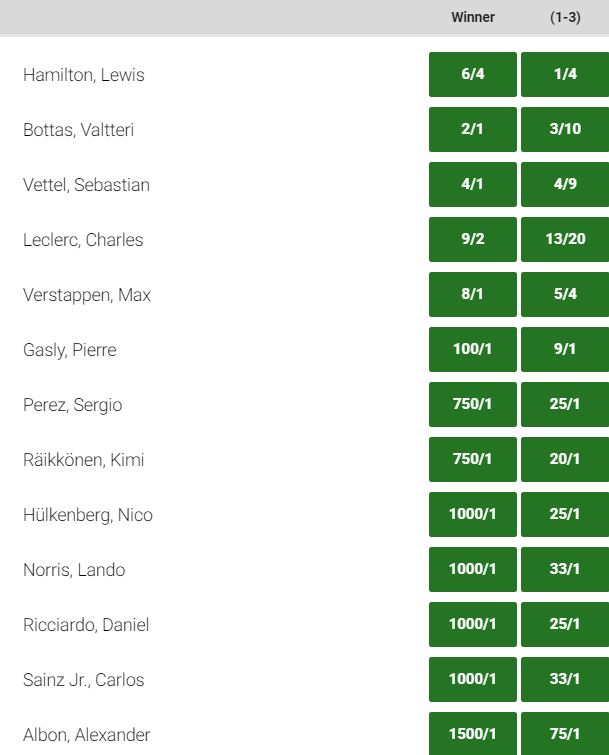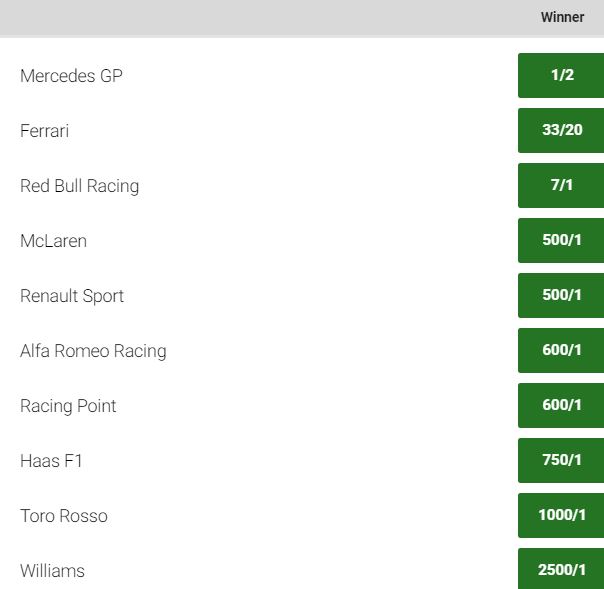 2019 Results
Australian Grand Prix – Valterri Bottas (Mercedes)
Bahrain Grand Prix – Lewis Hamilton (Mercedes)
China Grand Prix – Lewis Hamilton (Mercedes)
Azerbaijan Grand Prix – Valterri Bottas (Mercedes)
Spain Grand Prix –
Monaco Grand Prix –
Canada Grand Prix –
France Grand Prix –
Austria Grand Prix –
British Grand Prix –
German Grand Prix –
Hungary Grand Prix –
Belgium Grand Prix –
Italy Grand Prix –
Singapore Grand Prix –
Russia Grand Prix –
Japan Grand Prix –
Mexico Grand Prix –  
USA Grand Prix – 
Brazil Grand Prix – 
Abu Dhabu Grand Prix –
2019 Driver Standings
1 Valtteri Bottas FIN MERCEDES 87
2 Lewis Hamilton GBR MERCEDES 86
3 Sebastian Vettel GER FERRARI 52
4 Max Verstappen NED RED BULL RACING HONDA 51
5 Charles Leclerc MON FERRARI 47
6 Sergio Perez MEX RACING POINT BWT MERCEDES 13
7 Pierre Gasly FRA RED BULL RACING HONDA 13
8 Kimi Raikkonen FIN ALFA ROMEO RACING FERRARI 13
9 Lando Norris GBR MCLAREN RENAULT 12
10 Kevin Magnussen DEN HAAS FERRARI 8
11 Nico Hulkenberg GER RENAULT 6
12 Carlos Sainz ESP MCLAREN RENAULT 6
13 Daniel Ricciardo AUS RENAULT 6
14 Lance Stroll CAN RACING POINT BWT MERCEDES 4
15 Alexander Albon THA SCUDERIA TORO ROSSO HONDA 3
16 Daniil Kvyat RUS SCUDERIA TORO ROSSO HONDA 1
17 Antonio Giovinazzi ITA ALFA ROMEO RACING FERRARI 0
18 Romain Grosjean FRA HAAS FERRARI 0
19 George Russell GBR WILLIAMS MERCEDES 0
20 Robert Kubica POL WILLIAMS MERCEDES 0
2019 Team Standings
1 MERCEDES 173
2 FERRARI 99
3 RED BULL RACING HONDA 64
4 MCLAREN RENAULT 18
5 RACING POINT BWT MERCEDES 17
6 ALFA ROMEO RACING FERRARI 13
7 RENAULT 12
8 HAAS FERRARI 8
9 SCUDERIA TORO ROSSO HONDA 4
10 WILLIAMS MERCEDES 0
We also spoke with Alistair Gill of Unibet to get their views on the Grand Prix
After domination for Mercedes in the early part of the season, no surprise to find the two Silver Arrow drivers heading the market for the race. Hamilton is a 6/4 shot and won't be short of support, whilst Bottas is in behind at 2/1.
It's hard to be too bullish at current, given the high hopes and subsequent disappointments of those chasing them, but given that both Ferrari and Red Bull are bringing significant upgrades to Spain, there could be some tasty prices available outside of the Mercedes men.
Vettel (4/1), Leclerc (9/2) and Verstappen (8/1) will all be hoping to be the first non-Mercedes driver of the season to stand on top of the podium come the chequered flag. However, given Mercedes, and particularly Hamilton's, recent record in the Spanish GP, he will definitely be the man that we hope doesn't take yet another 1st place finish.