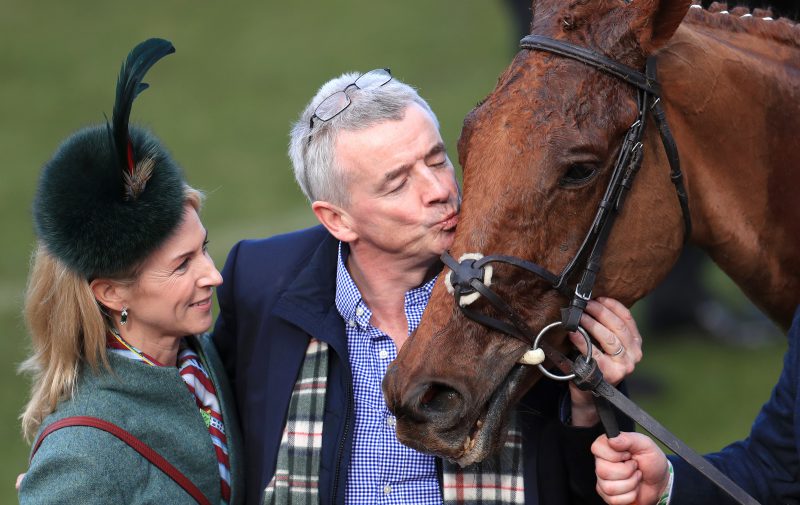 One of horse racing most famed owners Michael O'Leary has confirmed that he will be stepping away from the sport.
The Grand National-winning owner has announced he will phase out his Gigginstown House Stud operation over the coming years, and would be investing in any new horses.
O'Leary, who owns two-time national winner Tiger Roll, plans to reduce his interests over the coming years – with the decision not to buy any more young or store horses signalling the beginning of the end for his team, although his colours will be seen for some time yet.
The Ryanair chief said in a statement: "We wish to sincerely thank all our trainers and their teams for the enormous success we've enjoyed over the past decade, but as my children are growing into teenagers I am spending more and more of my time at their activities and I have less and less time for National Hunt racing, a situation that will continue for the foreseeable future.
"I hope that by running down our string over an extended four or five-year period it will give our trainers ample time to replace our horses without disruption."
O'Leary's brother Eddie has long acted as racing manager for Gigginstown.
He added: "Michael's children are now growing, and their activities are leaving less and less time for racing last season and for the foreseeable future.
"We've just had our best season ever in terms of winners, and it's been an amazing year capped by Tiger Roll winning the Grand National for the second time last month.
"We have lots of young stock to be allocated among our trainers over the coming weeks, and each of our trainers will receive their usual allocation of young point-to-pointers."