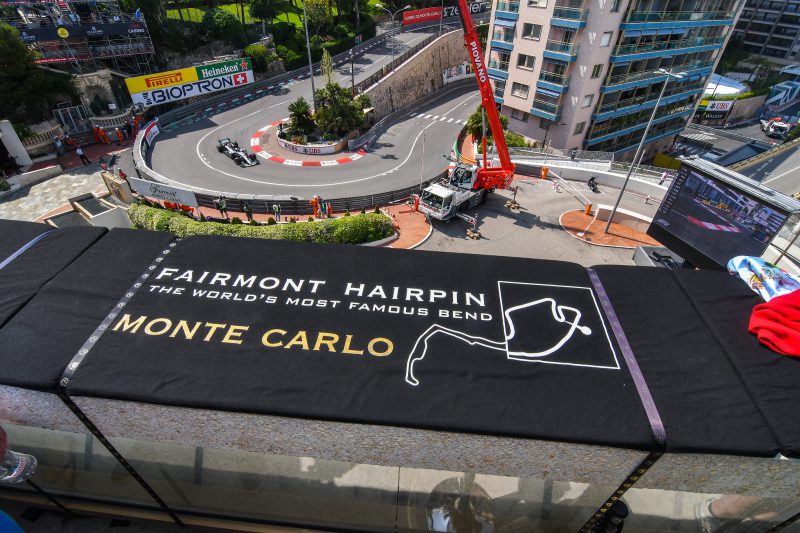 The Formula One roadshow has rolled into Monte Carlo for probably the most famous race of them all – the Monaco Grand Prix.
And whilst all thoughts are on the 2019 season, which is being dominated by Mercedes – thoughts are well and truly with Niki Lauda, after his died this week at the age of 70.
The three-time world champion was still, up until recently, a major figure in pit-lane having worked as a consultant for Mercedes.
Lauda played a huge part in bringing current world champion Lewis Hamilton to Mercedes and he paid his tributes.
"I am struggling to believe you are gone. God rest your soul. Thank you for being a bright light in my life. I will always be here for your family should they ever need me. Love you man."
One thing Lauda would have been happy with, is the dominance of his Mercedes team, who have now claimed an unprecedented one-two in the opening five rounds of the season.
But despite their dominance, Mercedes chief Toto Wolff believes they might struggle in Monte Carlo.
"It's going to be a tremendous challenge for us, we've not had the performance in Monaco in the last few years," said Wolff.
"We need to take one step at a time. The next race weekend looks challenging on paper. That is massively exciting for us to go there.
"I wish we could go there tomorrow. Everybody's working flat out to try to understand the car for Monaco and really be strong there. So let's look at the next race, which is the sixth, and try to do well there."
This year offers the chance for Monaco to witness a hometown winner as Ferrari's Charles Leclerc could become the first Monegasque to win their home GP since Louis Chiron in 1931.
"It's my first home GP as a Ferrari driver and it's bound to be a special weekend," he said.
"I remember as a kid, I would spend the afternoon with a friend who lived in a flat with a balcony overlooking the Ste. Devote corner. We used to play with toy cars while the real ones rushed past beneath us.
"I always told myself that one day, it would be great to be driving in this race."
MONACO GRAND PRIX – ROUND 6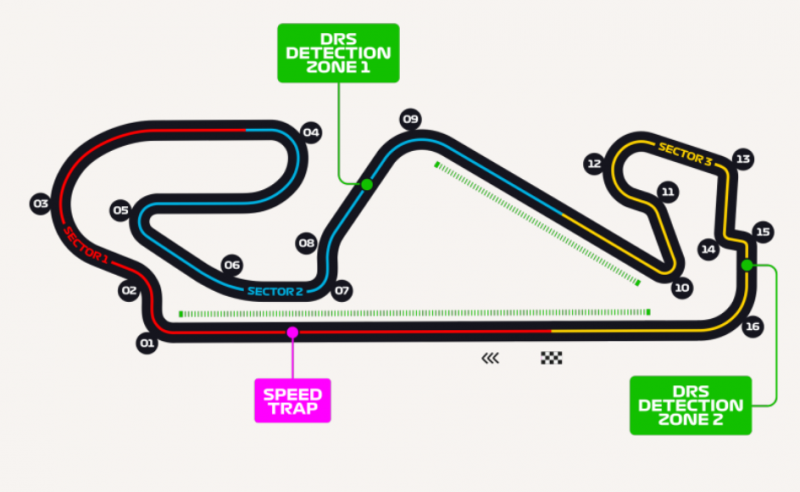 Location: Circuit de Monaco
Track size: 2.07 miles with 16 turns
Number of laps: 78
2018 winner: Daniel Ricciardo – Red Bull
Lap record holder: 1:14.260 Max Verstappen (Red Bull)
Race winner driver odds from Unibet: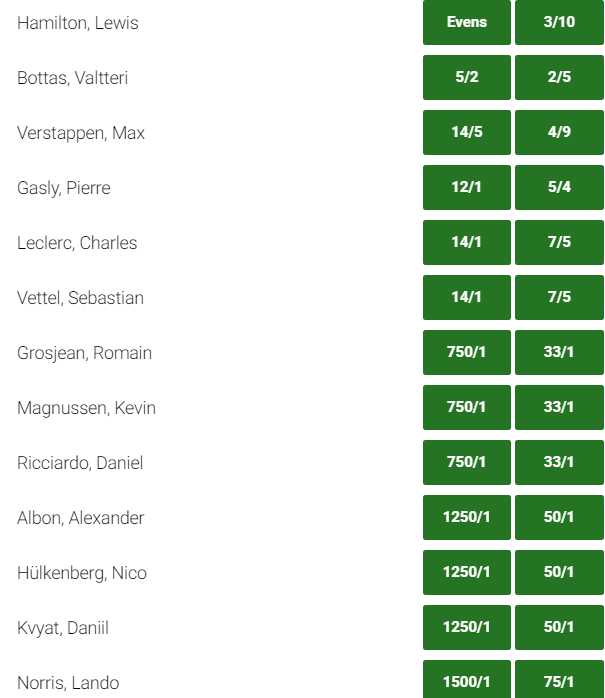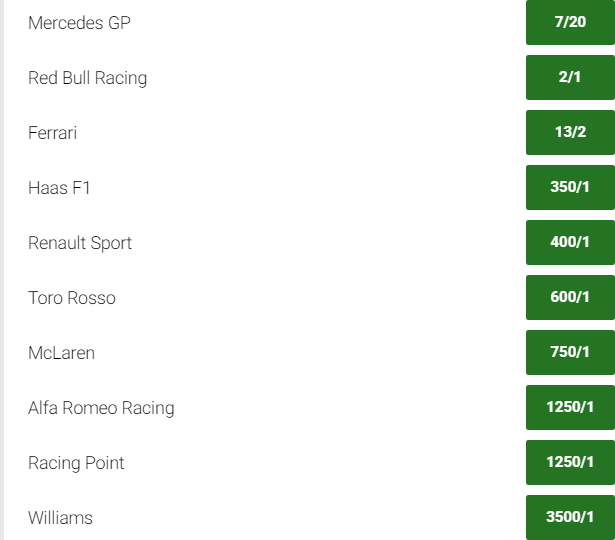 2019 Results
Australian Grand Prix – Valterri Bottas (Mercedes)
Bahrain Grand Prix – Lewis Hamilton (Mercedes)
China Grand Prix – Lewis Hamilton (Mercedes)
Azerbaijan Grand Prix – Valterri Bottas (Mercedes)
Spain Grand Prix – Lewis Hamilton (Mercedes)
Monaco Grand Prix –
Canada Grand Prix –
France Grand Prix –
Austria Grand Prix –
British Grand Prix –
German Grand Prix –
Hungary Grand Prix –
Belgium Grand Prix –
Italy Grand Prix –
Singapore Grand Prix –
Russia Grand Prix –
Japan Grand Prix –
Mexico Grand Prix –  
USA Grand Prix – 
Brazil Grand Prix – 
Abu Dhabu Grand Prix –
2019 Driver Standings
1 Lewis Hamilton GBR MERCEDES 112
2 Valtteri Bottas FIN MERCEDES 105
3 Max Verstappen NED RED BULL RACING HONDA 66
4 Sebastian Vettel GER FERRARI 64
5 Charles Leclerc MON FERRARI 57
6 Pierre Gasly FRA RED BULL RACING HONDA 21
7 Kevin Magnussen DEN HAAS FERRARI 14
8 Sergio Perez MEX RACING POINT BWT MERCEDES 13
9 Kimi Raikkonen FIN ALFA ROMEO RACING FERRARI 13
10 Lando Norris GBR MCLAREN RENAULT 12
11 Carlos Sainz ESP MCLAREN RENAULT 10
12 Daniel Ricciardo AUS RENAULT 6
13 Nico Hulkenberg GER RENAULT 6
14 Lance Stroll CAN RACING POINT BWT MERCEDES 4
15 Alexander Albon THA SCUDERIA TORO ROSSO HONDA 3
16 Daniil Kvyat RUS SCUDERIA TORO ROSSO HONDA 3
17 Romain Grosjean FRA HAAS FERRARI 1
18 Antonio Giovinazzi ITA ALFA ROMEO RACING FERRARI 0
19 George Russell GBR WILLIAMS MERCEDES 0
20 Robert Kubica POL WILLIAMS MERCEDES 0
2019 Team Standings
1 MERCEDES 217
2 FERRARI 121
3 RED BULL RACING HONDA 87
4 MCLAREN RENAULT 22
5 RACING POINT BWT MERCEDES 17
6 HAAS FERRARI 15
7 ALFA ROMEO RACING FERRARI 13
8 RENAULT 12
9 SCUDERIA TORO ROSSO HONDA 6
10 WILLIAMS MERCEDES 0
We also spoke with Alistair Gill of Unibet to get their views on the Grand Prix
No surprise to see the two Mercedes drivers topping the market for the Monaco GP, Lewis Hamilton the Even price favourite followed by Bottas at 5/2.
The undefeated team would expect their car to perfectly suit the tight cornering street circuit and should again be strong here all things being equal. However, The Red Bulls have good form in the principality and would hope that this is the race finally someone breaks the Silver Arrow dominance, with Max Verstappen in as a 14/5 shot and Pierre Gasly next in the market at 12/1.
Charles Leclerc has shown promise this season but been met with some bad luck and tough team decision.
He is in a position this weekend of being a man who drives very well around Monaco, in a car that probably will not. He is priced at 14/1 and will hope that the forecast rain arrives at an opportune time to cause a bit of chaos, in which case that price could start to look like value for a man who will be extra motivated to win F1's showpiece event in his hometown.